Archive for the 'Genealogy News' Category
News from around the web.
Go to Source
—
We are excited to announce a collaboration with the Associated Press that makes fifty years of news stories–in their original wire copy format–available online today.
Available at Ancestry.com/AP, the voluminous card catalog of names and subjects links to more than two million records and more than one million AP stories spanning 1937 to 1985, a resource which took Ancestry.com several years to prepare and digitize.
Collections:
For Ancestry.com subscribers, the collection of AP stories adds a whole new dimension to the family history experience. Stories complement family trees and genealogical records on Ancestry.com with period news coverage that provides historical context to the times, places and people Ancestry members are researching. Ancestry.com members will be able to search for stories by name, and then click through to view a digitized copy of the full AP story. Stories can also be searched by subject and by date.
The digitization of the AP stories will simplify the research process not only for Ancestry.com members, but also for AP journalists. Reporters and news researchers can now bypass the legacy card catalog and accompanying microfilm for a searchable set of online databases that can be accessed anywhere in the world. In addition, the project has made available a set of internal AP publications dating back to 1904, including the staff magazine AP World, which began publication in 1943.
Quotes:
Quinton Atkinson, Director of Content Acquisition for Ancestry.com: "We are thrilled to announce this collaboration with the Associated Press to bring its name and subject catalog online. It represents a fantastic set of material for our family historians who are researching the news of an era, and gives incredible historical context for the world their ancestors lived in."
Valerie Komor, Director of the AP Corporate Archives: "The collaboration with Ancestry.com has enabled us to bring AP's historical news microfilm and its card index not only to the family history community but also to AP journalists, who value their organization's rich archival record. And AP World offers a rare view into the workings of this 167-year-old news cooperative."
For those wishing to search the AP archives on Ancestry.com, they may do so by visiting Ancestry.com/AP. For those looking to start researching their own family history, please visit www.ancestry.com.
News from around the web.
Go to Source
—
Where did last week go?  Here is what you might have missed around the Ancestry.com world.
Blog Posts
Ancestry.com
Videos
News from around the web.
Go to Source
—
Heredis
2014 for Windows is now available, with highlights including a Search Wizard that
lets you display known information about a relative and those around him, helping
you note areas where more research is needed. A new Migrations map displays ancestral
migrations with numbered pins and lists of life events that happened in each place. See
all the new 2014 Heredis for Windows features here.
Ancestry.com has a collection of data from Associated
Press news articles. The collections include a name index to AP stories (1905-1990),
a subject index to AP stories (1937-1985), and AP stories and news features (1937-1985)
that were selected by news libraries as being "of national or international importance."
The latter two collections are searchable by keyword.
Two additional collections, which you can browse, the AP Service Bulletin
(1904-1927) and The AP World (1943-2001) are publications for news organizations and
journalists. These may be most useful if you're researching someone who worked in
the media. See
more details on the Ancestry.com blog.
News from around the web.
Go to Source
—
Mocavo announced this week that it's making progress on optical
character recognition (OCR) software that will read cursive
handwriting, which could revolutionize how digitized records are put
online.
OCR software is often used to index typeset genealogy records, such as newspapers,
city directories and family history books. It lets you search every word in those
records, without any person ever having to read the record and extract names and dates.
Current OCR software is pretty good at reading those typeset documents, although it
makes mistakes when documents or digitized images have problems such as fading, blurring
and ink spots. When I search OCR-indexed records for my last name, I get a lot of
irrelevant matches containing the phrase "had had."
OCR software that can read not just typed or printed words, but also cursive handwriting
of various languages, historical eras and styles, means digital records could become
searchable online a lot faster. Potential benefits include:

There would be no need for armies of volunteers to index records.

You would be able to search the entire text of documents, not just the names and dates
captured by indexers.

Full transcriptions of documents would be readily available.
Matt Garner, a developer Mocavo
inherited last year when it acquired Ready Micro, has been instrumental in developing
the software.
On
the Mocavo blog, company founder Cliff Shaw described the process, which first
involved developing OCR software that could "perfectly separate handwriting
from typewritten text."
Now, Shaw says, the company is getting closer to the "Holy Grail" of being able to
accurately read handwritten text. "With limited vocabularies (potential answers),
we're achieving 90-95% accuracy," he writes.
They still have work to do to achieve the ability to read handwriting of a wide range
of styles, and to overcome problems with faded or ink-spotted documents I mentioned
above. Read
about the software and see examples on the Mocavo blog.
---
Our
Master
the Best Genealogy Websites one-week online workshop
will make you a research
wizard at Mocavo, FamilySearch.org, Ancestry.com and other genealogy websites.
Check
it now at FamilyTreeUniversity.com
.
News from around the web.
Go to Source
—
Around Thanksgiving, you might stand a bit taller with pride in your
Mayflower Pilgrim
roots.
Whether your Massachusetts ancestors include Pilgrims (who were actually headed for
Virginia, but strayed off-course during a storm), Massachusetts Bay Colony settlers,
Irish or French Canadian immigrants, or other Bay State residents, you can delve deeper
into their genealogy records with help from our Massachusetts
Genealogy: Beyond the Basics webinar.
If you've already done basic research using federal censuses and state-level vital
records, take this opportunity to learn about more-advanced resources from Massachussetts
genealogy expert Laura Prescott. Examples include:
Massachusetts and Maine (then part of Massachusetts) Direct Tax List of 1798
Massachusetts state censuses in 1855 and 1865
school, business, meeting, freemen and other town records (in Massachusetts, towns
are the basic record-keeping unit)
probate, land and other court records
the resources of the New
England Historic and Genealogical Society, Massachusetts
Archives and other state-specific repositories
The webinar is Tuesday, Dec. 17 at 7 p.m. ET (6 p.m. CT, 5 p.m. MT, 4 p.m. PT). Anyone
who registers gets access to view the webinar again as often as desired, plus handouts
of the webinar slides.
Go
here to learn more about the Massachusetts Genealogy: Beyond the Basics webinar and
to register.
News from around the web.
Go to Source
—
As a modern genealogist who has a lot to do in addition to looking for
ancestors, you probably spend most of your research time—what
precious minutes you get—online.
We'll help you find more family information in your limited online genealogy research
time with our weeklong online workshop Mastering
the Best Genealogy Websites, coming to a computer near you Dec. 13-20. (Pssst!
See below for a money-saving coupon code.)
This workshop will help you master content-rich sites including Ancestry.com, FamilySearch.org, Fold3.com,
and Mocavo.com (which has recently added thousands
of databases as part of its "Free Forever" initiative), as well as online tools with
strong genealogy application, such as Evernote and Google.
You'll learn the best ways to navigate these sites, find out what databases they contain,
and search them for records about your family. You'll also be able to consult with Discover
Your Family History Online author Nancy Hendrickson about your online genealogy
questions. The Mastering
the Best Genealogy Websites workshop includes:
Five 60-minute on-demand webinar classes, viewable whenever it's convenient for you
during the week (or download to view later)
one video class, also downloadable and viewable at your convenience
two printed how-to guide downloads
web search makeovers and message board Q&As with Nancy Hendrickson
View
the full Mastering the Best Genealogy Websites workshop program on FamilyTreeUniversity.com.
Save $35 when you register by
using coupon code WORKSHOP!
News from around the web.
Go to Source
—


Plan of Cincinnati and Vicinity, S.A. Mitchell, Jr., 1860, David
Rumsey Map Collection
In genealogy research, old maps can help you
Pinpoint the location of your ancestor's property.
Follow migrating ancestors across the ocean, around the country or through the city.
Answer questions such as where two branches crossed to produce the next generation.
Figure out where a family went to school, church and the grocery store.
Identify potential cluster research subjects (i.e., the neighbors).
Understand your ancestors' neighborhoods.
In our 5
Ways to Enhance Your Genealogy With Old Maps live webinar, happening Thursday,
Dec. 12, Lisa Louise Cooke will show
you the five kinds of maps you should look for and the best ways to use them to solve
genealogy research problems.
In the mean time, try these four websites to find free maps of the places your ancestors
lived.
David Rumsey Historical
Map Collection: The maps and other cartographic images here focus on
rare 18th- and 19th-century North American and South American materials. You can view
maps, compare them side-by-side and download hi-resolution files.
Hargrett
Library Rare Map Collection: This University of Georgia site features
maps depicting the New World, Colonial and Revolutionary America, Revolutionary Georgia,
Union & Expansion, the American Civil War, Frontier to New South, Savannah and
the Coast and Transportation.

News from around the web.
Go to Source
—
Lawyers and genealogists have a lot in common (just ask the
Legal Genealogist), including investigative skills. My lawyer sister used
hers recently to find a home for a collection of family mementos.
It's a happy story, so I asked if I could blog about it.
A stranger called my sister, Jen, at work, about old photo albums, papers and trinkets
she found in a dresser she bought at a St. Vincent de Paul thrift shop.
(Reminder to double-check inside any furniture and behind picture frames before you
donate them!)
The woman looked for a name, found Jen's married surname with a photo, googled it,
and found Jen's profile on her law firm's website. Jen went to pick up the stuff.
She pored over it with her husband and his sister. It was a big collection. "There
were nine photo albums of old black and whites from about the early 1900s to the 1960s,
plus an album of color photos from the 1970s and '80s, old Disabled American Veterans
and American Legion hats and pins, and Freemasons certificates and mementos," Jen
says. (She didn't take a picture; the box pictured above is just for illustration.)

Except for the one photo, which showed my brother-in-law's great-aunt and -uncle,
none of the items appeared to be from his family.
Another name appeared a few times amongst the items (not included here for privacy
purposes). Jen googled the names and came up with two obituaries for a husband and
wife. One was fairly recent and mentioned no surviving children, only unnamed nieces
and nephews.
Jen put on her lawyer hat and reasoned the family might still be dealing with an estate.
She visited the Kenton
County (Ky.) Property Valuation Administrator's website and found a home listed
under the deceased couple's names. She googled the address—it was for sale. Then she
tracked down the real estate agent in charge of the listing, contacted him with an
explanation about the stuff, and asked him to forward her contact information to his
clients.
A few days later, one of the nieces called Jen. "I described what was in the photos
and what some of the names listed in the photos were, and it was all familiar to her.
She came to the office to pick everything up, and was super excited about getting
it."
The niece is related to my brother-in-law, at least through marriage, because his
great-aunt and -uncle are her relatives, too. Happy ending!
News from around the web.
Go to Source
—
We could not wait for the release of The Hunger Games: Catching Fire, the second film in The Hunger Games trilogy, and thought it would be fun to map out the Districts in the movie, as if Panem actually existed.
Our beloved Katniss Everdeen (Lawrence) and Peeta Mellark (Hutcherson) both come from District 12, which covers areas in South Carolina (Lawrence) and Virginia (Hutcherson).
Haymitch Abernathy (Harrelson) has roots in District 10, corresponding to parts of Texas.
Cinna (Kravitz) comes from District 11, which we mapped to Georgia and the books author (Collins) has ancestors in Indiana, also known as District 3.
For our friends up North, President Coriolanus Snow (Sutherland) has ties to District 13, which is the Canadian province of Nova Scotia.
What District Are Your Ancestors From?
News from around the web.
Go to Source
—
The 9th International Genetic Genealogy Conference for Administrators is currently being held by Family Tree DNA in Houston, Texas.  As they try to do every year, there have been several buzz-worthy announcements already.
Family Tree DNA has announced the new Big Y test: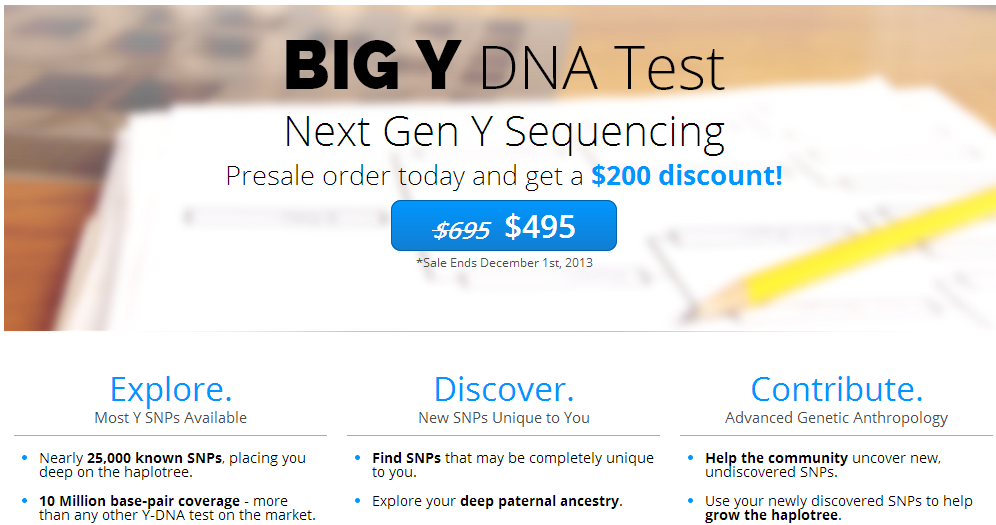 Here are some of the basics about the new Big Y test:
10 million bp sequenced
~25,000 SNPs
Cost = $495 until December 1, 2013, then $695.
The "Y-DNA SNP testing chart" page at the ISOGG wiki has already been updated to reflect the Big Y test.
For more about the test, see these great posts:
There's also a great deal of discussion already going on at all the major DNA-related mailing lists and groups.
Will you be ordering the new Big Y test?