News from around the web.
Go to Source
—
Doctor Radio
I was recently asked to participate in a discussion with Dr. Deb Neklason, Ph.D on the satellite radio channel "Doctor Radio," hosted by Dr. Ira Breite.  We largely spoke about a 2008 study, led by Dr. Neklason (who I thought did a wonderful job of explaining the science and results in layman's terms during the show), in which it was concluded that a gene that often causes cancer traces back to a Mr. and Mrs. George Fry who came to America in 1630.  I have a write-up of the study here (http://www.thegeneticgenealogist.com/2008/01/03/a-single-colon-cancer-gene-traced-to-1630-the-future-of-genetic-genealogy/).  There was also some brief discussion of mtDNA testing and the future of personal genomics.
Here is Dr. Breite's description of this morning's show:
"Colon Cancer is extremely common in the United States: it is the number two cancer killer of both men and women. Some families have a mutation which makes relatives who have it have an even higher risk than the general population. Now it turns out that this gene may have literally come over, if not with the Mayflower, then pretty darn close to that! Join me and Dr. Deb Neklason, Ph.D and Dr. Blaine Bettinger as we talk about how a single mutation in a single gene in a single person from 1630 has led to thousands of colon cancer cases today."
For new visitors from the show looking for more information, feel free to browse the archives and featured articles here at The Genetic Genealogist.
Genomes Unzipped
I'm excited to announce the launch of a new personal genomics blog called "Genomes Unzipped."  It's authored by some of the best and brightest bloggers (and non-bloggers) in this area, including:
The blog (although it sounds like this will be much more than a blog!) promises the following:
Welcome to Genomes Unzipped, a new group blog bringing together experts in the scientific, legal, ethical and commercial aspects of genetics. Our goal is to provide you with independent analysis of advances in the field of genetics, with a particular focus on implications for the budding industry of personal genomics. We'll also be discussing ways in which you can make the most of your own genetic data using online resources and techniques developed by researchers.
If you're interested in genetic genealogy and/or personal genomics, I highly recommend subscribing to this blog (here) and their Twitter account (@genomesunzipped).  Also, look for a "major announcement" on the blog in the near future laying out some future plans for the group.
I wish everyone at Genomes Unzipped the best of luck, and I look forward to reading!
News from around the web.
Go to Source
—
Today at noon, the American Society of Human Genetics lifted an embargo on "Inferring Genetic Ancestry: Opportunities, Challenges, and Implications (pdf)," which will be published in the May 14th issue of the American Journal of Human Genetics.
This paper is a follow-up to a 2008 paper called the "ASHG Ancestry Testing Statement and Recommendations" in which a committee from the ASHG addressed concerns about the claims made by genetic ancestry testing companies.  I wrote an article here on the blog at the time – The ASHG Ancestry Testing Statement and Recommendations – that highlighted a number of concerns I had about the statement and the recommendations.
When I wrote the November 13, 2008 blog post, I began by pointing out my personal positions, which have largely remained unchanged in the intervening 1.5 years:
After years of experience in this field, I am a proponent of genetic genealogy testing, a scientific endeavor that has been utilized by more than 800,000 customers.
I believe that education, not more government regulation, is the most efficient and appropriate answer to the issues raised by the authors of the paper.
I believe that autosomal genetic genealogy testing is in its infancy and should only be used with the understanding that the results are only extremely rough estimates that are subject to change as the field develops.
The 2010 paper begins with a brief introduction and a table of most of the companies currently offering genetic ancestry tests.  The paper also discusses many of the issues associated with genetic ancestry tests, including: (i) the differing definitions of ancestry [of which there are many]; (ii) the tools for inferring ancestry; (iii) accuracy of those inferences; and (iv) ancestry and health, among several other things.
Overall, as discussed in great detail below, the authors have done an excellent job of addressing the concerns I raised in my review of their 2008 paper, which I felt was a much poorer review of the field (see below where I've compared my concerns from 2008 to the 2010 paper).
The 2010 paper ends with the following two recommendations:
"Leadership of the human-genetics community, diverse in its interests and its own identities, should develop mechanisms for promoting thoughtful and rigorous use of genetic ancestry estimation in academic research."
"Interested scientific and scholarly societies should collaborate to convene a national roundtable discussion of DTC genetic ancestry testing."
Interestingly, the second recommendation is similar to the one that I made after reviewing the ASHG's 2008 paper when I stated that "I hope that the Task Force is actively conversing with people outside the committee, including commercial testing entities, researchers, and customers of genetic genealogy in order to obtain a well-rounded view of the field."
Additionally, the 2010 paper specifically offers an "alternative approach" to federal regulation of genetic ancestry testing (something that I have often and repeatedly stated my disagreement with):
"Recently, Lee and colleagues called for federal regulation of genetic ancestry testing.  At this juncture, we offer an alternate approach, one that might itself lead to federal oversight, if subsequently deemed appropriate, necessary, or practical.  We believe that effective decision making regarding genetic ancestry inference, in particular DTC genetic ancestry testing, will be best initiated through cooperative interaction among a variety of stakeholders, including suitable federal agencies.  Considering that such collective engagement has not yet occurred, it is premature to assume reticence or resistance on the part of any of the players or that federal regulation is the only recourse."
I thought it might be an interesting exercise to determine whether the new paper addressed the concerns I raised after reading the 2008 paper.
General Concerns:
The 2008 Paper – In 2008, I wrote that "[t]here are statements in the paper about psychological reactions to testing results, including the conclusion that '[t]he occurrence of or potential for emotional distress in people and groups following receipt of conflicting information about their ancestry has been well documented.'  Unfortunately, the statements are based on anecdotal stories or isolated examples rather than any systematic or scientific investigation of the reactions of individuals to the results of genetic genealogy testing.  I am unaware of any systematic objective study that looks at the reactions of individual to genetic genealogy testing results (outside of the paternity test or health testing arenas).  Indeed, a prior policy paper from the ASHG cites only a BBC documentary that examined the ancestry of three individuals of African descent and a newspaper article to support their conclusion that "[t]est-takers may…suffer emotional distress if test results are unexpected or undesired."  I would suggest that the Task Force, rather than assume that this "emotional distress" response to genetic genealogy test results has been well documented, conduct an objective study specifically tailored to analyze genetic genealogy testing. The difference between the results of genetic genealogy testing and the results of health or medical testing is so vast that drawing comparisons between the two is extremely problematic and potentially inaccurate.
The 2010 Paper – The new paper states that "Knowledge about genetic ancestry, particularly if undesirable and unexpected, can lead to the reshaping of group, familial, or personal identity (cites omitted)…The occurrence of, or potential for, emotional distress in people, families and groups after receipt of conflicting information about their identity through DTC ancestry testing has also been discussed [cites omitted]. Nonetheless, some research focused on consumers of ancestry testing has revealed that although ancestry tests might promote genetic thinking about ancestry and ''race,'' test takers also were able to construct meaningful narratives of their identity. [citing to Alondra Nelson's article; see Article Review: "Bio Science: Genetic Genealogy Testing and the Pursuit of African Ancestry"].  Clearly, additional empirical research will need to adequately explore the relationship between genetic ancestry testing and the identities and overall psychological well-being of test takers, their families, and their communities."
Thus, the 2010 statement clearly weakened the stance of negative perceptions from "well-documented" to "has been discussed," and cites Dr. Nelson's very interesting research, which suggests that test takers interpret results to meld with their preconceived identity.  The section ends by suggesting that more research is needed, which I suggested in my 2008 review.
The 2008 Paper – In 2008, I wrote that "[t]he paper muddles the distinction between Y-DNA/mtDNA testing and autosomal testing, even though the differences are huge.  The results of Y-DNA and mtDNA tests are STR numbers, SNP designations, or differences from the CRS which are then used to estimate a haplogroup or compare with another's results.  Given the extensive data regarding haplogroup designation, the estimates are highly accurate.  Additionally, a haplogroup designation implies only a very broad geographical origin many thousands of years ago; it is not an estimation of genetic ancestry, as the authors of the policy paper imply.  Haplogroup designations have existed for more than 20 years and continue to be used by population geneticists and anthropologists.  The results of autosomal testing, however, are estimations of genetic ancestry.  These autosomal tests look at anywhere from 13 to 500,000 locations – out of billions – on the human genome and return percentages of ancestry based on those markers.  Autosomal testing can be confusing to test-takers because customer often assumes that the percentages are final and represent an accurate picture of their entire genome."
The 2010 Paper – The 2010 statement more clearly breaks up the analysis into the very different fields of "mtDNA and Y Chromosome Markers" and "Autosomal Variants" in one section, and "Lineage Identification with Uniparental Markers" and "Admixture Estimation" in another.
The 2008 Paper – In 2008, I wrote that "[t]he authors mix the issues associated with the everyday genetic genealogy test-taker with the issues faced by very specific groups of test-takers.  For example, Native American groups are concerned about the effects that genetic genealogy will have on group identity and membership.  These same concerns have also been raised by lineage societies such as the SAR and the Mayflower Society.  Any regulations that a group believes it needs should be at the level of the group, not at the level of the testing! Groups that have these concerns should themselves decide whether and how to use genetic genealogy results for membership and group identity (such as the DAR and Mayflower Society are doing); regulating genetic genealogy at the testing level is not the most efficient or appropriate way for these groups resolve the ethical and social concerns."
The 2010 Paper – The 2010 statement has a section on page 10 that addresses this issue.  It states that "[r]eports of the use (or intended use) of ancestry test results to make claims for benefits through affirmative action or for rights perceived to be associated with their new-found Native American status have increased unease over the loss or gain of certain rights or entitlements," but reasonably notes that "It remains to be seen what tangible effects (if any) genetic ancestry inference will have on these pre-existing entitlement issues."  Here, again, the ASHG has addressed my concerns.
The 2008 Paper – In 2008, I wrote that "[t]here is mixing of the controversial phrase "direct-to-consumer" with genetic genealogy.  Of course it's direct-to-consumer, who else would the results go to?  Surely the authors of the paper aren't suggesting that genetic genealogy tests should be ordered and reviewed by a doctor or genetic counselor.  That would be a ridiculous restriction."
The 2010 Paper – The 2010 statement still uses the term DTC, but I think in the last 1.5 years the use of the term in general has been to indicate that the testing is done without the use of a doctor or counselor rather than to suggest that a doctor or counselor should be involved.
The 2008 Paper – In 2008, I wrote that "[a]lthough I am unaware of the composition of the ASHG Task Force, I hope that it is made up of a diverse group. Additionally, I hope that the Task Force is actively conversing with people outside the committee, including commercial testing entities, researchers, and customers of genetic genealogy in order to obtain a well-rounded view of the field."
The 2010 Paper – The 2010 statement, very much in line with my 2008 recommendation, concludes with the recommendation that there be a "face-to-face conversation among ancestry-testing companies and promoters, consumers, community leaders, advocacy and interest groups, geneticists, social and behavioral scientists, humanists, healthcare providers, legal professionals, federal agencies, media, and other key stakeholders should be to identify major issues of concern and brainstorm practical solutions."
Thus, with this paper the ASHG appears to have addressed almost every one of the concerns and misconceptions I raised in my review of the 2008 statement and recommendation.  Actually, it's almost uncanny.  I applaud the committee for their work and thank them for addressing these issues.  Hopefully, when the ASHG's proposed "national roundtable discussion of DTC genetic ancestry testing" is convened, I will be able to attend.
News from around the web.
Go to Source
—
In honor of mother's day, I'm reposting a portion of an entry from March 16, 2009 ("Visualizing Your Genetic Genealogy").  It also follows a SNGF from Randy at Genea-Musings called "Matrilineal Line."
In my genealogical research, I have sometimes found myself missing the trees by focusing on the forest.  I think it happens to many genealogists – we get caught up in the research, the dates, the places, and we forget that there was so much more to people than their vital statistics.
This can happen to genetic genealogists as well.  The connection between the results of a DNA test and the individuals in our tree can be easy to forget and difficult to visualize.  Take the results of an mtDNA test, for example.  The results are obtained from a tiny piece of DNA that has traveled thousands of years (and often thousands of miles) through hundreds of individuals to end up in your cheek cells and on the tip of a swab.  Everyone's mtDNA is the product of an amazingly rich story that has largely been lost to history.
However, we as genealogists can do our part to connect the DNA to as much of the story as possible and prevent further loss.  In your own recent past, who were the people that contributed your mtDNA, your Y-DNA, or your autosomal DNA?
Visualizing My mtDNA Line
This is a compilation of the five most recent generations of my mtDNA line over the past 125 years, as shown in photographs:

Cora's mother was Sarah L. Bodden, born January 1846.  Sarah's mother was Julia Ann Rebecca, of which very little information is known.  What I do know, however, is that my mtDNA Hapl0group is A2, meaning that my matrilineal line is Native American.  Thus, Julia Ann Rebecca's mother, grandmother, or more distant maternal ancestor was Native American, most likely of Central American or Caribbean origin.
Happy Mother's Day to all my maternal ancestors.
News from around the web.
Go to Source
—
The following is a press release from GeneTree:
New GeneTree Services Enable Users to Make Sense of Genetic, Genealogy Information
New GeneTree Products and Services Focus on Making Genetic, Family History Information Comprehensible and Meaningful to Users
As a wholly owned subsidiary of Sorenson Molecular Genealogy Foundation, GeneTree is able to Leverage the World's Most Comprehensive Collection of Correlated Genetic and Genealogical Information on Behalf of Users
Re-Designed Web Site Includes Enhanced Content and Features
SALT LAKE CITY (March 31, 2010) – GeneTree today announced that the company has launched a new product offering of integrated genetic and genealogical services unique in the marketplace for its ability to expand users' knowledge of their genetic and family history connections. The company also announced it has significantly revamped its Web site, www.genetree.com.
GeneTree's comprehensive new service offering focuses on integrating two essential sources of human identity: quality genetic tests and industry-standard family history consulting services. In contrast to providers that focus exclusively on anthropological deep ancestry, GeneTree's product and service offering is designed to help people discover near-term family connections in the last six to ten generations as well as deep ancestral connections.
The company has developed a diverse array of genetic and genealogical consultation services to provide users with a rich sense of their family trees. These services range from providing instruction and support for people who want to make sense of their own research, to comprehensive services for those who prefer that GeneTree conduct research for them. GeneTree's highly qualified, professional genetic genealogists provide individualized assistance about users' family trees and how DNA results can help them in their search for connections.
Genetic information informs family history efforts in two primary ways. First, it helps to ensure the accuracy of the genealogical record, by validating family connections and identifying potential errors. Second, genetic analysis expands the universe of connections available to individuals and families for whom written genealogical records have hit a dead end.
GeneTree helped Lueda Thomas of Omaha, Neb., affirm the identity of her ancestor Josiah Sims, correct inconsistencies in two pedigree charts she was studying, and expand her family tree. "I have spent seven years trying to link Josiah Sims into another pedigree chart," said Thomas. However, there was a 10-year discrepancy between the birth dates attributed to Sims on the two respective pedigree charts, though each reported the same name.
Thomas found two potential living relatives and worked with GeneTree to obtain DNA tests for each of them. Both tests yielded a perfect match and confirmed that the Josiah Sims on both of the pedigree charts she was studying were in fact the same person. In addition, a search in GeneTree's database revealed another perfect match, providing Thomas with a third newly discovered living family member. "I had exhausted all of my resources and knew that DNA was the only way I could find an absolute answer to this question," said Thomas.
GeneTree offers a series of DNA tests that can be tailored to the goals of users ranging from individuals to major family history research projects. The company's genetic testing services, certified by the National Institute of Standards and Technology (NIST), include both Y-DNA (genetic information passed from fathers to sons) and mitochondrial (mtDNA; genetic information passed from mothers to all their children). GeneTree customers can use their DNA results to verify and significantly expand their family trees.
GeneTree's revamped Web site features a complete redesign, together with practical insight about DNA testing and genealogy. A revised shopping cart contains products and services that enable users to take advantage of the synergies between genetic and genealogical information. In addition, GeneTree's dynamic DNAvigator online map allows users to trace the geographic connections and migration patterns of their genetic ancestral groups.
"The popularity of shows like Who Do You Think You Are? demonstrate that there is a genuine hunger for people to know who they are fundamentally-what is their genetic legacy and how they fit into the larger family history picture," said Jeff Wells, CEO of Genetree. "GeneTree is uniquely qualified to help people answer these questions."
GeneTree clients will also benefit from the relationship with its parent, the non-profit Sorenson Molecular Genealogy Foundation (SMGF), which has developed the world's largest and most comprehensive collection of genetic information correlated with multi-generational genealogical family pedigrees.
"Our relationship with SMGF enables GeneTree to combine sophisticated DNA analysis with traditional genealogical research to provide our customers with the most complete picture of human identity available anywhere in the world," said Wells. "The extensive, complementary insights GeneTree customers can obtain through this process are without parallel in making genetic and family history information understandable and useful."
About GeneTree
GeneTree (www.genetree.com) is the leading provider of genetic and family history services that unlock people's ancestral legacy. Powered by the world's largest, most comprehensive repository of genetic and genealogical information, GeneTree's best-in-class genetic testing, genetic genealogy consulting and family history research enable individuals and extended families alike to dramatically extend their family trees.
News from around the web.
Go to Source
—
There's a terrific discussion in the comments to "Genetic ancestry testing: people who don't want to know" about people who refuse to undergo genetic ancestry testing for personal reasons.  I added my own 2 cents at comment 17 trying to explain some of the most common misunderstandings surrounding autosomal DNA testing.
News from around the web.
Go to Source
—
Randy Seaver at Genea-Musings ("I'm Puzzled by DNA Claims on 'Faces of America'") writes about the fourth and last episode of "Faces of America," a PBS documentary series investigating the ancestry of several famous people in America. This fourth episode included several different types of genetic genealogy to examine the ancestral origins and relatedness of the show's members.
1. Whole Genome Sequencing by Knome
The first type of genetic genealogy was whole-genome sequencing by Knome of Henry Louis Gates and his father. This analysis examined Henry's ("Skip's") genome for medical conditions and physical traits, and also compared his DNA to his father's, thereby allowing them to deduce the entire DNA contribution from his deceased mother. This segment was actually quite moving, as Dr. Gates was able to establish this intimate connection to the mother that he and his father obviously missed very much.
2. SNP Analysis by 23andMe
The second type of analysis was large-scale SNP analysis of everyone's genome by 23andMe. The show primarily focused on the Ancestry Painting, which uses information from throughout the entire genome to determine a very rough estimate of your ancestry. Ancestry Painting breaks down the genome into three categories: Asian/Native American, European, and African. Stephen Colbert, for example, was 100% European, while Eva Longoria was 70% European, 27% Asian/indigenous, and 3% African. I don't recall any mention or use of 23andMe's medical or physical trait analysis in the show.
3. mtDNA and Y-DNA Haplogroups
The third type of genetic genealogy was haplogroup testing. In this segment, Dr. Gates spoke with Dr. Bryan Sykes of Oxford Ancestors, which was interesting because it was the first time I've ever seen him speak. There didn't appear to be any surprises here.
4. Mysterious Genomic Comparisons
The fourth type of genetic genealogy testing in the episode is what has caused so much confusion among genealogists. Dr. Gates introduced David Altschuler and Mark Daily as "research geneticists at the Broad Institute." According to Dr. Gates, Altschuler and Daily have "pioneered a new kind of genetic analysis that can determine if any two people share a common ancestor within the last several centuries." Although Dr. Gates repeatedly said within the last "250 years", the scientists repeatedly said "hundreds of years." A slight difference perhaps, but I tended to disregard the "250 years" as more of a simplification by Gates for purposes of the show rather than any actual limit discussed by the scientists. Regardless, this doesn't make their analysis any more clear.
Unfortunately, I have been unable to locate any discussion, literature, or publication by Altschuler or Daily (or anyone else) discussing this "new kind" of genetic analysis. If you're familiar with one, please point it out in the comments so that we can understand their analysis.
Interestingly, the members of the series apparently did not match each other in 23andMe's Family Finder, since the 23andMe system would have picked up on that, and further analysis would not have been necessary. And since it appeared that they did NOT undergo further testing, I imagine they used their 23andMe data for the analysis by Altschuler and Daily.
As an example of this comparison, according to Altschuler and Daily, Yo-Yo Ma (who was 100% Asian in his 23andMe Ancestry Painting) is related to Eva Longoria (who was 70% European, 27% Asian/indigenous, and 3% African) within the last few centuries. It obviously wasn't through Native American DNA since any connection there was many, many thousands of years ago. Does Longoria have more recent Asian DNA perhaps? It seems unlikely (but is certainly not impossible). The fact that this was simply glossed over was an oversight.
I'm having a hard time understanding the results from Altschuler and Daily.  Can anyone else shed any light on their analysis?
Conclusion
Despite the confusion created by the fourth type of genetic analysis, I really enjoyed this episode of Faces of America. As always, it was interesting and entertaining to watch them receive their results and explore their ancestry.
What are your thoughts?
News from around the web.
Go to Source
—

Kevin Davies, Ph.D., currently the Editor-in-Chief of Bio-IT World, recently wrote an article about Pathway Genomics in which he reviewed the company's Health Test product (see "Pathway and Me: Consumer Genomics Firm Delivers First Results"):
"Earlier this year, I submitted a saliva sample to Pathway to get a feel for how the latest consumer genomics offering compares to the more established companies in the field. Pathway communicates the health results not by a numerical relative or lifetime risk but via a series of color-coded bins depending on their potential significance to the individual."

I too recently had the opportunity to test my DNA through Pathway Genomics. (DISCLAIMER: Although this test kit was not free, I am a consultant for Pathway Genomics. This review, however, contains my own opinions of the Pathway Genomics Ancestry Test product). This is a brief review of the Pathway Genomics Ancestry Test, which examines SNPs on the mtDNA (for both males and females) and the Y-chromosome (for males). Using those results, Pathway classifies test-takers into one of over 1,200 maternal haplogroups and one of over 525 paternal haplogroups.
mtDNA Results
Based on my SNP results, Pathway classified me as belonging to maternal haplogroup A2, a predominately Native American haplogroup: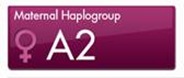 It was actually a major victory for Pathway to classify me as A2. Although I already knew that I'm haplogroup A2 based on prior sequencing, I have a very unusual A2 haplotype (so far, the only one like it in the world). Haplogroup A2 is typically differentiated from the parent haplogroup A by changes at (at least) sites 146, 153, 16111, and 16362 in the control region and at sites 8027 and 12007 in the coding region. I, however, am missing the 16111T mutation.
As a result, at least one other company has had trouble determining whether I am A or A2. 23andMe, for example, bases its A2 classification on two sites, 8027 (rs1116904) and 16111 (i3001593). Since I'm missing the 16111 mutation, 23andMe classifies me as simply A rather than A2 (and although 23andMe tests the 12007 SNP (rs2853497), they don't appear to use it in the A2 calculation).
Y-DNA Results
Pathway classified my paternal haplogroup as R1b1b2a1a1, a subclade of R1b which is defined by U106 (aka S21 or M405) (SNP rs16981293 at position 8856078).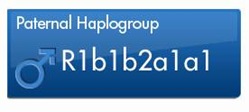 R1b1b2a1a1 is believed to be roughly 3,000 to 4,000 years old, and originated in central/northern Europe. The haplogroup is shared by both Craig Venter and James Watson, the first individuals to have their complete genomes published. I further belong to a subclade called R1b1b2a1a1c, which is defined by S26 (at position 13025258). 23andMe does not test the S26 SNP, and it is not currently clear whether Pathway tests the SNP.
Included with mtDNA and Y-DNA results is a summary of the current understanding of the origin and history of the haplogroup, and a migration map which shows:
"The migration map shows approximately when your ancestor originated and where they migrated across the globe. You can move the pointer along the bottom of the map to see different timeframes, or click on other migration lines to see the patterns of different haplogroups."
The results also include a navigable haplogroup tree and information about some famous people whose mtDNA or Y-DNA results are known.
Downloading SNPs
Although I am currently not able to download my SNP results, the Davies article at Bio-IT World noted that this will most likely be an option in the near future:
"For now, there is no easy mechanism to obtain the raw SNP/genotype results, as the other DTC companies provide (either via download or CD). But it is coming. 'This is your information and you are certainly entitled to it,' said Bornstein. Becker says the information will be made available as soon as Pathway is satisfied that the novel SNPs on its custom chip are validated."
My Health Results
Unfortunately, I am not yet able to employ Pathway Genomic's health test because I live in New York state. NY currently requires a physician's involvement in DTC testing, which, in my opinion, is a paternalistic barrier between NY residents and their genetic sequence. Pathway noted that hopefully this problem will be fixed within the near future, at which time I will access and share my health results.
News from around the web.
Go to Source
—

Late last fall, Family Tree Magazine requested nominations for the best genealogy blogs, and then opened voting for the nominated list.  Yesterday, they announced the winners of the voting.  Diane Haddad wrote about the announcement on the Genealogy Insider blog, and Maureen Taylor wrote the article that will appear in the May issue of Family Tree Magazine: "Fab Forty."
I am very pleased and honored to announce that TGG was selected as one of the 40 Best Genealogy Blogs, in the category of genetic genealogy. I would like to thank everyone who nominated and voted for me.  I have been very fortunate over the last few years to interact with a fascinating array of readers, and I am thankful for every one of them.
When I started blogging in February 2007 (I just recently counted my third anniversary of TGG!), there were very few blogs in the genetic genealogy space.  Today there are a number of interesting and well-written genetic genealogy blogs.  See my recent round-up at "10 Great Blogs for Genetic Genealogists."  Each of these blogs is well worth adding to your reading list.

I would also like to congratulate all the other blogs on the list, as I am truly honored to be listed among them.  I am an avid reader of the vast majority of them, and I look forward to so much more.  Here are few links to their own announcements:
And here is the full list of winners.  A huge congratulations to them, as well as to all the blogs that were nominated:
All-Around
Cemetery
Corporate
Genetic Genealogy
Heritage
How-To
Local & Regional
News & Resources
Photos & Heirlooms
Personal & Family
News from around the web.
Go to Source
—
It's always fun to find records about your ancestors. It's even more exciting to discover records that you never knew existed. But how do you find these records when you didn't even know to look for them?
Here's where the Ancestry.com community can help you. Ever notice the Member Connect panel when you're looking at a record image? We show you other members who have saved the record you're viewing to their tree so that you can check out their research and contact them.
Last night we released an enhancement to the Member Connect panel. If members have saved the record you're viewing to someone in their tree, we'll now show you other records they have saved to the same person in their tree. We show you both the name of the record and how many people have saved it to their tree. Look through the list of records saved by the other members and you may discover an elusive record you could never find– or never thought to look for.
Don't see other records?
If no one else has saved the record you're viewing or no one else has saved other records for this person to their tree, then this new section won't appear in the Member Connect panel.
If you don't see the Member Connect panel on the page, it's likely because you have it collapsed. You can open the panel by clicking on the arrow button on the right side of the screen.
News from around the web.
Go to Source
—
Occasionally you may find that you've duplicated the names of locations in your tree. This might be because you ignore a place warning for a location or you've named one location differently. In Family Tree Maker 2009 and 2010, you can merge two locations together. That way you won't lose the facts associated with either location.
1. Go to the Places workspace.
2. In the Places list, select the place you want to replace.
3. Right-click the name and choose Replace with Other Place Name (in 2009 the option is called Merge with Other Place). The Index of Places window opens.
4. Select the name you want to keep and click OK.
TIP: If you can't remember which location you chose first, don't worry. If you click on the wrong location, the OK button won't be enabled.