News from around the web.
Go to Source
—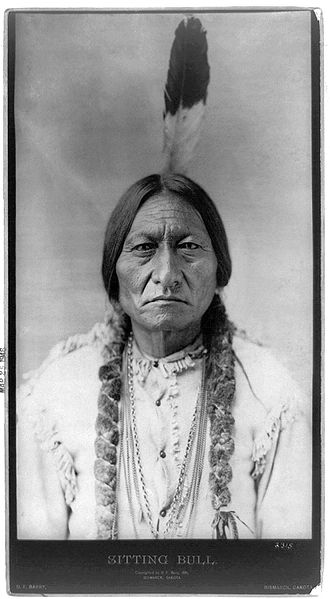 ScienceNews reports that researchers led by Eske Willerslev at the University of Copenhagen are attempting to sequence the genome of legendary Native American "Sitting Bull" (see "Genome of a Chief").
Earlier this year (2010), Eske Willersleve announced the successful sequencing of approximately 80% of the genome of "Inuk," a man from Greenland who left behind a few small fragments of bone and four hairs frozen in permafrost when he died about 4,000 years ago (see "Long-Locked Genome of Ancient Man Sequenced").  Using these ancient DNA sequencing techniques, Willersleve's group is analyzing DNA from other samples.
One of these samples is a lock of hair from Sitting Bull.
Sitting Bull (c. 1831 – Dec. 15, 1890) was a Hunkpapa Lokota Sioux born in South Dakota.  Sitting Bull played an important role in the June 25, 1876 Battle of the Little Bighorn, and later toured as a performer in Buffalo Bill's Wild West show.
It is not clear from the ScienceNow article, but the lock of hair being used for the analysis could be the same lock of hair that was repatriated to Ernie LaPointe, the great-grandson of Sitting Bull, in December 2007 (see "Assessment of a Lock of Hair and Leggings Attributed to Sitting Bull, a Hunkpapa Sioux, in the National Museum of Natural History, Smithsonian Institution").  Ernie LaPointe is believed to be the closest lineal descendant of Sitting Bull, and one of his few remaining descendants (see "Smithsonian traces Sitting Bull's descendants").  The lock of hair was acquired from Sitting Bull's body upon his death in 1890 by U.S. Army surgeon Dr. Horace M. Deeble, and when Deeble died in 1896 it was loaned to the National Museum of Natural History.
It's unknown when the researchers plan to release their results.  The ScienceNews article mentions that one of the researchers, Cristina Valdiosera, revealed the plan to sequence Sitting Bull's genome at an August 2010 scientific meeting:
"Valdiosera said that the researchers have the approval of Sitting Bull's descendents to perform DNA tests on a sample of his hair, and that the team is trying to extract a full genome. If so, his would become the first ancient, non-frozen, Native American genome sequenced."
Interestingly, it appears that working with Sitting Bull's genome may be a life-long dream for Willersleve (see "Fossilized feces found in Oregon suggest earliest human presence in North America"):
"[Willersleve] said his own interest in the subject [of ancient American DNA] was sparked by a boyhood fascination with Sitting Bull and other American Indians."
Sequencing Famous Genomes
As new techniques for sequencing ancient or low-quality DNA samples are developed, researchers will begin to analyze any famous or ancient genome they can get their hands on, which is already beginning to happen.  As a genealogist, I know very well the affiliation humans have for keeping mementos of the past.  There are probably hundreds of famous and ancient DNA samples waiting their turn for sequencing.
Off the top of my head, here are 5 people – either known or likely to have DNA kicking around – that I would nominate for analysis:
Albert Einstein;
Abraham Lincoln;
Ötzi (I believe this one is already in the works);
Juanita the Peruvian Ice Maiden (a 600-year-old mummy); and
My great-grandmother Helen (hey, I can't deny my genealogy side!).
Whose genome would you nominate for sequencing?
Ethical Issues
The ScienceNews article notes "the researchers have the approval of Sitting Bull's descendents to perform DNA tests on a sample of his hair."  Certainly they needed permission to obtain DNA from the hair clipping, but did they need permission to sequence that DNA? (setting aside for the moment the many ethical concerns regarding Native American remains).
For example, if I find a hair clipping in a book I purchased at an estate sale, do I have a duty to find the owner's descendants and ask for permission before sending it away for sequencing?  What if the hair clipping is clearly labeled with the owner's name and other identifying information?  Further, can I leave instructions for my descendants that they do not sequence or give permission to sequence my DNA?
I'm not a believer in genetic exceptionalism, so I look outside the realm of DNA for insight.  If that book I'd purchased at the estate sale was an old diary or journal, it most likely would not cross my mind to contact the author's descendants before reading it.  And, interestingly, that diary or journal is much more likely to reveal personal information about the author than anything I could possibly discover in their genome.
What are your thoughts?  What permission might be required when sequencing ancient or famous DNA?
News from around the web.
Go to Source
—
Family Tree Maker 2011 is almost here. Join us for a free webinar on September 15th at 8:00 pm Eastern Daylight Time and discover why it's the best version yet.
You'll learn how to:
Use Smart Stories—a new narrative tool to help you create and share family stories.
Create new fan charts.
Dress up your charts using photographs and embellishments.
Add your own historical events to timelines.
And much more.
To attend the Family Tree Maker 2011 webinar, click here to register.
And if you have questions you'd like answered, please enter them in the Comments section below. We'll try to respond to them during the webinar or on the blog. (Please limit your questions to functionality available in Family Tree Maker 2011.) We appreciate your questions and look forward to talking to you soon. Thanks!
Have you missed past webinars? You can view them any time at FamilyTreeMaker.com.
News from around the web.
Go to Source
—
If you're a family historian that enjoys getting to know your ancestors, you'll love our new U.S. School Yearbook collection. Now, with more than 60 million yearbook records available, you just might find that grandpa was voted class clown or even discover great-grandma's salutatory speech.
The new U.S. School Yearbook collection makes starting your family history even easier by adding an entirely new dimension to your research. Yearbooks contain graduation and candid photos, which add insight into an ancestor's extracurricular activities in school. Along with our ever-expanding database of billions of other historical records, the U.S. School Yearbook collection will help you discover the deeper details about your ancestors that you may have not otherwise been able to find.
Like Barbara Lily, who experienced an amazing discovery in the yearbook collection.  Her father's parents were immigrants and too busy raising 7 children to worry about taking pictures. So Barbara had never seen any pictures of her father in his childhood…that is until she stumbled across the U.S. School Yearbook collection and found a 1928 photo of her father in 8th grade. Barbara couldn't believe the face that stared back at her. Long after time had taken her father, history had held onto a piece of him, and helped Barbara discover a part of her father that she had never known.
The new U.S. School Yearbook collection is fully searchable by name, state, city, school, year and even estimated date of birth. So even if you have searched this database before, with the addition of millions of records, you're bound to find something new.
This addition makes Ancestry.com the home to the world's largest searchable online yearbook collection. The records, consisting of 10,000 yearbooks, came from high schools, junior highs, academies, colleges, and universities—military, public, parochial, and private.  The collection covers almost every state in the United States and spans over 100 years (1875-1988).
So, for anyone interested in discovering their ancestors in the new yearbook collection, visit www.ancestry.com/yearbook to search the full collection of 60 million records.
Once you have found your ancestor in a yearbook, keep your eyes open for class histories, nicknames, statement of aspirations and involvement in clubs and other activities. The U.S. School Yearbook collection gives an amazing opportunity to find out new things about your ancestors.
News from around the web.
Go to Source
—
Have you been watching the encore episodes of  the TV show Who Do You Think You Are? that have aired recently? During the past couple of weeks, it's been moving to relive Lisa Kudrow return to the place where members of her family had been murdered in the Holocaust, and exciting to see Sarah Jessica Parker make connections to a gold miner and an accused witch.
And within both of their stories, we are able to take away something that we can apply to our own family history research.
For example, if you wanted to start searching to see if any of your ancestors were part of the original gold miners, then you should check the 1850 U.S. Federal Census for California to see if your ancestors were Forty-Niners.
Or if you have a more complex family history line, like Lisa Kudrow, you can find experts to answer questions, research records, pick up documents, take photos, translate papers, or tackle full research projects through the Ancestry.com Hire an Expert tab.
For more details about both episodes, check out our original blog posts for Lisa Kudrow and Sarah Jessica Parker that spell out the particulars about each episode and other tips and tricks that could be helpful in your own family history research.
Don't miss the next two weeks where NBC will be airing the journeys of Emmitt Smith and Brooke Shields. Tune in Friday August 27th at 8/7c to see Emmitt learn of his African roots, and the following week where Brooke Shields discovers her family comes from two different worlds.
And then let us know your family history research experience. What family history tips have you gathered from watching the series Who Do You Think You Are?
News from around the web.
Go to Source
—
The Ancestry.com Family Tree Service will undergo scheduled maintenance Wednesday for about 3 hours beginning at 12:01 AM Mountain Time. (6:01 AM GMT, 2:01 AM Eastern, 1:01 AM Central, 11:01 PM Pacific) 
During this time Ancestry Member Trees, OneWorldTree, some portions of My Canvas, the sections of the Home Page that are related to Member Trees, and the sections of MyFamily.com that are related to Member Trees will be unavailable. 
News from around the web.
Go to Source
—
The Federation of Genealogical Societies has re-launched its Society
Hall online directory. If you think you know the name of the genealogical society,
historical society, family association or library you want to contact, you can search
by keyword; otherwise, choose a state from the drop-down menu for a list of societies
in that state (note that the directory might not include every society in the state).
An Irish library and museum website called Ask About Ireland has posted an important
Irish record group free online: Griffith's
Primary Valuation is an accounting of property values in Ireland that took place
between 1847 and 1864. You can search by a family name and place, or use the Place
Name search to search by just a place.

Each result contains the family name, the first name, county and parish.
Click links to see details for the individual (landlord and tenant names, location,
and publication information for the original map), the person's residence plotted
on a map, and a copy of the original Griffith's Valuation page entry.
Tonight you can watch the "Who Do You Think You Are?" episode in which pro football
Hall of Fame member Emmitt Smith discovers his roots. It's on NBC at 8 pm eastern
(7 central). (See
our "Who Do You Think You Are?" coverage.)
News from around the web.
Go to Source
—
Subscription genealogy site Ancestry.com beefed
up its school yearbook collection to
total 10,000 yearbooks and 60 million records (names), staking a claim to the largest
searchable collection of yearbooks available online.
I like the idea of yearbooks as genealogical resources because of the potential of
finding a photo of an ancestor as a young person, and learning about interests such
as tennis or science (you won't find that in the census).
Ancestry.com's collection contains two databases: US School Yearbooks, which already
was on the site; and US School Yearbooks Index, the new additions.
The yearbooks come from military, public, parochial and private high schools, junior
highs, academies, colleges and universities from almost every state. The books date
from 1875 to 1988. Click here to search.
The search can be a bit frustrating. The first and last names you type in won't necessarily
be near each other on the yearbook pages in your search results, so you'll get a lot
of irrelevant matches. Adding a place of residence and a birth year or range will
help.
Once you do find somebody, you can page through the book to see if he or she is photographed
or listed elsewhere (such as with the football team or on a "Most Popular" list).
Also try to find yearbooks for other years the person spent at that high school or
college.
News from around the web.
Go to Source
—


Funny stuff! On GraveHumorBook.com, the
companion website to our latest book, Grave
Humor, you can:
See funny tombstone photos (some from the book, some sent in by our fellow funny gravestone
enthusiasts)
Meet the author, Mr. M.T. Coffin.
Download free Grave Humor wallpaper for your computer, iPhone or iPad
Submit photos of the funny gravestones you've encountered in your cemetery adventures
… and, of course, buy a copy of Grave
Humor for your very own (on sale now for $8.79!)