News from around the web.
Go to Source
—
The upcoming Family Tree University course Finding
African-American Ancestors in Newspapers will help you use what instructor Tim
Pinnick calls a neglected resource to trace your black ancestors.


Pinnick, author of the book Finding and Using African American Newspapers (read
chapter 1, Making the Case for Newspaper Research, online as a PDF), emphasizes
the importance of using both mainstream "white" newspapers and those written for a
primarily African-American audience. Here's why:
Mainstream newspapers carried a wide range of stories covering the African-American.
A considerable number of white newspapers in both the North and South carried columns
or special sections of news specifically for black readership. Stories ranged from
items about local residents to those on a state or national scale. The Joliet Evening
Herald News in April of 1926, for example, ran an article on the awarding of a
charter to the first black Boy Scout troop in the city.
Obituaries or stories reporting the deaths of black community
members can be found with regularity. Researchers report great success in finding
items such as these on their ancestors. In most cases these ancestors have not lived
a life of great acclaim, but have merely established themselves as amicable neighbors.
In general, it's not unusual to find obituaries in mainstream
newspapers to be more extensive than those in African-American newspapers. I would
guess that this is particularly true in cases when the white paper is published in
town, while the black newspaper is national in scope and published elsewhere.

A case in point would be the death of African-American Nancy Greenly of Kankakee,
Ill., in 1920. Her death notice in the Chicago Defender on January 17 consisted
of one paragraph on page 7, compared to front-page coverage of the event in eight
rich paragraphs in the Kankakee Daily Republican.
Pinnick recommends the N.
W. Ayers & Son's American Newspaper Annual, digitized on the Library of Congress
website, to help you determine what newspapers were published in your ancestors' area,
and even the papers' political leanings. Pinnick points out that before the Civil
War until around the 1930s, elements of the Republican Party championed the rights
of African-Americans. Newspapers supporting that party may have been more likely to
cover African-Americans in the community.
Finding African-American Ancestors in Newspapers: Research Strategies for Success
is a four-week course (one lesson per week) starting Aug. 16.
Click
here to see a syllabus and learn more about the instructor.
Click
here to register for the class.

News from around the web.
Go to Source
—
Family Tree Magazine is putting out a call for photos for two projects featuring
readers' ancestors:
Stop by either Flickr pool to see photos and accompanying stories readers have already
submitted. I especially like how George
Washington Gaddy's great-grandaughter relates standing on the Burnside Bridge—where
G.W. was last seen before his death—on the Antietam battlefield.
Please submit your photos for either calendar on or before August 24. Include in the
caption any details you know about the photo and who's in it, and tell us where you
came across it it (for example, in your family's collection, at a historical society,
etc.).
Note that you must have a Flickr membership (free or paid) to upload photos or add
comments. Click here to learn
more about Flickr.
If you have questions or wish to submit a photo by other means, you may e-mail
your question or submission to us. Please attach a high-resolution image (at least
300 dpi).
You may submit as many photos as you like. There's no need to post your real name
if you prefer not to, but to be credited if your photo is selected, please provide
your name and your city or town of residence.
By submitting photos and captions via Flickr or e-mail, you verify that no other party
holds copyright to the image. You also grant F+W Media, Inc., permission to use your
contribution in any and all print and electronic media.
News from around the web.
Go to Source
—
I've been editing the Published
Genealogies classes for Family Tree
University, and I wanted to share these sources of free online family histories
and local histories.
I've listed sources with broad geographic coverage first, followed by sources focusing
on a particular state or locality. Of course, this list isn't comprehensive—libraries
and societies all over the place are putting books online. Click Comments below this
post to add sources you know of.
Broad coverage
BYU Family History
Archive: More than 17,000 items from the Family History Library, Allen County
Public Library, Houston Public Library Clayton Library Center for Genealogical Research,
Mid-Continent Public Library Midwest Genealogy Center, BYU Harold B. Lee Library,
BYU Hawaii Joseph F. Smith Library, and the Church of Jesus Christ of Latter-day Saints
Church History Library
eHistory.com:
Find The War of the Rebellion: A Compilation of the Official Records of the Union
and Confederate Armies (aka the OR) and other mostly military titles
Google Books: Zillions
of searchable books on all topics (many are free to read, especially older books,
but books still covered by copyright may have limited or no preview)
HeritageQuest Online, accessible through public, state and university libraries
that offer this service (ask at your library's reference desk): More than 25,000 searchable
family and local history books
Internet Archive:
millions of books from libraries around the world
Library
of Congress: Many books from the 1500s and 1600s about early explorations
and world cultures, as well as US works including a farmer's almanac with handwritten
notes by George Washington
Making of America at quod.lib.umich.edu/m/moagrp and digital.library.cornell.edu/m/moa (different
material is found on each site): Material covers Acadians, individuals and families,
geographic areas and more
Project Gutenburg:
Browse "bookshelves" on topics such as slavery, suffrage, witchcraft, bestsellers
and more
State and local coverage
Digital Library of
Georgia: The Anne Fannie Gorham Civil War diary, Living in Savannah scrapbook
project, oral histories, titles from the Hargrett Rare Book and Manuscript Library
and more
Historic
Pittsburgh: City directories, local and church histories, University of Pittsburgh
alumni directories and more
The Kansas Collection
Books: Transcribed (rather than scanned) books from and about Kansas' past
Public
Library of Cincinnati and Hamilton County Digital Library: The history and
genealogy section includes county histories, city directories, ships' log books, The
Black Brigade of Cincinnati and more
Quinnipiac University
Digitized Connecticut History Books: Biographies, regimental histories, local
histories and more
Wisconsin
Historical Society Digital Collections: Pioneer memoirs and interviews, books
on state history and more
The Family Tree University Published Genealogies course covers how to find and use
genealogies in your research. The next course starts August 16—see
FamilyTreeUniversity.com for more information and to register.
News from around the web.
Go to Source
—
Last week I wrote about the results of my Family Finder autosomal DNA test by Family Tree DNA (see "A Review of Family Tree DNA's Family Finder – Part I").  The Family Finder test uses a whole-genome SNP scan to find stretches of DNA shared by two individuals, thus identifying your genetic cousins (and will soon include the Population Finder analysis of admixture percentages).  I currently have over 33 genetic cousins in Family Finder, and I'm working with them to identify our common ancestor(s).
The Affymetrix microarray chip used by FTDNA includes over 500,000 pairs of SNPs located on the X chromosome and the autosomes (no Y chromosome SNPs).  Via SNPedia:
FamilyTreeDNA uses an Affymetrix Axiom CEU microarray chip with 3,269 SNPs removed (563,800 SNPs reported) for autosomal and X (but not Y or mitochondrial) ancestry testing for $289. Other sources have cited 548011 snps. This platform tests 1871 of the 12442 snps in SNPedia.
FTDNA states that the Family Finder test is not intended to be medical.  From the FTDNA FAQ:
Question: Is the Family Finder test medical?

Answer: No, it is not.
This is entirely accurate of course; FTDNA does not analyze the test results for health, traits, or other medically-relevant information, and does not provide the user with any medical information or analysis tools that might reveal medical information.
However, when DNA is involved there is almost never any such thing as a completely non-medical test.  It's often impossible, at any given point in time, to know which of an individual's SNPs might be affiliated – remotely or closely – with a medical state or condition.  Ann Turner recently wrote the following at the Rootsweb GENEALOGY-DNA mailing list in response to another individual's question:
Question:  "I am wondering if FTDNA really left out the genes and just lists the intergenic areas?"  Answer:  "No, the claim was that they scrubbed medically significant SNPs.  They still include over 1600 SNPs with entries in SNPedia, which would have some phenotype implications, according to an analysis posted at DNA-Forums: http://tinyurl.com/27slbj8."
Indeed, as of August 3rd, 2010, there are 12,442 SNPs in SNPedia, of which a total of 1,871 are tested by Family Tree DNA's Family Finder test.
Promethease Analysis

I was curious as to what information my Family Finder results might contain, so I ran my results through Promethease, a free software tool used to analyze whole-genome SNP scan results.  From the Promethease website:
"Promethease is a tool to build a report based on SNPedia [an impressive database of annotated SNPs] and a file of genotypes [i.e., your Family Finder results]. Customers of testing services (23andMe, deCODEme, Navigenics, …) can use it to learn more about their DNA. It can also pool the data from multiple testing services. The program runs for approximately 3 hours. An optional $2 payment per run unlocks extra features and reduces runtime to approximately 5 minutes."
Similar to several of the other autosomal SNP scan testing companies, Family Tree DNA allows the customer to download their own DNA testing results.  Autosomal results and X-chromosome results are separately downloaded as compressed files which can then be extracted for analysis.  After downloading and installing Promethease, I ran the program using just my Family Finder results (after paying the $2 for a faster runtime.  I'm impatient.).
Promethease was  indeed able to analyze my Family Finder results and returned a report that included 1881 annotated genotypes. Here, for example, is a screenshot from my results (click to embiggen):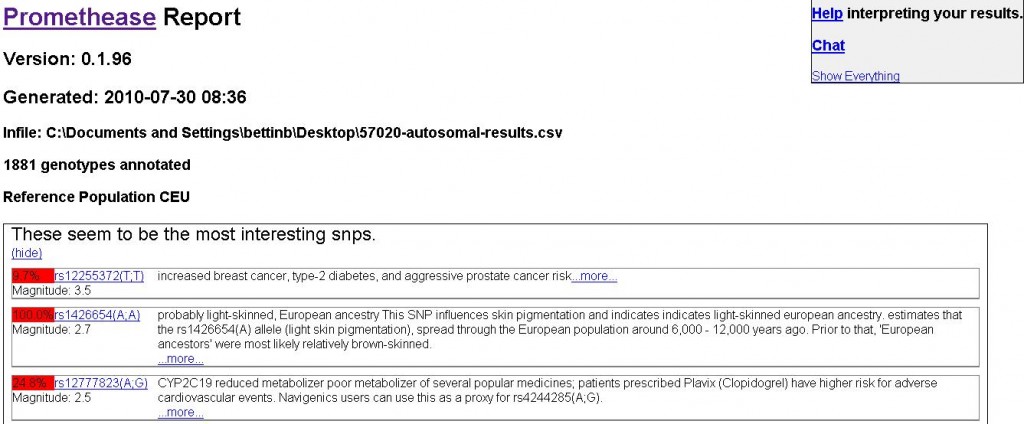 In addition to the "most interesting snps" category, there are categories for "medicines", "medical conditions" (below), and others.  After clicking on "more" for each category, I receive more information about those annotated SNPs.  To get an idea of what the full results look like, there are a number of people who have shared their real promethease reports.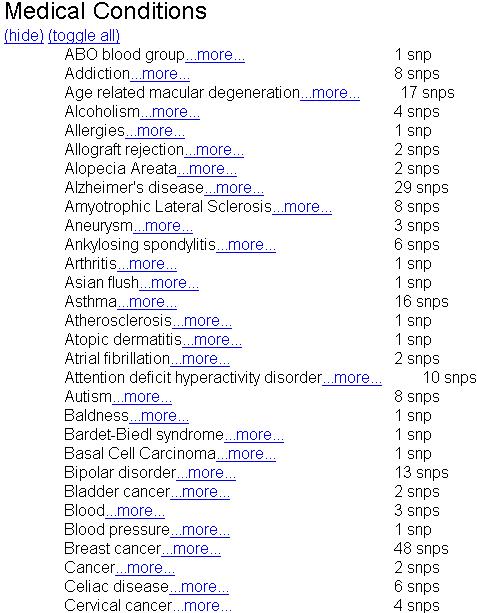 Promethease also lets you upload your results from different companies, so I also analyzed my Family Finder results together with the results of my 23andMe test.  Since there isn't much overlap between the SNPs in the FTDNA test and the SNPs in the 23andMe test (see this ISOGG Wiki page for more information about FTDNA's testing versus 23andMe's testing, for example), I was able to extract information about 7691 of my personal genotypes using the SNPedia database (compared to 1881 genotypes with my Family Finder results alone).  Thus it appears that the 23andMe results are more likely to contain SNPs that are annotated in SNPedia.  This isn't surprising considering that, according to reports, FTDNA designed their chip to contain fewer annotated SNPs.
My Results
Since I have taken whole-genome tests before and was familiar with both testing and the interpretation of results, my report was not surprising.  Indeed, I was already aware of my increased risk of type-2 diabetes (see Personalized Genomics: A Very Personal Post ), as well as the fact that I'm "probably light-skinned" (see e.g., my bathroom mirror).  However, it might not be clear to those taking these tests that the results contain a large amount of medically-relevant information.  This can be problematic when considering the fact that Family Finder test-takers might share or reveal their data with other people.  Indeed, even knowledge that you share a region of DNA with another person can reveal medically-relevant information that the two people share in that region.
On the other hand, this ability to apply Family Finder results to information in SNPedia will be of great interest to a number of test-takers who are interested in this type of genetic analysis.  This type of "do-it-yourself biology" is becoming more and more popular everyday.  Although there is still much debate regarding the utility of such information, exploring one's genome can be highly interesting, informative, and interesting (and, to date, no one has adequately shown that exploring one's genetic data is harmful for anything other than a tiny minority of people).
Conclusions
In conclusion, it is important for consumers to realize that ALL genomic information has the potential to reveal medically-relevant information (even Y-DNA and mtDNA results can include health information, for example).  By no means, however, am I suggesting that people should forgo whole-genome SNP scans, or that governmental regulation is needed.  Instead, I think it is vital that consumers understand the testing process and possible outcomes before testing, and I fully believe that it is the consumer, not the government, who should decided whether the consumer should or can undergo testing.
Indeed, rather than expend thousands of dollars in hearings, [faulty] investigations, and regulation, the government could use that money to fund programs that educate the population about genetics and DTC testing.  After all, we are entering a future that will involve our personal genomes in many aspects of our lives.
I'm interested to hear your thoughts on this subject, so please feel free to leave a comment below.
(Disclaimer: Please note that I received my Family Finder test without charge from Family Tree DNA for purposes of this review.  Regardless, I have attempted to review this product as honestly and as objectively as possible in order to provide valuable information about Family Finder to my readers.  I am also a consultant for Pathway Genomics.)
News from around the web.
Go to Source
—
Subscription site Ancestry.com just announced it
has acquired Salt Lake City-based professional genealogy research firm ProGenealogists.
The acquisition adds to the research services business Ancestry.com launched last
year with Expert Connect.
ProGenealogists has been operating for 10 years and employs a roster of more than
30 researchers including Natalie Cottrill, Kory L. Meyerink, Kyle J. Betit and Judith
Wight. You may remember some of these names as the researchers who helped celebrities
find their roots on the NBC television show "Who
Do You Think You Are?"
Ancestry.com, a partner in the show, "will continue leveraging the expertise at ProGenealogists
for similar initiatives in the future," according to a press release.
The press release also stated that ProGenealogists will "continue to provide premier
family history research to its existing clients while extending the Ancestry.com reach
across the genealogy value chain."
News from around the web.
Go to Source
—
Families is a new app for the
Apple iPhone, iPod Touch and iPad that works in conjunction with the windows-based
family tree program Legacy Family Tree. You can transfer Legacy family files from
your PC to your mobile device, then view and edit them. (You'll need to download a
free program called Families Sync to your PC in order to transfer the files.) Families
is available at the Apple App store. Learn
more on the Families website.
News from around the web.
Go to Source
—
In our upcoming August session, Family Tree University will teach you how to write right in the new class Writing
Your Family Memoir: Create a Captivating Record of Your Family's Story. Frequent Family
Tree Magazine contributor Sunny McClellan
Morton will teach the class, which includes advice like this to get your creative
juices flowing:
In personal/family memoir or narrative family history, you, your family,
and ancestors are now characters in a story. Obviously, you're not creating characters
out of your imagination—you have real-life people to portray. But you can—and should—borrow
the characterization techniques fiction writers use.

One of the first things a fiction writer learns is to reveal characters to the reader
bit by bit, not all at once as can be seen in so many family histories:


"Felice Vallarelli was born on 28 March 1880 in Terlizzi, Bari, Italy."

When we meet someone in real life, no one stands there and reads us life
statistics (or if he did, we would consider him a terrible bore). Why should we meet
you or your family that way? Reveal your characters slowly—through their actions,
how they dressed, their beliefs, and so on.
In four weeks, you'll develop a solid outline and structure for your
family history book. (And when you've completed the book, check out Nancy
Hendrickson's Creating a Family History Book, which goes into the self-publishing
process.) The course starts August 16, so
sign up today!
News from around the web.
Go to Source
—
Will we see you the week after next at the Federation of Genealogical Societies Conference in Knoxville, Tenn.? I hope so!
The conference takes place Aug. 18-21 at the Knoxville Convention Center. Besides
taking classes—many of which will highlight local topics, such as research in the
old frontier states and Cherokee Indian heritage—attending social events and capitalizing
on local research opportunities, you can try genealogy resources and shop for books
and supplies in the exhibit hall.
The exhibit hall (which has free admission) is open Thursday 9:30 am-5 pm, Friday
noon-7 pm and Saturday 9 am-5 pm. Stop by booth 316 and say hi to Family Tree Magazine editors
Grace Dobush, Allison Stacy and yours truly. Also check out our latest CDs and books,
including the funny tombstone photos in Grave
Humor (you might even get to meet author M.T. Coffin).
Click here for the full
lineup of FGS events and here
for a press release.

See the FGS Conference News
Blog for updates.
My grandfather lived in Nashville around 1942, according to his father's petition
for naturalization, so I've been perusing the East
Tennessee Historical Society website to see what resources I should use while
in Knoxville.
The East Tennessee History Center at 601 S. Gay Street (about a mile from the convention
center) houses the Calvin M. McClung Historical Collection of the Knox County Public
Library and the Knox County Archives, in addition to the Museum of East Tennessee
History.
On the McClung
Collection website, you can search indexes to local obituaries (1991-present),
marriages (1901-1950) and delayed birth registrations (1861-1945). Search
more digital materials here.
Microfilm in the McClung collection includes selected records from 31 counties in
East Tennessee and six in Middle Tennessee, 1,500 volumes of county records transcribed
by the WPA, land grant indexes, military records, 500 volumes of the Draper Manuscripts
and more. You can acquaint
yourself with the collection at the center's open house, 2-8 pm on the Tuesday
before the conference.
Learn
more about area research locales on the FGS conference blog.
Before you go, prepare to research your Tennessee ancestors with our Tennessee
State Research Guide, available for $3 from ShopFamilyTree.com. (You can get all
the state guides on
CD or in
book form.)
Surname Forum Activity
———————-
looking for info on william grancer manley and nancy tucker of franklin georgia marriage sept 27 1831.need to who children were and parents of william grancer manley
Go to Source
Surname Forum Activity
———————-
looking for info on william grancer manley and nancy tucker of franklin georgia marriage sept 27 1831.need to who children were and parents of william grancer manley
Go to Source