News from around the web.
Go to Source
—
You'll soon start seeing more records on subscription genealogy site Archives.com
.
At the National
Genealogical Society (NGS) conference opening session yesterday, Archives product
director Joe Godfrey announced the site will embark on an ambitious content acquisition
and digitization plan, focusing in part on the digitization of material not yet online.
Anne Roach, who chaired FamilySearch's
2011 RootsTech conference, will join Archives to lead the project.
"This will entail a long-term, multi-million dollar effort," Archives.com product
manager Julie Hill told me. "Users will begin to see these records coming online in
the next couple of months."
If you're attending the NGS conference (going on now), you can sample the records
already available on Archives by picking up a complimentary six-month membership card
at the Archives booth (#229 and 231).
Archives also is making a special $1,000 grant award at the conference to an organization
or individual working to preserve historical records and/or advance family history
research. To apply, stop by the Archives booth for an application. Learn
more on the NGS conference blog.

News from around the web.
Go to Source
—
Here's another site that lets you walk in (well, dance in) your ancestors' shoes—this
one, by listening to the songs they loved.
The Library of Congress and Sony Music Entertainment created the National
Jukebox website with 10,000-plus rare historic sound recordings produced in the
United States from 1901 and 1925.
At the press conference unveiling the site, musician and actor Harry Connick Jr. performed
"I'm Just Wild About Harry" (wish I could've been at that press conference!). You
can listen to composer Eubie Blake's version in the National Jukebox.
Search the recordings or browse by genre, artist, target audience (where you can click
to the music of Germans, Swedes, Poles, Italians, Jews and other ethnic groups). Listen
to recordings on a streaming-only basis. You also can access label images, record-catalog
illustrations and artist bios, and create your own playlists.
"This collection includes popular music, dance music, opera, early jazz, famous speeches,
poetry and humor. It is what our grandparents and great-grandparents listened to,
danced to, sang along with," says Librarian of Congress James H. Billington.
The site represents the largest collection of such historical recordings made publicly
available online for study and appreciation. In its agreement with Sony, the Library
of Congress gets usage rights to Sony Music's entire pre-1925 catalog.

I enjoyed George Gershwin's
"Rhapsody in Blue." What tunes are you listening to in the National Jukebox?
News from around the web.
Go to Source
—


Consider yourself lucky if your ancestors are from Illinois, Iowa, Florida, New York,
South Dakota, or one of the other states that took state censuses.
These relatively underused resources can help you find ancestors between federal censuses,
when federal census records are missing, or when your folks are missing from federal
censuses.
Wouldn't you know the July
2011 Family Tree Magazine, now on newsstands and on ShopFamilyTree.com,
has a guide to finding state censuses—both online and off. It comes with a handy cut-and-save
chart of colonial, territorial and state censuses for every US state.
(I know July seems months away! This issue also covers June.) Other articles in this
issue include:
Our research trip survival kit, which you'll definitely want to take a look at if
you're hitting the road for genealogy this summer
Presentism and eight other pitfalls to avoid when reading and writing family and local
histories. (Presentism, I learned from this article, is drawing conclusions about
events and people of the past based on today's norms.)
Our pull-out city research guides for Charleston, SC, and Detroit
Our guide to discovering your Croatian roots
… and lots more. The July
2011 Family Tree Magazine is available in print or as a digital
download.
News from around the web.
Go to Source
—
Historical records subscription site Footnote.com
has published
its first War of 1812 Pension and Bounty Land Warrant Applications in a free database.
Footnote.com is digitizing millions of War of 1812 records and making them available
free as part of a project with the Federation of Genealogical
Societies (which in is in the process of raising $3.7 million dollars for the project)
and the National Archives.

The first 1,400 record images—less than 1 percent of the estimated 7.2 million documents—are
now available, and Footnote will add new records as they're digitized.
The War of 1812 Pension Application Files can tell you
The veteran's name, age, rank, and service information and dates
His widow's name and maiden name (if she applied for the pension)
Acres of land granted as a reward for service and the year of the Bureau of Land Management
act under which the land was granted, and the warrant number (these details can help
you find a bounty land warrant)
Applicant's place of residence
Additional names, including those of the soldier's surviving dependents
You'll find a guide to researching the War of 1812 and other "lesser-known" US conflicts
in the December
2010 Family Tree Magazine.

(Family Tree
Magazine Plus members can access the article here.)
News from around the web.
Go to Source
—
FamilySearch has announced new South Carolina genealogy resources to mark the National
Genealogical Society Family History Conference, going on now in Charleston, SC:
Probate records can be helpful in researching African-American ancestors, because
probate files of slave owners often contain inventories of their slaves.
The Civil War, which of course started 150 years ago at Fort Sumter in Charleston
Harbor, is the talk of this year's NGS conference. Click
here to see FamilySearch's related announcement about its Civil War records.
News from around the web.
Go to Source
—
FamilySearch has gathered its Civil War-related records into a collection you can
access free at FamilySearch.org/civil-war.
Some records were already available on FamilySearch.org; others were just added to
coincide with the National
Genealogical Society Family History Conference in Charleston, SC.
Among the Civil War databases are:
United States, Civil War Soldiers Index: These index cards contain 6.3 million
names of Union and Confederate soldiers and African-American sailors, along with basic
service information (this information also is on the National Park Service's Civil
War Soldiers and Sailors System website).
Confederate pensions for those living Arkansas (1901-1929), Louisiana (1898-1950)
and Missouri (1911-1938): Browse these databases by last name.
Civil War Pension Index Cards: These are index cards for pension applications
of veterans who served in the US Army between 1861 and 1917.
1890 Census of Union veterans and widows of the Civil War: Browse by state,
county and town; enumerators creating these special schedules sometimes listed Confederate
veterans, too.
United States, Registers of Enlistments in the U.S. Army, 1798-1914: This database,
still being filmed and added to the site, names Army "regulars" (those who enlisted
during peacetime—so generally, not men who enlisted to serve in a war). Browse by
name.
Arizona Service Records of Confederate Soldiers of the Civil War, 1861-1863:
This index links to record images at subscription site Footnote.com (you'll
need a subscription to view the documents).
See the full list of
Civil War databases here (click the More » link).

You can search the Civil War records from the FamilySearch/Civil
War page (note the search won't include the browse-only collections, which aren't
yet indexed), or click on a database title to search or browse just those records.
News from around the web.
Go to Source
—
Two new products being introduced at the National
Genealogical Society's annual Family History conference, getting underway today
in Charleston, SC, include:
GenDetective software, a release from RumbleSoft
Inc., analyzes your genealogical data and makes research recommendations based on
missing or incomplete data. You can generate reports based on a location, time period,
family line or individual, and print or view them on an iPad, iPhone, PDA, Droid smart
phone or tablet (Xoom), Kindle, eBook reader, net book (mini), or laptop.

A feature I think looks especially useful: If you're visiting somewhere
for business, vacation or genealogy, you can create a research itinerary for that
locale.
Many genealogists have family information in their genealogy software and online,
and don't want to update their trees in both places. If that's you, AncestorSync could
be what you need.

This utility, from Orem, Utah-based Real-Time Collaboration, lets you
synchronize your family tree, source documents, citations and notes across all your
computers and your online tree (the developers have partnerships with online tree
sites FamilySearch, Geni and ourFamilyology).
You can download, upload, or synchronize your tree "without anyone or anything getting
lost in the process," according to the announcement.

AncestorSync supports program formats including Ancestral
Quest, Legacy Family Tree, Personal
Ancestral File and RootsMagic, and will soon
support The
Master Genealogist and MacFamilyTree.
It'll be available in June for a $15 annual fee, and is PC- and Mac-compatible
News from around the web.
Go to Source
—
In honor of National Photo Month, we're giving away help from our Photo Detective
Maureen A. Taylor and a Digitize
Your Family Photos Value Pack, which includes our Organize Your Photos digital
download, Photo Sharing 101 on-demand webinar and Photo Rescue e-book.
To enter our Photo Mysteries Contest, just submit your photo and/or a question about
identifying or preserving your family photographs in one of these ways:
Photo Detective Maureen A. Taylor will select one entry to feature on the Photo Detective
blog and receive the Digitize Your Family Photos Value Pack.
The questions we receive also may be featured in the free Photo
Detective Live! webinar May 18, or in future Photo Detective blog posts.
Here are the
official contest rules.

Surname Forum Activity
———————-
Mary L Joynt (nee Manley) in Lackawanna, NY August 19, 1939. Wife of Henry J.; mother of Arthur W. of Mobile, Ala; Albert S.; John J.; Stanley F.; Joseph E. Joynt; Mrs. Eugene J. Hanavan, Mrs. Raymond Voelkle of Buffalo NY and the late Mary Victoria Joynt; daughter of the late John and Mary Manley of Scranton, PA; sister of Frank, Thomas, Catherine Manley and the late Mrs. Michael Quinn, John, Peter, Anthony and Michael Manley of Scranton, PA. Funeral from the family residence, 1507 South Park Avenue, Tuesday morning at 9 o'clock and from Our Lady of Victory Basilica at 9:30. Friends invited to attend.
Go to Source
News from around the web.
Go to Source
—
The Mystery
Helen Marley Johnson, my great-grandmother, was born to unidentified parents on March 3, 1889, in Oswego County, New York.  Although I didn't really know Marley, I remember meeting her when I was very, very young, just before she died in 1983.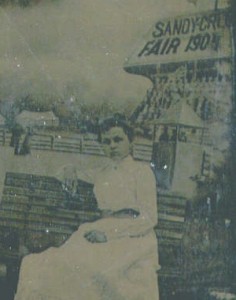 Marley lived in Oswego and Jefferson counties for all her long life.  She was married twice, had two children, and today has numerous descendants located throughout the United States and the world.  However, by the time Marley was 13 years old, she had been adopted by at least three different families, eventually marrying into the last family that adopted her.
Since I began my genealogical research more than 20 years ago, I've worked to find the parents of Marley Johnson, without much success.  I have a plethora of data about the entire remainder of her life, but almost nothing about her ancestry.  For example, although I've found her birth certificate, it lists her mother as Minerva Johnson (a name that may or may not be real, and which I've found nothing on) and lists her father as "unknown."
Autosomal DNA
Autosomal DNA testing presents the most promising new avenue of researching into Marley's ancestry.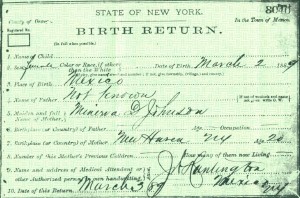 Unfortunately, both of Marley's children have been dead for more than 30 years.  However, Marley has several living grandchildren, including my father and a first cousin named Edgar (name changed for privacy reasons).  By comparing autosomal results my father with his first cousin, it is possible to identify stretches of their DNA that they inherited from Marley and her husband Frank Bettinger.  Here's why:
Both my father and Edgar are grandchildren of Marley and Frank, or children of Marley's children. My father is the son of Marley & Frank's son, and Edgar is the son of Marley & Frank's daughter.  Approximately 25% of my father's DNA comes from Marley, and approximately 25% of Edgar's DNA comes from Marley.  Although it is not the same 25% in both cousins (because the children inherited random pieces of Marley's DNA and then passed on random pieces of that DNA to their children), it is statistically nearly certain that they will share some of Marley's DNA.  Indeed, first cousins are predicted to share 12.5% of their DNA, with about half each from the shared grandparents (6.25% of their shared DNA from Marley, and 6.25% of their shared DNA from Frank).  Both will have much more DNA from these ancestors, but it won't be shared between them.
By comparing the autosomal DNA testing results of my father with Edgar, it will be possible to identify the DNA that they have in common.  Because they only share Marley and her husband Frank as ancestors (an important assumption here), then any DNA they have in common must be DNA that they inherited from Frank and Marley.
Of course, this is dependent upon Edgar and me not sharing any DNA from other ancestors, for example on my maternal side.  If we shared other ancestors, it would be much more difficult (but not impossible) to identify which DNA came from which ancestors.  However, given Edgar's paternal ancestry – the side which does not involve Frank and Marley – this is exceedingly unlikely (but will be kept in mind during future analysis).
Results
I now have autosomal DNA results for Edgar and myself using Family Tree DNA's Family Finder, and more specifically using their new Illumina OmniExpress chip.  The figure below highlights the regions of our genomes where we share at least 3cM stretches of DNA.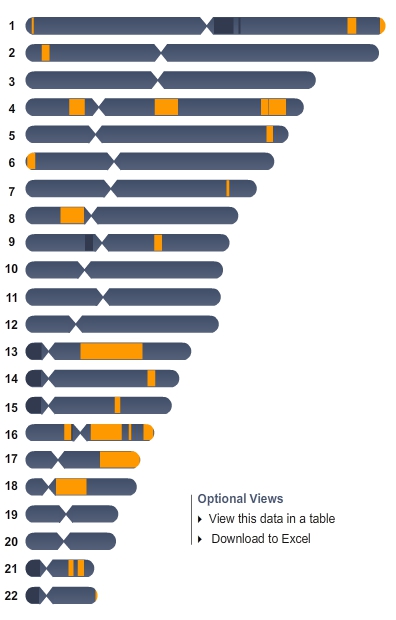 Note that I've used my DNA for this test, rather than my father, simply because have yet to test my father.  The numbers change slightly, as I'm predicted to share 6.25% of my DNA with Edgar, my first cousin once removed.  We share about 333 cMs (268 million base pairs), which I've calculated to be about 4.4% of our genomes (please chime in if you think this estimate is incorrect, as I haven't had sufficient time to explore it).
With this map and the data that comes from it, I've identified portions of my genome (and Edgar's) that come from Marley and Frank.  Although I don't know which portions came from who, I have a wealth of information I can now use to explore our shared ancestry.
Now What?
So now what?  Now, I wait for matches shared by Edgar and I, people who share one or more of these stretches of DNA.  Currently, we do not share any individuals.  If another individual shares a piece of the identified DNA, it is likely that they are related through Frank and Marley.  As I have a great deal of information about Frank's ancestry, I can try to narrow down the matches to Marley's ancestry.  This, of course, presents one of the biggest challenges of this approach.
Further, identifying relatives is only the very first – and the easiest – step.  Once I have identified someone who might be Marley's biological relative, I have to obtain as much of their genealogical tree as they are willing to share in order to mine it for information.  I will be looking for families that lived in or migrated through the Upstate New York area in the early 1880's.  Of course, I must consider all the descendants of any potential relatives as well.
Yes, it's a great deal of work, and there is no guarantee that I will ever identify a link.  For example, what if John Doe, Marley's father, took an undocumented vacation in Upstate New York to visit his best friend and had a fling with Marley's mother?  I may not be able to uncover that connection either in paper records or in DNA, at least for now.
My best bet is to accumulate as much information as possible – paper records, DNA, gedcoms, family trees, etc. – and slowly create a web of paper and DNA.  This web will undoubtedly slowly reveal overlapping information that hints at Marley's ancestry.  For example, there may only be one potential male individual who possesses DNA from family X, DNA from family Y, and DNA from family Z, all of which Marley inherited and of which Edgar and I share.  A needle in a haystack, but an exciting possibility nonetheless.
The Future
In the future, I can attempt to mine existing genomes for more data.  For example, by comparing my father's siblings with Edgar's DNA.  Statistically, they will share different portions of their genome with Edgar, allowing me to more completely identify the DNA in Edgar's genome that came from Frank and Marley.  Since Edgar is the extent of the other line, and Marley's children are dead, this is the best I can currently do (until I can sequence Marley's DNA directly from the stamps and letters she licked and I've saved).
Conclusion
Essentially, using autosomal DNA testing and the approach described above, I have re-created portions of my great-grandparent's genomes by identifying bits and pieces of their DNA in living individuals. What an exciting time to be a genealogist.
Now let me know, do you have any tips or suggestions for me as I continue my hunt for Marley's parents?  If so, please share them below.