Archive for September, 2011
News from around the web.
Go to Source
—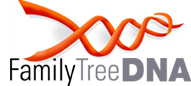 Direct-to-consumer DNA testing has led to the re-joining of yet another family.
Y-DNA and autosomal testing by Family Tree DNA has revealed that two NFL players , Xavier Omon (San Francisco 49ers)) and Ogemdi Nwagbuo (San Diego Chargers), are half-brothers.  ESPN has a long write-up of the story at "A brothers' tale for Omon, Nwagbuo."
Meeting for the First Time
The brothers had planned to meet face-to-face yesterday, September 1, 2011, as their teams met on the field.  Turns out Omon's team, the 49ers, were victorious, meaning that if he's anything like my brothers, he gave Nwagbuo a hard time about it!  The Mercury News has a story about the brothers' first meeting at "Omon meets half-brother (a Charger) for first time," and the SF Gate has a story at "49ers' Xavier Omon meets half-brother."
Family Tree DNA's Press Release:
Houston, TX – August 31,2011 – Family Tree DNA, the pioneer and largest DNA testing company for genealogy purposes, through its Family Finder test, provided the conclusive proof that two NFL players are half-siblings.
Until a few months ago, Xavier Omon, from the San Francisco 49ers and Ogemdi Nwagbuo from the San Diego Chargers did not have a clue that they were related. Early August, at the request of ESPN, Family Tree DNA performed the Family Finder test on both, and the result was unequivocal: definitely half-siblings. More of the story can be found at the ESPN website,under the "Brother's Tale" story.
The Family Finder test allows connecting with family members across all ancestral lines. While the Y-DNA matches men with a specific paternal line and the mtDNA finds potential relatives only along the maternal line, Family Finder can look for close relationships along all ancestral lines. Anyone, regardless of their gender, may confidently match to male and female cousins from any of their family lines in the past five generations. The science is based on linked blocks of DNA across the 22 autosomal chromosomes that are matched between two people. Based on this concept, Family Tree DNA bioinformatics team has worked extensively to develop the calculations that would yield the closeness of the relationship. The possibilities to find matches abound: grandparents, aunts and uncles; half siblings; first, second, third and fourth cousins; and, more tentatively, fifth cousins.
About Family Tree DNA
Founded in April 2000, Family Tree DNA was the first company to develop the commercial application of DNA testing for genealogical purposes, something that had previously been available only for academic and scientific research. Almost a decade later, the Houston-based company has a database with over 345,000 individual records – the largest DNA database in genetic genealogy, and a number that makes Family Tree DNA the prime source for anyone researching recent and distant family ties. In 2006 Family Tree DNA established a state of the art Genomics Research Center at its headquarters in Houston, Texas, where it currently performs R&D and processes over 200 advanced types of DNA tests for its customers.
Media contact
Sharon Weisz, —tel: 323-934-2700; e-mail: Sharon@familytreedna.com
News from around the web.
Go to Source
—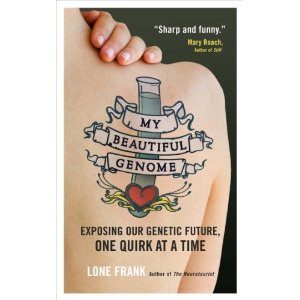 Lone Frank, a journalist and author with a Ph.D. in neurobiology, has just published her fourth book, entitled "My Beautiful Genome: Exposing Our Genetic Future, One Quirk at a Time" (available for pre-order at Amazon).  A chapter of the book is available here (pdf).
Frank describes her book thusly: "This book is my very personal take on personal genomics. It chronicles my meetings and interviews with leading scientists and lays out the – somtimes [sic] disquieting – discoveries I make in my own genome."
The book is described as follows at Amazon:
"Internationally acclaimed science writer Lone Frank swabs up her DNA to provide the first truly intimate account of the new science of consumer-led genomics. She challenges the scientists and business mavericks intent on mapping every baby's genome, ponders the consequences of biological fortune-telling, and prods the psychologists who hope to uncover just how important our environment really is – a quest made all the more gripping as Frank considers her family's and her own struggles with depression."
I haven't read the book myself, although I will soon be receiving a review copy.  Once I've finished it, I'll write more about the book here at the blog. There is a recent write-up of Frank's experiences at the Daily Mail entitled "If the blues genes fit…"
I'm most interested to see what Frank finds in her genome, and how she interprets and uses her data beyond the interpretation provided by the testing companies.
News from around the web.
Go to Source
—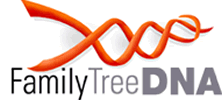 Family Tree DNA has announced the 7th Genetic Genealogy Conference for Family Tree DNA Group Administrators, to be held in Houston, Texas on November 5th and 6th, 2011.
Featured speakers at the meeting include the following:
Another interesting speaker at the meeting will be Jessica L. Roberts, J.D., an Assistant Professor of Law at the University of Houston Law Center (recent C.V. here (pdf)).  Although it's not clear what Roberts will be speaking about, her recent publications (pdf) focus on genetics and the law, including the Genetic Information Nondiscrimination Act.  Kudos to Family Tree DNA for again bringing together a wide array of viewpoints and opinions at the conference.
——————————————————-
Unfortunately I will be unable to attend the conference this year, although I made it last year and hope to make it to the next conference.  I look forward to live-tweeting of the conference, which is the next best thing to being there.  Are you attending the conference?
News from around the web.
Go to Source
—
Family Tree Maker comes with a variety of default reports, and it also has a Custom Report that lets you mine your family tree for the information you're interested in. Using it I've created family health histories, address lists, residency reports, and more. But the report I get asked about most often is a custom cemetery report. I first created one several years ago when I was planning a trip to a cemetery and wanted to take photos of tombstones for my family members buried there. The report helped me keep track of the photos I'd taken and also worked as a research resource to confirm (and contradict!) the facts I had in my tree.
Before you get started, you'll want to make sure you've recorded burial and cemetery information the same way for all the individuals in your tree; otherwise, you report won't necessarily include the correct individuals. In my tree I use the Description field in the Burial fact to record specific cemetery names.
To create a cemetery report, start by opening the Custom Report (located on the Publish workspace under Person Reports).
Click the Reset button (a blue arrow button next to the report's title) to clear any previous settings.
Click the Items to Include button (on the far left) in the reports toolbar. Now click the Add fact (+) button and add the Burial fact to the report. At this point, you can add any other facts to the report that you'd like. In this case we'll stick with birth, marriage, death, and burial. Click OK when you're finished.
Now we need to determine which individuals should be included in the report–the people who have been buried at a specific cemetery.
4. In Individuals to Include, click Selected Individuals. The Filter Individuals window opens.
5. Click Filter In. The Filter Individuals by Criteria window opens.
6. Click All facts. In "Search where" choose the Burial fact and Description field. (If you've recorded cemetery information in a different fact you'll choose that here.) In the next drop-down choose "Contains." Then in the Value field, enter the name of the cemetery and click OK.
The Filter Individuals window now shows all the individuals who are buried in the selected cemetery. Click OK to display the report.
Now it's your turn. Have you tried the custom report yet? If you have, how do you use it?
News from around the web.
Go to Source
—
If you haven't noticed the banners, just in time for the end of the summer vacation season, Ancestry.com is offering free access to our Immigration and Travel databases for a week.
To give you an idea of what's included, here are a few numbers.
We divide our travel and immigration databases into six categories:
Category                                                                Number of Databases
Passenger Lists                                                                    166
Crew Lists                                                                              65
Border Crossings & Passports                                                 15
Citizenship & Naturalization Records                                       62
Immigration & Emigration Books                                          187
Ship Pictures and Descriptions                                                  2
And here's a rough estimate of records available by country:
Country/Region             # Databases                      Approximate # of Records
Australia                                     22                                          15+ million
Canada                                       31                                         13.5+ million
Europe                                       99                                         32.5+ million
Germany                                    28                                           9.4+ million
United States                            246                                         33+ million
UK                                              40                                         18.7+ million
As for who you might find, here are a few ideas to keep in mind:
Some folks, like Greta Garbo, generated records on their way out of a country:
Ladislav Lowenstein (Peter Lorre) left a paper trail as he became a citizen of a new one:
Whether someone was planning a permanent stay or not, moving around itself could result in records. Here's Charlie Chaplin on a passenger list returning from Japan in 1932.
Even crossing a border, like Mexican artist Frida Khalo did in 1930, could leave a trace.
Passports became more common (and eventually required) in the 20th century. Babe Ruth applied for one to do a little "baseball playing" in Cuba in 1920.
So come on in and take a little trip through the Ancestry.com Immigration and Travel databases on us. You never know who you might meet along the way.
News from around the web.
Go to Source
—
You got a taste of how to use Google to ramp up your genealogy search in our free Ask
the Google Guru webinar with Lisa Louise Cooke of Genealogy
Gems (if you missed the free webinar, or you want to see it again, you
can access it here).
There's a lot more advice where that came from in the limited-edition Ultimate
Google for Genealogists Collection. These resources, all from Lisa, show you strategies
for searching smarter and saving time by using Google tools.
Only 200 collections are available, and we think they could sell out by early next
week. (Hence this special second-in-a-week Editor's Pick.)
Here's what's in it:
The Genealogist's Google Toolbox book, signed by Lisa Louise Cooke
Google Earth for Genealogy DVD, volumes I and II
Google Tools for Genealogists Family Tree University Independent Study Course download
Search Engine Tips & Tricks: Google Techniques to Boost Your Research Webinar

The Ultimate
Google for Genealogists Collection is specially priced at $79.99, a 56 percent
discount. Get
more details about each of these items here.
News from around the web.
Go to Source
—
The Family History Library (FHL) is starting
to roll out online microfilm ordering in the United States and Canada, meaning
you soon won't have to visit a FamilySearch Center to order microfilmed records (you'll
still need to go in person to view them, of course). First, you'll find the film you
need in the FHL online catalog, then you'll order
it here. California, the Pacific Northwest and other points West were first to
get online ordering, with the rest of us still to be added in phases.
UK subscription genealogy site FindMyPast.co.uk is
adding a million 20th-century merchant navy seamen records (Britain's Merchant Navy
Day, is Saturday, Sept. 3). The records name crew members of UK merchant ships from
1918 to 1941, offer physical descriptions and include photos.
As an update to our November 2011 online newspapers article, which highlighted the
subscription website Paper of Record in
addition to other online sources, Rick Crume gave me a heads up about some improvements
to the site: First, highlighting of your search terms has been restored on the digitized
newspaper pages in your search results. Second, you now have the option to search
a broader date range than five years within a single title.
News from around the web.
Go to Source
—
Genealogy subscription site Archives.com
will
add indexes and images for the entire US federal census, probably the most-used US
genealogical record, in what Archives.com CEO Matthew Monahan calls a "game-changer"
for genealogists.
As part of the effort, Archives.com reached an agreement with FamilySearch—the
source of the census records—to dedicate a minimum of $5 million to digitizing genealogy
records that are not currently online.
The indexes for all censuses are available now, as are images for the 1850, 1870 and
1900 censuses, for a total of more than 500 million names and 3 million images. The
rest of the images will be added over the next weeks and months, says spokesperson
Julie Hill. Learn more about the site's census collection on its census
resource page.
The census search screen looks like this:

You can see it's more streamlined with fewer options than Ancestry.com's census search.
You'll also receive fewer results—a search of all census years for the last name Haddad
(not exact) living anywhere in the United States, born in Ohio between 1907 and 1911,
netted me 30 matches on Archives.com and 63 on Ancestry.com. This might be good or
bad for your research—it can be overwhelming to search through a flood of matches,
but you also might lose some searching flexibility.
Here's a page of Archives.com search results:

When you click on a match, you first see this page displaying all the indexed fields:

Archives also is introducing a new, Flash-based image viewer that lets users zoom
in, adjust contrast, invert colors and more (a basic image viewer will be an option
for computers without Flash):

We're thinking this is what Archives.com product director Joe Godfrey was referring
to in May, when he
opened the National Genealogical Society conference by announcing the site would
"embark on an ambitious content acquisition and digitization plan, focusing in part
on the digitization of material not yet online."
Anne Roach, who chaired FamilySearch's 2011 RootsTech conference, joined Archives
to lead the project.
The addition of the census will bring Archives.com, which launched in July 2009, into
more-direct competition with industry leader Ancestry.com
.
Until Archives.com adds the rest of the census images, Ancestry.com is the only site
providing access to all extant US census records and document images.
Archives.com will keep its subscription price at $39.95 "for the time being," says
Hill. "That's one-eighth the price of an Ancestry.com World membership. If you compare
the subscriptions on a line-by-line basis, its remarkable how many high-value collections
are available for one-eighth the price."
News from around the web.
Go to Source
—
I'm in Madison, Wis., for the reunion of Patricia Skubis and her fourth cousin, Birgit
Mose. Birgit traveled here from Denmark after Pat entered our family
reunion contest with MyHeritage.
She and her daughter Christine were waiting with a sign at the airport when Birgit
stepped off the escalator.
I'll bring you more of their story in an upcoming Family Tree Magazine.