Archive for February, 2012
News from around the web.
Go to Source
—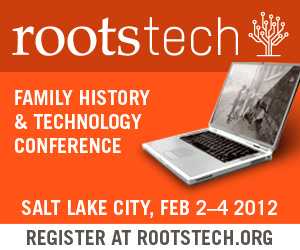 This morning's Keynote at Rootstech 2012, was from Ancestry.com and was entitled "Making the Most of Technology to Further the Family History Industry."  Although I was unable to attend Rootstech in person this year, I was able to view the keynote online.
During the panel discussion, we heard from Ken Chahine (LinkedIn profile), the Senior Vice President and General Manager, DNA at Ancestry.com.  From his profile at Ancestry.com:
Ken Chahine has served as Senior Vice President and General Manager for Ancestry DNA, LLC since 2011. Prior to joining us he held several positions, including as Chief Executive Officer of Avigen, a biotechnology company, in the Department of Human Genetics at the University of Utah, and at Parke-Davis Pharmaceuticals (currently Pfizer). Mr. Chahine also teaches a course focused on new venture development, intellectual property, and licensing at the University of Utah's College of Law. He earned a Ph.D. in Biochemistry from the University of Michigan, a J.D. from the University of Utah College of Law, and a B.A. in Chemistry from Florida State University.
During the keynote Dr. Chahine discussed the "revolution in the science of genomics" that many people really don't appreciate yet.  He noted that this revolution is driving all sorts of new products and development.
Dr. Chahine stated that genealogists have been doing a good job so far of using DNA for family history, but so far it's been pretty modest, typically turning to DNA when there is a problem.  With the revolution, however, "DNA is going turn into content."  We can now look at millions and millions of markers throughout the genome regardless of male or female.  There are about 100 errors per generation, which are "breadcrumbs" or clues left by our ancestors about where they were in the past.  We will be able to get to the point where we can analyze and use that DNA content to tell us things like:
"what town did they live in in the past, and when did they live there, and things like that that are really going to revolutionize, I think, the way we think about DNA."
In response to a question from the panel leader about the computational and analytical challenges to autosomal DNA products, Dr. Chahine noted that he has been building a team of computational biologists knowledgeable about DNA that have been creating and refining algorithms to analyze the date and present it in meaningful ways to users.
The panelists were also asked what would be one of the biggest changes to genealogy over the next 10 years.  Dr. Chahine offered the following:
"We're also going to integrate DNA into records in a way that people may not think is immediately obvious, but the DNA is also going to help pick out who the right John Doe that you're looking for in the future, and we're working on things like that."
Hearing from Dr. Chahine was extremely interesting, educational, and entertaining.
Why Autosomal DNA Testing?
It is clear that Ancestry.com is spending considerable amounts of time and money into their new autosomal DNA offerings.  Why would Ancestry.com spend so much time and money getting into the autosomal DNA business?  There are at least several important reasons, not the least of which is access to an enormous genealogy-minded consumer database (~1.7 million current subscribers to Ancestry.com, I believe).
However, perhaps the single most important reason for Ancestry.com to get into the autosomal DNA business is their almost-unrivaled ability to combine the results of DNA testing with an enormous database of traditional records.  Combining the results of autosomal DNA with family trees and paper records is, of course, the future of genetic genealogy.  Ancestry.com users have already been combining paper records with their family trees.  I, for example, have digitally connected numerous census and other records to individuals within my uploaded family tree.  In 2012 we will be able to add autosomal DNA as yet another layer to our family trees. For example, if John Doe and I both have family trees uploaded to Ancestry.com, and our testing reveals that we have shared DNA, we can connect that shared DNA to our shared ancestors.
In the not-so-distant future, once we have this massive combination of trees, records, and DNA, we might even be able to ask very advanced questions that we can currently only dream of:
What DNA/genes found today traveled to North America on the Mayflower?
Given my known family tree and my autosomal test results, from what ancestral individual in the Ancestry.com database might I have inherited this portion of DNA?
Based on the shared DNA of his ancestors, please recreate the genome my great-great-great-great-great grandfather John Doe.
It is important to understand that while the amount of both information and computing power necessary for these types of questions is enormous, it will likely be within the ability of the field over the next 5-20 years.
Are there any [currently outrageous] questions you can only dream of asking today but think might be answerable in the future using DNA?
A Preview?
In anticipation of the NBC series Who Do You Think You are, Ancestry.com released several video promos.  One of these promos (HERE) includes video at 1:02 of one of the celebrities reviewing what appears to be an ethnicity analysis (entitled "Genetic Ethnicity") of his autosomal DNA, as well as the identification of a distant cousin (thanks to Cece Moore for pointing to the video (who in turn thanks Shannon!)).  The interface states that "Ancestry.com's DNA analysis looks at your recent ethnicity, going back about 10 generations."
According to the interface shown in the video, which is likely to be an early version, the test breaks down biogeographical ancestry not only into broad continental categories such as "European" and "African," but also into regions within those categories.  For example, the results shown in the video are 74% African and 20% European.  Under the "African" tab, the results show 27% Bamoun, 22% Brong, 13% Yoruba, and 12% Igbo (a total of 74%!).
The interface also shows the locations of these groups superimposed on a map of Africa, as well as nodes which appear to represent connections (possibly genetic cousins) in those populations.  Clicking on a node, for example, brings up what appears to be a genetic cousin and shows the predicted relationship (here, a 10th cousin), various biographical information (including date of birth), a link to view the individual's tree, and a contact link.
For More Information
Cece Moore at Your Genetic Genealogist also has a great series of posts about Ancestry.com's new Autosomal DNA product:
Be sure to following The Genetic Genealogist, and I'll be sure to share the latest information about Ancestry.com's Autosomal DNA product with you.
News from around the web.
Go to Source
—
The genetic genealogy world is abuzz following a recent report in news outlets around the world (including CNN, Seattle PI, Daily Mail, etc) that investigators have used public genetic genealogy DNA databases for leads in a 20-year-old cold case.
The Case
In December 1991, 16-year-old Sarah Yarborough was tragically murdered in Federal Way, Washington.  Despite an extensive investigation, no suspect has ever been named.  Investigators have sketches of a man they believe might have been involved, but there is no name to put to the pictures.
Investigators did find some important evidence however: DNA left at the scene, possibly by Yarborough's attacker.
The DNA
Late last year, investigators gave the DNA profile (apparently the Y-DNA profile) to California-based forensic consultant Colleen Fitzpatrick (who I've written about before here on TGG).  Fitzpatrick, it appears, compared the Y-DNA profile to publicly-available Y-DNA databases, such as Ysearch, in an attempt to identify a potential match for the profile.  After identifying potential matches, Fitzpatrick could then potentially identify the surname of the Y-DNA's donor.  For example, if all Bettingers have a particular Y-DNA profile and a sample Y-DNA profile closely matches that particular Y-DNA profile, then it is likely that the parties are either closely or distantly related (on a scale of 10s or 1000s of years), and they could potentially have the same surname.
Therefore, by comparing an unknown's Y-DNA profile to public databases, it is possible to find matches and potentially identify a surname for the owner of that Y-DNA (but see "The Caveats," below).
The Search
Fitzpatrick's research determined that the suspect's Y-DNA profile appears to match the Y-DNA profiles of individuals with the surname "Fuller."  Although unclear without more information, it further appears that the suspect's Y-DNA profile specifically matches the Y-DNA profiles of purported descendants of Robert Fuller, who settled in Salem, Mass. in 1630.
Accordingly, Fitzpatrick's research has merely suggested that the suspect MIGHT have the surname Fuller.  Nothing more, nothing less.  It is merely a lead, something that investigators will have to devote countless hours to following up on.  The lead has not provided investigators with a magical solution to their mystery, and following this discovery they are likely not all that much closer to identifying a suspect that they were before.
The Caveats
It is important to note that there are some serious caveats to this process.  Just because an unknown Y-DNA profile matches a group of surnames in a database does not automatically mean that the unknown Y-DNA donor had the same surname.  Non-paternal events such as infidelity, adoption, name change, and others can – and have – resulted in surnames being jumbled throughout history.  Thus, simply matching the unique Bettinger profile does not mean that your last name might be Bettinger; it could be Samuels as a result of great-grandpa's roving eye, Smith as a result of your step-great-great-grandmother's love for orphans, or Johnson because your father was tired of people spelling "Bettinger" wrong.  For all these reasons surnames have changed over time.
It is even more vital to note, however, that Fitzpatrick's research process is absolutely neither a new nor a groundbreaking technique! It is a familiar technique that has been done MANY times before, and continues to be done.  People – including non-genealogists – have used public databases to attempt to identify their surname and/or family.  Indeed, Family Tree DNA itself has noted that male adoptees have a 30-40% chance of identifying a likely surname by comparing their Y-DNA profile to FTDNA's database (see here: "During the introduction Max [Blankfeld] stated that 30%-40% of male adoptees find their likely surname in FTDNA's database").
The Concern
Some, including both experienced genetic genealogists and people who have never had a DNA test, have expressed concern that their DNA was or could be used for this purpose, a purpose that it "wasn't intended to be used for."  Some have stated that the search constituted an "illegal seizure" of their property, or that their DNA should not be used by "big brother."
Further, as the ISOGG mailing list for project adminstrators has demonstrated, many project administrators are concerned that this hullabaloo will scare away potential test-takers.
The Past
Despite the concerns of the public, genetic genealogists, and project administrators, Fitzpatrick's process is neither a new technique nor a frightening one.  It has been done before.  Further, Fitzpatrick's process is simply a new twist on an old method.  How is Fitzpatrick's DNA search different, for example, from any of the following (and please don't throw any genetic exceptionalism arguments my way!):
Using a public reverse-phone lookup to identify the owner of a phone number?  I didn't authorize my phone number for that use;
Searching through a public phone book to identify all the Bettingers in New York state? I didn't authorize my phone book listing for that purpose;
Using the census to identify my ancestors? I guarantee that NONE of my ancestors authorized the use of the census for genealogical research (indeed, just think of ALL the secrets that have been revealed in the census that our ancestors would have wanted buried forever!).
Interestingly, genealogists happen to be the biggest offenders of using public databases for purposes other than the one they were intended.
My Thoughts
One of the most interesting points to me is where some genealogists have decided to draw their line in the sand.  Comparing a person's Y-DNA profile to public databases is fine if the person is an adoptee searching for his last name, but not if the person is a criminal that investigators need to identify.
I also believe that project administrators are overly concerned.  These types of stories come and go, and this one will fade away just as all the others have.  We are (I sincerely hope) heading into an era of genetic openness, not one of genetic fear.
Lastly, the answer to this dilemma is, as always, education.  We have to educate the public and potential test-takers that if they decide to make their Y-DNA public, it will be public for any purpose any person sees fit.  They should understand this when they send in their cheek swab.  The danger to test-takers, however, is almost nil; a public Y-DNA profile is either incomprehensible or useless for 99.99% of the world.  And keep in mind that if a criminal is identified using this method, it is the criminal activity that endangered him, NOT the public Y-DNA databases!
Your Comments
What I'm really looking for here is a conversation about the pluses and minuses of Fitzpatrick's method and the use of public DNA databases.  Are there valid concerns, or only concerns due to the lack of education?  Why do you believe these methods are different from non-traditional uses of other public databases such as the examples I listed above?  Why do you think people might be afraid of this use of their public DNA?  And how can we better education test-takers and the public to avoid these types of concerns?
[Note: I will immediately delete any comment that is aimed at Fitzpatrick herself.  She did not invent these search methods, and should not be held responsible for their use.  I'm looking for comments about the method, not the investigator].
News from around the web.
Go to Source
—
Yesterday, at Health 2.0 in San Francisco, 23andMe announced that it will be offering sequencing of exomes with 80x coverage for $999.  At Exome 80x, 23andMe discusses their test:
Your exome is the 50 million DNA bases of your genome containing the information necessary to encode all your proteins. Informally, you can think of the exome as the DNA sequence of your genes.

Your entire genome is made up of your exome plus other DNA, consisting of three billion bases with repetitive sequences, sequences of unknown function, and DNA that does not code for proteins.
Note that the Exome 80x test is only available to current customers, and is determined on a "first come, first served" basis.  Further, test-takers will initially only receive their raw data of 50 million DNA bases at 80x coverage, but 23andMe plans to develop new tools to take advantage of exome sequencing.
The Exome?
Many non-geneticists will no doubt be wondering what the "exome" really is.  The exome is the protein-coding portion of your genome, and comprises roughly 1.5% of the total genome.
For insight into what type of information might be gleaned from exome data, Daniel MacArthur has an article entitled "Venter's exome, and the challenge of rare variants for personal genomics" from August, 2008.  In the article, he discusses some of the findings from the analysis of J. Craig Venter's exome.
The Genealogist's Exome
As a genetic genealogist, I was of course interested in the ramifications of exome testing on testing for genetic ancestry purposes.  23andMe states the following on their Exome 80x page:
Exome data are less suitable for ancestry or genealogical research, since they will not provide mitochrondrial sequence or much information on the Y chromosome.
This is a strange sentence, and one I believe wasn't properly screened.  In my experience few genealogists decide to pursue 23andMe testing for the mtDNA or Y-DNA results.  It's autosomal DNA testing and tools like Ancestry Painting and Relative Finder for which most genealogists use 23andme testing, and it's far too early to tell whether genealogists will be able to make use of exome sequencing (of course we will!).
I hope this sentiment does not discourage genetic genealogists from pursuing the Exome 80x product.  Genealogists have been – and continue to be – among the very first adopters of new DTC DNA testing (including 23andMe's very first product back in the 2007 to 2009 time frame).  Indeed, genealogists having been driving the DTC genetic testing market since 2000 with the launch of Family Tree DNA!
The Possibilities
One of most exciting uses of the Exome 80x product might be in self-directed discovery of rare variants in genetic disorders.  Numerous rare genetic diseases, many of which likely result from unidentified rare variants, have not been exhaustively studied.  At least one group has estimated that 85% of disease-causing mutations are found in the exome.
I can envision 23andMe Community Projects for rare genetic disorders, similar to its Parkinson's Community but much smaller in size, where several members of a family purchase the Exome 80x sequencing in an attempt to identify variants that might be involved in the disease.  These projects may be sponsored and supported by 23andme, or might simply be a family attempting to analyze their genomes themselves.
Other Viewpoints:
Will you be signing up for 23andMe's Exome 80x product?
News from around the web.
Go to Source
—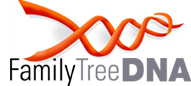 Direct-to-consumer DNA testing has led to the re-joining of yet another family.
Y-DNA and autosomal testing by Family Tree DNA has revealed that two NFL players , Xavier Omon (San Francisco 49ers)) and Ogemdi Nwagbuo (San Diego Chargers), are half-brothers.  ESPN has a long write-up of the story at "A brothers' tale for Omon, Nwagbuo."
Meeting for the First Time
The brothers had planned to meet face-to-face yesterday, September 1, 2011, as their teams met on the field.  Turns out Omon's team, the 49ers, were victorious, meaning that if he's anything like my brothers, he gave Nwagbuo a hard time about it!  The Mercury News has a story about the brothers' first meeting at "Omon meets half-brother (a Charger) for first time," and the SF Gate has a story at "49ers' Xavier Omon meets half-brother."
Family Tree DNA's Press Release:
Houston, TX – August 31,2011 – Family Tree DNA, the pioneer and largest DNA testing company for genealogy purposes, through its Family Finder test, provided the conclusive proof that two NFL players are half-siblings.
Until a few months ago, Xavier Omon, from the San Francisco 49ers and Ogemdi Nwagbuo from the San Diego Chargers did not have a clue that they were related. Early August, at the request of ESPN, Family Tree DNA performed the Family Finder test on both, and the result was unequivocal: definitely half-siblings. More of the story can be found at the ESPN website,under the "Brother's Tale" story.
The Family Finder test allows connecting with family members across all ancestral lines. While the Y-DNA matches men with a specific paternal line and the mtDNA finds potential relatives only along the maternal line, Family Finder can look for close relationships along all ancestral lines. Anyone, regardless of their gender, may confidently match to male and female cousins from any of their family lines in the past five generations. The science is based on linked blocks of DNA across the 22 autosomal chromosomes that are matched between two people. Based on this concept, Family Tree DNA bioinformatics team has worked extensively to develop the calculations that would yield the closeness of the relationship. The possibilities to find matches abound: grandparents, aunts and uncles; half siblings; first, second, third and fourth cousins; and, more tentatively, fifth cousins.
About Family Tree DNA
Founded in April 2000, Family Tree DNA was the first company to develop the commercial application of DNA testing for genealogical purposes, something that had previously been available only for academic and scientific research. Almost a decade later, the Houston-based company has a database with over 345,000 individual records – the largest DNA database in genetic genealogy, and a number that makes Family Tree DNA the prime source for anyone researching recent and distant family ties. In 2006 Family Tree DNA established a state of the art Genomics Research Center at its headquarters in Houston, Texas, where it currently performs R&D and processes over 200 advanced types of DNA tests for its customers.
Media contact
Sharon Weisz, —tel: 323-934-2700; e-mail: Sharon@familytreedna.com
News from around the web.
Go to Source
—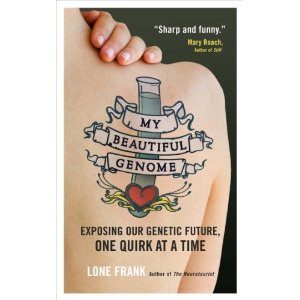 Lone Frank, a journalist and author with a Ph.D. in neurobiology, has just published her fourth book, entitled "My Beautiful Genome: Exposing Our Genetic Future, One Quirk at a Time" (available for pre-order at Amazon).  A chapter of the book is available here (pdf).
Frank describes her book thusly: "This book is my very personal take on personal genomics. It chronicles my meetings and interviews with leading scientists and lays out the – somtimes [sic] disquieting – discoveries I make in my own genome."
The book is described as follows at Amazon:
"Internationally acclaimed science writer Lone Frank swabs up her DNA to provide the first truly intimate account of the new science of consumer-led genomics. She challenges the scientists and business mavericks intent on mapping every baby's genome, ponders the consequences of biological fortune-telling, and prods the psychologists who hope to uncover just how important our environment really is – a quest made all the more gripping as Frank considers her family's and her own struggles with depression."
I haven't read the book myself, although I will soon be receiving a review copy.  Once I've finished it, I'll write more about the book here at the blog. There is a recent write-up of Frank's experiences at the Daily Mail entitled "If the blues genes fit…"
I'm most interested to see what Frank finds in her genome, and how she interprets and uses her data beyond the interpretation provided by the testing companies.
News from around the web.
Go to Source
—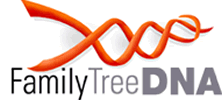 Family Tree DNA has announced the 7th Genetic Genealogy Conference for Family Tree DNA Group Administrators, to be held in Houston, Texas on November 5th and 6th, 2011.
Featured speakers at the meeting include the following:
Another interesting speaker at the meeting will be Jessica L. Roberts, J.D., an Assistant Professor of Law at the University of Houston Law Center (recent C.V. here (pdf)).  Although it's not clear what Roberts will be speaking about, her recent publications (pdf) focus on genetics and the law, including the Genetic Information Nondiscrimination Act.  Kudos to Family Tree DNA for again bringing together a wide array of viewpoints and opinions at the conference.
——————————————————-
Unfortunately I will be unable to attend the conference this year, although I made it last year and hope to make it to the next conference.  I look forward to live-tweeting of the conference, which is the next best thing to being there.  Are you attending the conference?
News from around the web.
Go to Source
—
Daniel MacArthur tweeted this morning about "Interpretome," which is browser-based software that can be used to examine autosomal testing results from 23andMe and Lumigenix.  There is also an interesting blog post about the software at the blog of Konrad J. Karczewski, one of the co-creators of the software, and one by Daniel at Genomes Unzipped.
Users load their raw data files, and then can use that information to explore their genome.  There are a number of different exercises that a user can run through with their data, including health issues (diabetes, warfarin sensitivity, many other diseases, etc.), ancestry analyses, and determination of "Neanderthal SNPs," which are SNPs that have been suggested to derive from Neanderthal ancestry (note that this science is still VERY early stage and subject to change OFTEN!).
There are two very features that I find very interesting.  First, there is an "Advanced Settings" tab where users can make several important adjustments to their analysis.  Second, the site allows for "imputation" when looking up a SNP, which means that "If the SNP is not found in your file, the utility attempts to impute the SNP using Hapmap data."  I haven't tried this yet, but it will be interesting to see how well it works.
Ancestry Information
Interpretome allows users to create, among other things, an "Ancestry Painting" using either HapMap2 or HapMap3 data.  For example, using the HapMap2 data, my Interpretome ancestry painting is very similar to my 23andMe ancestry painting.  For those who aren't familiar, here are the HapMap2 populations (HapMap3 can be found here):
YRI (Ibadan, Nigeria)
CEU (Northern/western Europe)
CHB+JPT (Beijing, China and Tokyo, Japan)
Medically-Relevant Information and Privacy Issues
The creators of Interpretome do address several issues, including the medical information controversy:
No information should be considered diagnostic and as with any genetic testing service, the interpretation is not regulated by the FDA.
And the important privacy issue:
Your genome will not be sent to any server, it remains on your computer. This website will make requests to a database that only contain "rsid" (without genotypes) and "population" (self-reported in the top-right) information. At no point will any genotypes be sent across the wires (all computation will be done in the browser).
However, the creators do go on to note that some exercises have the option of submitting personal information, which "will be anonymously stored on a secure server."  So be cautious if you're worried about privacy, as with any testing or analysis service.  As my genome is public domain, I'm not concerned.
Family Tree DNA Results?
For fun, I also tried my Family Tree DNA results.  Since FTDNA raw data results do not contain most, if any, medically-relevant SNPs, most of the "exercises" were fruitless.  I did have some luck with the ancestry sections, although I have yet to compare my 23andMe analysis with my FTNDA analysis to determine if there is consistency.
News from around the web.
Go to Source
—
Born and living in California, actor and activist George Takei was only four years old when Pearl Harbor was bombed in December of 1941. Two short months later, on February 19, 1942, in reaction to that event, President Franklin D Roosevelt issued an Executive Order that allowed approximately 120,000 Japanese-Americans and Japanese residents to be rounded up into "War Relocation Camps." Of those interned, 62% were American citizens.
"I was only a small child when the government sent soldiers to remove my family from our home in Los Angeles," Takei recalled. "We could only take what we could carry. First we were sent to the horse stalls of Santa Anita racetrack and then to government-run prison camps in both Arkansas and California."
This week, as we mark the 70th anniversary of Executive Order 9066, Ancestry.com is offering free access to our extensive Japanese internment camp record collections. These records, contained in two databases, will be available for free from February 16th-23rd.
.
Not all records on Ancestry.com are "searchable." We have many databases that are valuable both for genealogy research and for family history context that will never surface in search results. They are "image only" collections that must be browsed. This is one of those collections.
I spent a few hours immersed in this collection over the past couple of days. I have read through dispatches and reports. I have looked a journals and newspaper clippings. I have read through numerous complaints and charges made in letters to Congress and the investigative reports created as a result.
I won't color your perceptions with my own commentary but I will direct you to a few things in this collection that might help you gain a greater understanding of what went on during this time in our nation's history. (Be sure to click the next image arrow to read through some of these documents.)
Letter from a young man who wants to enlist, but can't because he is the "enemy"
Statement from a center counselor regarding the effects of the conditions internees are living under
Report of an internee killed while trying to leave a camp
Mementos from the youth at Tule Lake
.
This searchable database contains the names, birth year and place, educational achievement, marital status and other information about those who were placed in the internment camps. I quickly found the record for my favorite landscape architect, Mr. Robert Murase and the record for Mr. Takei.
"My hope," George Takei states, "is that all Americans will learn about the unfair treatment visited upon Japanese Americans like my family and will ensure it never happens again to any other group."
Not all in our past is noble and good. But, I have discovered that by uncovering it and taking the time to learn about it we gain a greater ability to move forward and to create a better world.
Until next time…
News from around the web.
Go to Source
—
Ancestry.com is co-sponsoring Family History Day 2012 in Tarrytown, NY, and if you are in the area, we'd love if you can join us.
Family History Day 2012 in Tarrytown, NY
Co-sponsored by Ancestry.com and The New England Historic Genealogical Society
Saturday, March 17th – 9:00am to 4:00pm
Online registration for New York Family History Day 2012 is now open!
(Online registration is encouraged as similar events have sold out quickly)
Registration fee is $44 and includes:
Family history classes
NEHGS and Ancestry.com experts
One-on-one consultations are available (additional fee)
An optional evening reception on Friday, March 16th
Multiple Door Prizes including free memberships to NEHGS and Ancestry.com, free consultations with experts at NEHGS and several copies of Family Tree Maker 2012
Learn from the experts at NEHGS and Ancestry.com in our 12 class offerings!
There is truly something for every family historian! Class titles include:
Getting the Most Out of Ancestry.com
Online Resources for Irish Records
Hidden Treasures at Ancestry.com
Uncovering Your New York Ancestors
-Download the complete schedule with class titles and descriptions: Coming Soon!
-Instructions to register for private consultations will be in your confirmation e-mail
-For information on group registrations, please send an email to info@familyhistoryday.com
Questions?
Email us at education@nehgs.org or conferences@ancestry.com.
News from around the web.
Go to Source
—
Archives.com has
added new records including FamilySearch community trees dating back to around 1500,
and 1930 census images (the majority of the 1930 census images are now available,
with more images from this plus the 1920 and 1920 censuses coming online over the
next several weeks).

The additions bring the count of records available on Archives.com to
more than 2 billion.