Surname Forum Activity
———————-
My grandmother's parents were Henrietta and John Manley from Colbert County, AL. My great grandmother was a Rogers before she married John Manley. She had a sister named Lena. My grandmother married Thomas Cornelison and my father was their only son and his name was Thomas Allen. My aunts names from their marriage were Almedia, Mary, Margarette and Lottie. Names seem similiar, what do you think?
Go to Source
Surname Forum Activity
———————-
Scranton Times
Scranton PA
27 Jul 1979
Illness is Fatal
Peter [Pete] J. Manley, 1527 Calypso St., Bethlehem, died Friday in St. Luke's Hospital, Bethlehem, after an illness. His wife, the former Marjorie Thornton, died in 1964.
Born in Scranton, son of the late John and Sarah Lally Manley, he was a member of Holy Family Church and was employed as a driver for Scranton Transit Corp. for [over] 50 years before retiring in 1972. He was a member of the Amalgamated Transit Union and of the Knights of Columbus.
Surviving are two sons, John, Scranton, and Joseph, Connecticut; two daughters, Mrs. Clarence Martin, Bethlehem, and Mrs. David Turner, Scranton; two sister, Mrs. Florence Culkin and Mrs. Ann Kimble, both of Scranton; 21 grandchildren and 30 great-grandchildren.
The funeral will be Monday from the Thomas J. Golden Funeral Home, 2004 Delaware St., Dunmore, with mass at 9:30 a.m. in Holy Family Church. Interment, Cathedral Cemetery.
Go to Source
News from around the web.
Go to Source
—

I just discovered today that The Genetic Genealogist was recently included in a list of 50 top genealogy blogs by Inside History Magazine.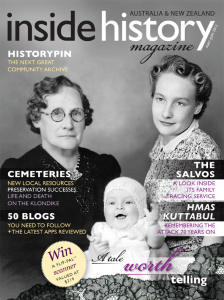 Inside History Magazine is a periodical "for people passionate about Australian and New Zealand genealogy, history and heritage."  The current May-June 2012 issue has an article entitled "Entering the Blogsphere" in which author Jill Ball (of Geniaus) writes about the prevalence of genealogy bloggers.  As part of the article, she compiled a list of 50 blogs that "every genealogist needs to follow."
I'm honored that The Genetic Genealogist was included in this list, especially considering the others blogs, many of which I've been reading for years!
Be sure to check out Inside History Magazine and the many terrific blogs listed in the article.  Also, Jill just included a nice follow-up list of "the blogs that got away."
News from around the web.
Go to Source
—
A greater appreciation of the past can help us forge a stronger connection with the present. And never has that been more true than in Jason Sudeikis's story. When he searches for more information about his grandfather, Sudeikis learns how great an effect fate had on his family. And that his own father was the one who broke a chain of three generations of Sudeikis men who had abandoned their families. It's powerful family history with a happy ending on tonight's Who Do You Think You Are? 8/7c on NBC.
News from around the web.
Go to Source
—
We are nearing the end of the second day of a four day genealogy conference.  That's four days of classes from some of the best and the brightest educators in the genealogy community.  Four days in an exhibit hall with dozens of genealogy companies, organizations and societies all talking about their latest and greatest content, products, and services.  Four days meeting our members, talking to you, listening to your research challenges, and helping you break through your brick walls.  Four days with hundreds and hundreds of people who "get it."
In the last two days I have learned new things.  I have been reminded of genealogy basics.  I have been challenged by a dozen or more people in a great round of Stump the Genealogist!
We have given away free subscriptions and free DNA kits in anticipation-filled drawings.  We have helped hundreds of people learn how to search smarter, how to discover what records exist online, and how to analyze the records they've already found to help them move their research along.
I LOVE genealogy conferences!
I have have been live tweeting some of the goings on here in Cincinnati this week.  Go catch up on those tweets and then follow along for the next two days.
If you would like to join us at a genealogy conference or event, take a look at our 2012 schedule to see where we will be for the rest of the year.  I would love to meet you, hear your genealogy stories, and help you with your most intriguing research challenge.
Have you attended a genealogy conference lately?
News from around the web.
Go to Source
—
When I started planning my book about Michelle Obama's family tree, I envisioned myself traipsing to far-flung cities on the hunt for historical records.  During two years of reporting and writing my book, American Tapestry, I did, in fact, crisscross the country, traveling to North Carolina, Virginia, Georgia, Alabama, Illinois and other states. In archives, libraries and local courthouses, I discovered the clues that would help me identify, for the first time, Mrs. Obama's white ancestors, and help me flesh out the life stories of her black and mixed-race forebears.  I poured over 19th century property records from Spartanburg, South Carolina. I dug into Civil War pension files at the National Archives in Washington, D.C. But I also found that I could do research on my home computer without leaving my front door, using online tools like Ancestry.com and digital archives, where I found marriage and death certificates, census reports and military records right at my fingertips.
It is hard to imagine a better time for ordinary people hoping to research their roots.  Many states, libraries and historical societies have digitized their archival records. I found wills from 19th century Spartanburg in South Carolina's online archives. I found Missouri birth records from the early 1900s and electronic versions of Baltimore City Directories from the same time period, from state and university online databases.
There is nothing quite like the thrill of pouring through stacks of records in a musty courthouse and touching history with your hands. Many county and small town records can still only be found in the local courthouses, historical societies and libraries. Even so, online archives are a treasure for people who don't have the luxury of jumping on a plane every month or so to hunt down a particular record. Have you considered trying to learn more about your roots? What are you waiting for? Talk to your parents, your grandparents, your aunts and uncles, your oldest relatives. Gather up the old records in those safe deposit boxes and get started.  To find out more about the secrets hidden for more than a century in Mrs. Obama's family tree — and to win a signed copy of American Tapestry and a free subscription to Ancestry.com —  please click here and visit Bookperk.
About Rachel L. Swarns
Rachel L. Swarns has been a reporter for the New York Times since 1995. She has written about domestic policy and national politics, reporting on immigration, the presidential campaigns of 2004 and 2008, and First Lady Michelle Obama and her role in the Obama White House. She has also worked overseas for the New York Times, reporting from Russia, Cuba, and southern Africa, where she served as the Johannesburg bureau chief. She lives in Washington, D.C., with her husband and two children.
News from around the web.
Go to Source
—
Actor and comedian Jason Sudeikis, known for his performances on "Saturday Night Live,"
is the guest on this week's "Who
Do You Think You Are?" on NBC. Episode promos promise "one shock after another"
in Sudeikis' family tree.
Here's a video sneak peek at the show:
News from around the web.
Go to Source
—
Subscription genealogy website Ancestry.com announced
the addition of the site's 10 billionth record today.
The announcement pointed out that its collection, which has grown 150 percent in the
last three years, "is larger than those of all other online family history sites combined."
On average, the site has added 55 million records a month since the website went online
15 years ago.
The earliest digitized records are wills executed in London in 1507. The earliest
record indexes date back to marriage licenses and probated wills in Dublin from 1270.
The most popular collection remains the US census.
News from around the web.
Go to Source
—
1000memories today launched its ShoeBox app for Android and a redesigned version of
the app for iPhone. The app is designed to make your phone a sort of portable scanner:
You "scan" a photo by snapping a picture of it, then upload the photo to your 1000memories
site.
ShoeBox can auto-detect the edges of a photo and crop and straighten it. Users can
add dates, names, locations and other information about the picture.
The newest version of the app for Android and iPhone lets users seamlessly organize
scans into different collections and instantly share them with certain people using
their mobile devices and the 1000memories site.
We
blogged about the October 2011 debut of Shoebox for the iPhone here. Following
that launch, ShoeBox became one of the top three free apps in the photography category
and top two in the family history category.
ShoeBox is available in the Apple App Store or Google Play store.
News from around the web.
Go to Source
—
At tonight's FamilySearch bloggers meeting at the National Genealogical Society Conference, FamilySearch both
celebrated the progress of the 1940 Census Community
Project and emphasized that it's just a part of what the organization hopes to
accomplish his year. Here are some stats we were presented with:
Getting 400,000 historical record images online at FamilySearch.org is FamilySearch's
goal for 2012, and the 1940 census is just one percent of that.>
FamilySearch.org has collections for 60+ countries, with the United States leading
the charge at 200 million images with more than 1 billion indexed.>
More than 530 million digital images of historical records are on the site, with 1.7
billion indexed.>
Comprehensive collections include Mexico civil and church records and civil registrations
from the Netherlands.>
FamilySearch has a contract with the Italian government to digitize civil registrations
there dating through 1940.>
Besides records, FamilySearch is also working on a program that has 10,000 volunteers
answering genealogists' questions online via VOIP and chat technology.>
Now for the 1940 census project, 101,000 volunteers have helped index or arbitrate
census; 170,000 of them new this year. They were recreuited through genealogical societies
(650 are participating), a blog ambassador program, targeted online advertising and
other efforts.>
95 percent of all FamilySearch indexing activity is for the 1940 census, but as the
project winds down, FamilySearch will try to transition those indexers to other indexing
projects.>
30 percent of all the census records were indexed within 37 days. As of tomorrow,
six states' indexes will be published: Delaware, Colorado, Kansas, Oregon, Virginia
and New Hampshire.>
California is more than 40 percent indexed.>
Archives.com, findmypast.com, the National Archives and ProQuest also receive copies
of the volunteer-created index.>
The 1940 census index could possibly be completed (though not necessarily published)
by July.>