News from around the web.
Go to Source
—

I've received a number of emails and comments (see, e.g., here) complaining about Ancestry.com's new test, AncestryDNA.  Specifically, several test-takers believe that the Genetic Ethnicity Prediction provided by Ancestry.com does not reflect the numbers that they expected based on their own research.
For example:
"I just got my DNA test results back from Ancestry.com and I am concerned. I was born in England and I have gone back many generations and have found that all my ancestors as far back as the 1600′s in most cases are English.  According to the results I have no British Isles DNA. It states that I have 60% Central Europe, 30% Scandinavian and 7% Southern Europe. I also have 3% unknown. How can this be?"
"Just received my results: 21% Southern European and 79% Central European which doesn't follow years of work on my family history."
Do these comments reflect errors in AncestryDNA's Genetic Ethnicity Prediction, or are there other factors at play?
Caveats
Although I am not privy to the 'behind-the-scenes' at Ancestry.com, I don't believe that there are serious issues with AncestryDNA's Genetic Ethnicity Prediction.  Ancestry.com's DNA arm has a solid scientific team and a large and valuable reference database.
Indeed, Ancestry.com is well aware of the limitations and challenges that their Genetic Ethnicity Prediction brings:
We use cutting-edge science as a base for our predictions, but that comes with its own inherent challenges. It's an emerging field with exciting new discoveries and developments constantly changing the landscape. Right now, your genetic ethnicity may not look quite right, with some ethnicities under or over-represented. As scientists gain a deeper understanding of the data, our prediction models will evolve to provide you with more accurate and relevant information about your family history.
It's important to understand that biogeographical estimates, which are still relatively new, are notoriously difficult and complicated.  Ten different researchers analyzing the same genome can come up with ten different estimates based on a number of different factors, including their algorithm, the reference populations used for comparison, and many others.
Here are just a few factors that can influence a biogeographical estimate, and any one or more of these may be the reason that your Genetic Ethnicity Prediction does not match estimates you make based on your paper trail.
Different Reference Populations and Algorithms
As I suggested above, different companies use different reference populations and algorithms to create a biogeographical estimate, which can result in varying estimates.
For example, in my previous review of AncestryDNA's Genetic Ethnicity Prediction, I compared my genetic ethnicity results from three companies (Ancestry.com, 23andMe, and FTDNA), and found that their results varied considerably.  I'm not surprised by this, but I do expect that over time – as the industry arrives at more standard reference populations and algorithms (which the cheap whole-genome sequencing revolution will enable) – that estimates from different companies will align much more closely.  Be patient and enjoy being a pioneer.
You Have TWO Family Trees!
Remember that "Everyone Has Two Family Trees – A Genealogical Tree and a Genetic Tree." Your Genealogical Tree is the tree containing ALL of your ancestors.  However, only a tiny subset of these individuals actually (randomly) contributed DNA to the genome that you walk around with today.  These ancestors are the only individuals in your Genetic Tree.  It has been estimated, for example, that at 10 generations, only about 10-12% of ancestors in your Genealogical Tree are actually in your Genetic Tree!
Accordingly, even if a decent percentage of your ancestors at 10 generations originated in the British Isles, there is possibility that your DNA – and thus your Genetic Ethnicity Prediction – could include very little or absolutely no British Isles ancestry, simply because of the rules of genetics.
Ancestry.com tries to explain this as well (I'm biased, but I think my "Everyone Has Two Trees" explanation is a little clearer; I've had great luck explaining this to newbies):
So if you look at your family tree, it may indicate a pedigree-based ethnicity of 30% English, 20% Scandinavian, and 50% Italian (based on birth locations of your great-great-great grandparents). While this is one valid way to look at ethnicity (and in fact has been the only way until recently), DNA analysis can reveal the actual percentage of your DNA that is reflected by these ethnic groups. So your genetic-based ethnicity might reveal you are 40% British Isles, 15% Scandinavian, and 45% Southern European. Both measures are accurate and informative—but they are measuring different things.
Another issue with any biogeographical estimate is the labels used to describe a population.  For example, what does "Scandinavian" or "Central European" really mean?  Does "Scandinavian" mean that great-grandpa must have been a Swede, or does it mean something else?
Ancestry.com defines the "Scandinavian" with the modern day locations of Norway, Sweden, Denmark, but explains in their FAQ that it can mean much, much more:
Ethnic groups moved around. Because people move over time, (and when they do they take their DNA with them), a group may contribute DNA to other groups at different times. So ethnic groups can be defined by time and place—not just location. For example, if you have German or British ancestors in your family tree, it's a possibility that your genetic ethnicity may be partly Scandinavian. The Viking invasions and conquests about a thousand years ago are likely responsible for occurrences of Scandinavian ethnicity throughout other regions. And there are similar examples for other ethnicities. With your results, we provide historical information describing migrations to and from the regions to give you a broader picture of the origins of your DNA.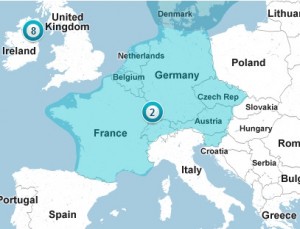 Similarly, the "Central European" label is defined to include the enormous swath of land in Europe including the modern day locations of Austria, Belgium, France, Germany, Netherlands, Switzerland, Slovenia, Czech Republic, Luxembourg, and Liechtenstein.
I certainly don't think of France as being "Central Europe," which shows that a test-taker shouldn't rely on the labels alone. Dig a little deeper.
Non-Paternal Events (NPEs)
I won't dwell on non-paternal events, because I believe they have become too much of a scapegoat.  Non-paternal events, or NPEs, can be broadly defined as secret or unknown breaks in your Genealogical Tree (adoption, infidelity, etc.).  At some point every single Genealogical Tree has an NPE, although current estimates vary widely.  Consider the possibility of a break in your tree, but focus on the other factors presented here as the more likely explanation for your unexpected results.
Reviewing My Genetic Ethnicity Prediction
I have a fairly well-documented Genealogical Tree.  My documented ancestors were mostly from the British Isles (England and Ireland) and France, with far fewer ancestors from Germany, and Central America.  Years ago, based on my paper trail, I might have predicted 65% British Isles, 20% Irish, 15% French, and 5% German.
In light of the above, let's review my AncestryDNA Genetic Ethnicity Prediction:
Scandinavian – 78%
Central European – 12%
Uncertain – 10%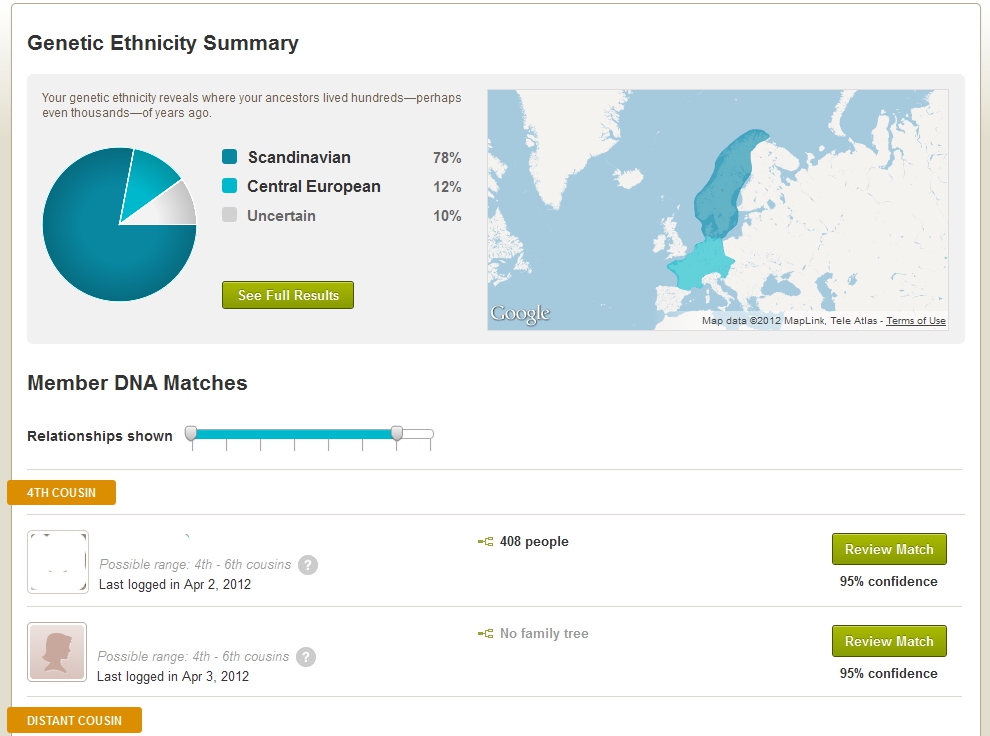 At first glance and without any of the knowledge above, these numbers seem way out of whack.  I don't have a single document ancestor from Scandinavia or the area I think of as "Central Europe."
However, when I learn that "Central Europe" includes France and Germany, a contribution of 12% "Central European" doesn't seem far-fetched.  Further, considering that ancestry in the British Isles can include "Scandinavian" ancestors as a result of relatively recent Viking conquests (on a genetic timescale), perhaps the 78% Scandinavian isn't so far-fetched either.
While I am still surprised that I don't report any British Isles DNA, that could simply be because of difficulties in deciphering between Scandinavian and British Isles, or perhaps because of the random inheritance of DNA from those ancestors rather than others.
Lastly, where's my confirmed Native American and African DNA?  Well, these percentages are rather small (­~ or <5% each) and I'm sure they're contained within the "Uncertain" category.
In any event, I'm not discouraged by my results, and I fully expect my results to change over time.
Conclusions
Lastly, as Ancestry.com has warned, don't forget that your results are subject to change with revisions of their algorithms and new discoveries.  And if Ancestry.com is dedicated to the best and latest results, your results almost certainly will and should change.
Your Turn
What are your percentages?  Do they match your expected percentages?  If you were unhappy with your AncestryDNA Genetic Ethnicity Prediction, does any of the above change your view?
News from around the web.
Go to Source
—
Recent research from Oxford University shows a wide range of genetic influences throughout the British Isles, hinting at a long history of invasions and settlement by groups from across the European continent throughout history. Now where have we heard that before?
Oh, that's right! AncestryDNA™ has seen similar results in the data from our new DNA test. It seems we're on the same page.
The Oxford study, conducted by Professors Walter Bodmer, Peter Donnelly and their colleagues, was reported by The Telegraph, London's Sunday Times and other publications. Their study, according to the article, "analysed the differences at 500,000 points in the DNA of 2,000 people" to compose a genetic map of the region.
According to Donnelly, only a couple of groups, namely the Cornish and Welsh, have populations that can be genetically characterized as distinctly British. Most other populations in Great Britain show more recent ties to groups such as the Anglo-Saxon Germans, Danish Vikings, and Scandinavians.
So what does that mean for a family history researcher? DNA continues to be a source of discovery about our past. Since the new AncestryDNA test is able to tap into over 700,000 locations in your DNA it gives you a broader, more vivid image of who your ancestors were. So if you've taken the new DNA test, you can expect new scientific findings like these to give you a deeper understanding of your results.
"The people of this region are a real genetic cocktail," says Donnelly. So, if you hail from the British Isles, don't be shaken if your genetic ethnicity results are decidedly stirred.
Now to further illustrate this point, here is an example from our own reference database for this specific region. As you can see, even individuals with deep British pedigrees often have some Scandinavian and Central European ancestry.
This pie chart shows the average ancestry estimated for individuals with all four grandparents from England, Ireland, Scotland, or Wales—most of them have great grandparents also from Britain.
Read more on the story here: http://ancstry.me/NMR3qz
News from around the web.
Go to Source
—
In the Barefoot Genealogist broadcast this morning, I shared a few ideas for publishing your family history. The two most important things I shared had nothing at all to do with the actual process of creating the chart or book.
Don't wait until you are finished!
If you wait until you are "finished" with your genealogy, you will never have anything to share. Your genealogy will never be "done." I inherited a lot of my family history and have been actively working on it for at least a couple of decades. After all that time, I've only identified 328 of the 1022 people responsible for my existence in the last 9 generations. (Here's how that math works.)
My advice to you?  Pick one grandparent or great-grandparent and focus on learning everything you can about them and two or three generations of their ancestors. Then share what you've learned with the rest of your family. The sooner, the better!
Less is best!
When you do share, do so in "bite-sized pieces." Don't overwhelm non-genealogists with too many charts and forms. Take the time to write a story or two about each ancestor based on what you've learned about their lives. Add pictures. Keep it to just four or five generations.
In the live chat afterwards and in my email box this afternoon there were lots of really great ideas shared about WHY you might want to create a family history chart or book. (And we all know that if we have a reason and a deadline we are more likely to get it done.) Here are just a few of those great reasons:
Create a giant wall chart for a family reunion so everyone knows where they fit into the family.
One book about a grandparents ancestors makes an easy Christmas gift for all the siblings and cousins.
When there is a new baby born into the family create a chart to show their lineage.
A chart showing three or four generations of the new couple makes a great wedding present.
A military focused book honoring all those in the family who have served would make a great memorial.
Having a goal to create a book is going to force me to focus on making one section of my family tree as complete and as well documented as possible.
We should share more and more often. You never know when you are going to create another genealogist in the family.
What's your reason?
Until next time – Have fun climbing your family tree!
News from around the web.
Go to Source
—
This month marks the 50th anniversary of one of the most mysterious prison breaks in history. On June 11, 1962, four men – Frank Morris, brothers John and Clarence Anglin and Allen West – took part in what became known as The Great Escape from Alcatraz. Having had the chance to work at "The Rock," I can't help but remember my amazement at the lengths they went to escape, as well as remember the experiences I had there while roaming the halls, hunting for spirits of criminals who were believed to still haunt the grounds.
Originally, Alcatraz was built as a military fortification for the purpose of protecting the San Francisco Bay. During the Civil War it doubled as a military fort as well as a military prison where they jailed confederate soldiers and sympathizers. Following the Civil War, actions were taken to update Alcatraz's outdated defenses until they decided to switch gears, turning the fort strictly into a military prison. Alcatraz was considered the perfect location for a prison due to the isolation created by the cold waters of the bay and its strong, hazardous currents.
My fascination with Alcatraz came with my personal interest in studying true crime, and from my love as a kid for the movie "Murder in the First." Alcatraz served as a federal prison from 1933 to 1963, and was used to hold the worst of the worst. If you caused enough problems at other prisons, or repeatedly tried to escape, you would eventually find yourself at the inescapable jail. Mickey Cohen, Al Capone, Robert Franklin Stroud aka "The Birdman, George "Machine Gun" Kelly, and – a familiar face from Boston – James "Whitey" Bulger were just some of the notorious residents here.
In the years it served as a federal prison there were a total of 14 escape attempts made by 36 men. While I was on the island I was surprised to learn that of those 36, 23 were caught, six were shot and killed, and two drowned.
But there were five men listed as missing.
Since there was never any evidence found that any of these men made it to shore, they were assumed to have drowned and washed out to sea in the strong currents. Three of these five missing men took part in The Great Escape. Today, people still wonder if Frank, John and Clarence did indeed drown or if they were successful in their escape.
 Frank Morris had a record that included drug possession and armed robbery. However, what landed him in Alcatraz were the several attempts he had made to escape several other prisons. It was during Frank's stay at an Atlanta prison that he met brothers John and Clarence Anglin. The Anglin brothers were bank robbers who, like Frank, were transferred there after several attempts to escape other prisons. The fourth man involved in The Great Escape was Allen West. Allen had met John at a Florida prison, and was in Alcatraz serving his second term.
Together these four men carried out their fairly hilarious and creative attempt at freedom. Using crudely made hand tools out of objects they secretly lifted from around the jail, they spent months making everything they needed for their escape. The men took turns digging through their individual cell's ventilation system, made rafts and life preservers out of 50 raincoats and glue, while using soap and toilet paper to make paper machete dummies they painted to look lifelike (they even went so far as adding hair they got from the prison barbershop). It was basically one big arts-and-crafts party made up of hardened criminals.
Once the boys were done with their cutting, pasting and finger painting, Frank, John and Clarence squeezed through the hole in the wall of their cell. Allen was left behind since he failed to finish digging in time. Once inside the prison walls they climbed 30 feet of plumbing before reaching the roof. They then secretly made their way across the roof to climb another 50 feet down the outside wall of the prison. Once outside, they planned to use their handmade raft and life preservers to get to the mainland. By the time Allen finally broke through the wall of his cell and climbed to the roof, Frank, John and Clarence were gone leaving him no choice but to return to his cell.
Over the years there have been many books, movies and documentaries that revolved around The Great Escape. In the end they all had their own theories as to what may have happened to Frank, John and Clarence. But again, no bodies were ever found. However several items were recovered from the water and the shores of nearby Angel Island, which just added to the speculation.
My visit to Alcatraz was due to the paranormal claims that now surround the island. People reported experiences that included noises of crying, moaning and sounds of a banjo (that was believed to played by a ghostly Al Capone); cold spots and sightings of prisoner apparitions and military personnel were also reported. One of the craziest claims was of a prisoner who told a guard he was being killed by a creature with glowing red eyes in his cell. The following morning that same prisoner was found strangled to death in his cell.
While there, I did have a few strange experiences, however what unsettled me the most had nothing to do with the paranormal. In the early morning hours I stood in one of the cells that looked out over the bay. The whole prison was cold and dark – an experience shared by many of the prison's former occupants. The only sounds in the prison were carried over the bay from the city. I could hear people laughing, cars beeping and live music playing. I could even see faint headlights pass in the distance. I remember thinking, "talk about a daily reminder that life is going on with out you …" It was actually a pretty horrible, lonely feeling.
These men that were locked up at Alcatraz probably deserved their punishment, but I can't blame them for wanting to get out.
For anyone captivated by Alcatraz and their extreme efforts, the question will always remain: Were three of them successful?
By Kris Williams
Twitter: @KrisWilliams81
News from around the web.
Go to Source
—
FamilySearch has updated the historical records search at FamilySearch.org with more
records for Austria, Brazil, Canada, Colombia, Croatia, Czech Republic, Dominican
Republic, England, Hungary, Italy, Mexico, Poland, Portugal, Scotland, Slovakia, Spain
and the United States. You
can check out the list of updated databases here.
The Indiana Historical Society's (IHS)
Midwestern Roots conference takes place Friday and Saturday July 20 and 21 in Indianapolis.
Attendees can choose from more than 30 sessions from presenters including genealogy
blogger and tech guru Dick Eastman, GeneaBloggers founder
Thomas MacEntee, Hey America, Your Roots Are Showing author Megan Smolenyak
Smolenyak, findmypast.com's Joshua Taylor
and other well-known genealogy experts. There'll also be a book fair and marketplace.

Full conference registration costs $150 for non-IHS members—but the early bird price
ends next Wednesday, June 27. Click
here to learn more and register.
News from around the web.
Go to Source
—
Across all the websites hosting 1940 census records, a total of 27
states now have free, searchable name indexes for this census.
FamilySearch has
added four more searchable state indexes to its
1940 census indexed states we listed last week: Alabama, Indiana, Maine
and North Dakota.
The indexes are searchable on FamilySearch.org and
its volunteer 1940
Census Community Project partners findmypast.com and Archives.com.
On Ancestry.com,
Delaware, Maine, Nevada, New York and Washington DC are
searchable by name.
MyHeritage.com has
Rhode Island and part of New York indexed.
In addition to its 1940 census indexes, FamilySearch has added new digitized records
or indexed names for the United States and Austria, Belgium, Brazil, Canada, Chile,
China, Czech Republic, England, Georgia, Indonesia, Italy, Peru, Philippines, Poland,
Portugal, Russia, Scotland, Spain and Sweden. You
can see a list of updated databases and link to each one from the FamilySearch site.
News from around the web.
Go to Source
—
Did your British ancestor serve in the military? You might be interested in this genealogy website: A British company called Forces Reunited, founded in 2001 by
a military veteran, has launched a military records subscription site
called Forces
War Records.
The site holds more than 4 million British military records from World Wars I and
II, the Boer War (1899-1902), the Crimean War (1853-1856), African wars (1815-1853)
and Napoleonic wars (1799-1815). Search results are cross-matched to information on
more than 4,000 regiments, bases and ships of the British Armed Forces dating to before
1350.
You can set up a free account, but you'll need a subscription to see full details
of records matching your search. Subscription prices range from 25.95 pounds (about
$41) for three months to 85.95 pounds (about $135) for 12 months.
The site has a free search for Prisoners of War (1939-1945), an index giving you the
name of the servicemember, camp, regiment linked to information about the regiment)
and branch of service, plus a link to search results in the site's other records for
that name.
You also can search a free index to information from Medieval military records, with
data from a free site called the
Soldier in Later Medieval England.
News from around the web.
Go to Source
—


People claiming German ancestry still outnumber any other heritage group in the United
States—which is why we're offering a new German
Genealogy Value Pack that'll help you trace your German roots in the United States and in
your ancestral homeland.




This Value Pack is full of practical advice for overcoming the challenges of tracing
your German ancestors.
Our German
Genealogy Value Pack includes:

Find Your German Roots Independent Study Course

download,
with four lessons to help you use genealogical records and more to determine who your
German ancestors were and from where in Germany they came.
A Genealogist's Guide to Discovering
Your Germanic Ancestors e-book download by Chris Anderson and Ernest Thode,
with expert instruction on researching German ancestors.
Tracing German Ancestry in Eastern Europe

download,
with guidance on tracing the German ancestors from Slovakia, Romania, Russia and other
places beyond Deutschland's borders.
Genealogy Cheat Sheet

download, a quick reference
designed to deliver the information you need to understand the records of your German
ancestors
Plus, you'll get a coupon for 25 percent off coupon for
our Family Tree University course German
Genealogy 201: Strategies and Skillbuilding.
Best of all, this collection of German genealogy guidance is on sale for $49.99—64
percent off the price of buying each item individually.
Learn
more about the German Genealogy Value Pack in ShopFamilyTree.com.
News from around the web.
Go to Source
—
The Illinois State Genealogical Society (ISGS) has pledged to match
donations to the Federation of Genealogical Societies' Preserve the
Pensions campaign up to $10,000.
Preserve the Pensions raises money to help digitize War of 1812 pension records, now
on paper at the National Archives, and make them free to access online. The archives
has more than 180,000 pension files totaling 7.2 million pages.
You can see War of 1812 pension records
that have already been digitzed on genealogy website Fold3.com.
ISGS will match any contribution made to the Preserve the Pensions project before
Dec. 31, 2012, up to the first $10,000. For instance, if you donate $100, the ISGS
will match it for a total of $200.
In addition, Ancestry.com will also match all ISGS contributions, which means
any contribution you make will be quadrupled: Your $100 contribution would become
a $400 contribution.
A $10 contribution to Preserve the Pensions allows about 80 pages of pension files
to be digitized. A total of $3.7 million is needed to digitize the entire collection.
You can donate via Paypal or by check. See
the ISGS website for details on making a contribution.