News from around the web.
Go to Source
—
Genea-Musings blogger Randy Seaver has posted
a response to a letter to the editor printed in the July/August Family
Tree Magazine. The letter-writer thought that we at Family Tree Magazine,
as well as other genealogy organizations, got overly giddy about the 1940 census.
He thought that the time spent browsing for an ancestor's listing in the then-unindexed
1940 census yields little to no new genealogical information (now, though, 24
states are searchable by name).
Randy disagreed—you
can see why in his post—and he wants to know what others think.
Personally, I've found the census useful. In some cases, I just confirmed what I knew;
in others, I found evidence to support educated guesses. And as Randy points out,
until you check a record, you don't know whether it'll hold a surprise. I was looking
for someone else entirely when I
found my grandfather staying at the YMCA in Cincinnati. When the Ohio name index
comes out, you can bet I'll be searching for my grandma, who met my grandfather here
soon after 1940.
A Family
Tree Magazine Facebook fan says she's using the 1940 census to help in
her search for living relatives. Another Facebook fan gets a kick out of finding his
family members' names, whether he learns anything new or not. So do I! What about
you?
Surname Forum Activity
———————-
Hi Peter
I e.mailed you as I am interested in the Patrick Ruddy and wife you mention on Lackawanna Ties. Did you get my e.mail
PR
Go to Source
News from around the web.
Go to Source
—
On June 18, 1812, the United States declared war on Great Britain officially launching the War of 1812. In the 200 years since, it has become a forgotten war, perhaps best remembered by school children as when The Star-Spangled Bannerwas written. Yet, the War of 1812 was strategically important to the future of American diplomacy, a reinforced independence from Great Britain, and the country's westward expansion.
Several events provoked President James Madison to request action from Congress to enter a war with one of the world's most powerful nations, less than thirty years after the Revolutionary War ended. Uppermost was the unlawful impressment of American sailors into a British Navy eager to replenish its ranks during the lengthy Napoleonic Wars. Great Britain also restricted America's right, as a neutral country, to trade with France.
On the home front, Americans were embracing the concept of "Manifest Destiny." Migrations into the Northwest Territory provoked confrontations with Native American tribes. The British supported the rights of the Indians to maintain and defend their territories, but Americans were eager to push them westward and claim their land. The war is best remembered by Canada, a friend to both Indians and Great Britain, and on whose border many battles took place.
Fold3 observes the War of 1812 bicentennial with rich and revealing historical documents within the War of 1812 Collection. They include the War of 1812 Prize Cases from New York's Southern District Court, Letters Received by the Adjutant General, and War of 1812 Service Records for Lake Erie and Mississippi, and, perhaps most revealing, the War of 1812 Pension Files. The pension files are digitized in color at the National Archives in Washington, DC, with funding provided by the Federation of Genealogical Societies' Preserve the Pensions! Project. They are brought to Fold3 visitors at no charge.
In commemoration of this highly important, yet overlooked event in U.S. history, we've made our War of 1812 Collection free for the month of June. Come explore the many stories of our fledgling nation's second revolution.
News from around the web.
Go to Source
—
MyHeritage announced that it has reached the
milestone of one billion MyHeritage.com profiles. The billion profiles are in nearly
23 million family trees. MyHeritage.com has more than 63 million registered users
who add about a million new profiles every day. About half of the billion profiles
belong to living people.
News from around the web.
Go to Source
—
Across all the websites hosting 1940 census records, a total of 24 states now
have free, searchable name indexes for this census.
FamilySearch has released two more
searchable state indexes, Oklahoma and South Dakota. All the states searchable on
FamilySearch and its volunteer 1940 Census Community
Project partners findmypast.com and Archives.com are:


Alaska
Arizona
Colorado
Delaware
Florida
Hawaii
Idaho
Kansas
Louisiana
Mississippi
Montana
Nevada
New Hampshire
Oklahoma
Oregon
South Dakota
Utah
Vermont
Virginia
Wyoming
On Ancestry.com, Delaware,
Maine, Nevada, New York and Washington DC are
searchable by name.
MyHeritage.com has
Rhode Island and part of New York indexed.
News from around the web.
Go to Source
—
Two hundred years ago June 18, President James Madison signed the
United States' war declaration against Great Britain, starting the
War of 1812.
Contributing to the declaration were British impediments to American trade with France,
the impressment of American merchant sailors into Britain's Royal Navy, and Britain's
support of American Indian tribes against American expansion into the Old Northwest
as a buffer for Canada. Some Americans including Thomas Jefferson even saw the war
as an opportunity to acquire Canada.
The war lasted until 1815 and ended in what many historians consider a draw, with
neither side gaining or losing significant territory.
Psychologically, though, Americans felt they'd won a second war of independence. Canada
successfully repelled US invaders, giving the war a prominent spot in Canadian national
consciousness. Great Lakes and Southeast American Indians lost their hold on their
lands. Many left, made deals with the US government or were removed to Indian Territory.
You can learn more about the war and
watch PBS' documentary on the network's War of 1812 website.
Find bicentennial events, a timeline, and museum and historic site information at
the Official War of 1812 Bicentennial website.
Also check state commemorative websites such as Ohio's
War of 1812 and Maryland's StarSpangled200.
The Battle of Baltimore, of course, inspired Francis Scott Key to pen the "Star Spangled
Banner."
The Navy, which emerged as the key to US defenses, is posting information and commemorative
events at OurFlagWasStillThere.org and
the War of 1812 Bicentennial Network Facebook
page.
If your ancestors fought in the War of 1812, here are some free FamilyTreeMagazine.com
articles to start your research:
At Your Service:
Compare your ancestor's birth date to this chart to see if he might have fought in
the War of 1812 (or another war).
War
of 1812 Records: Our AncestorNews columnist links to several of her favorite,
free War of 1812 online databases. (Note that the Library of Virginia database linked
on this page is down June 12 due to a power outage at the library.)
Here are some resources from ShopFamilyTree.com that you might find helpful.
News from around the web.
Go to Source
—
Today (or perhaps yesterday?) popular DIY genomics website GEDmatch.com released a new tool for phasing DNA data.  Listed under a link entitled "Generate phased data file," the tool allows users of the GEDmatch.com site to phase their chromosomes if they have their parent's raw data.
(A similar tool was previously created by David Pike at http://www.math.mun.ca/~dapike/FF23utils/; with David's tool, users receive their results directly and do not need to upload their DNA test results; accordingly, users have a variety of options depending on their privacy tolerance).
What the Heck is "Phasing"?
Currently, SNP chip testing performed by 23andMe or Family Tree DNA is unable to attribute a test result to either one of your parents.  For example, if your results for SNP rs00000 are "AG," the test alone cannot determine whether the "A" came from your mother or father.
"Phasing" refers to the process of separating the mixed DNA results (the "AG") into the DNA obtained from your mother (the "A") and the DNA obtained from your father (the "G").  This is typically done by comparing your results to your parents' results and determining which parent could have and/or must have contributed each SNP.
For example, if mother's results are "AA" at rs00000, and father's results are "GA" at rs0000, then the data can be phased into "A" from mom and "G" from dad (since only dad could have contributed the "G").  Every once in a while, the data can't be phased, however (say you're "AG," mom is "AG," and dad is "AG").
What Good is Phasing?
Many genealogists are using phased data to identify which DNA came from individual grandparents, great-grandparents, and beyond.  I won't get into that in detail now, but hope to at some point in the future (and eventually in the book I'm working on!).
As another example of using phased data, I used the new GEDmatch.com tool to phase my data.  Both my parents and I had previously uploaded our 23andMe and FTDNA data into GEDmatch.  I then performed some admixture analysis to compare unphased v. phased data.
Here is my unphased chromosome painting (Dodecad World9):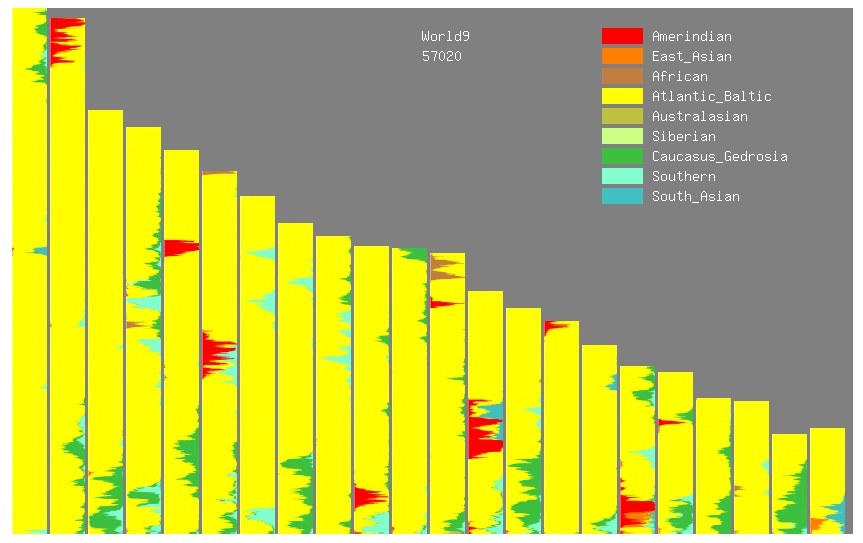 For comparison, here is my chromosome painting using the DNA I obtained from my father (same settings):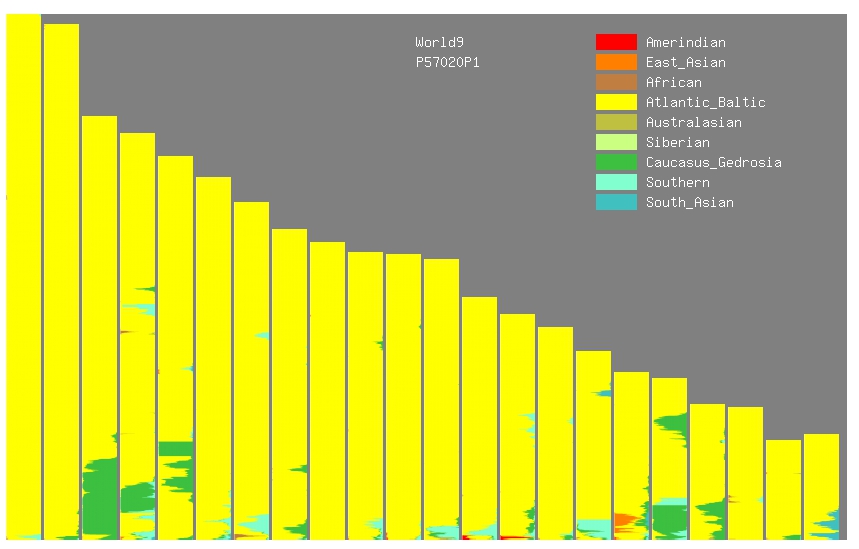 And here is my chromosome painting using the DNA I obtained from my mother (same settings):
Note that since this is so early I can't say for certain whether using phased data creates some unwanted effects on the analysis (I'd love some input on that).  It is interesting, however, to compare the results of phased v. unphased data.
What uses will you put your phased data to?
News from around the web.
Go to Source
—
While I was glancing at headlines yesterday, I saw that Ray Bradbury passed away. I read "All of Summer in a Day" back in elementary school and have never forgotten it. I re-read Fahrenheit 451 a year or so ago and was startled by some of the details Bradbury included in his future world that sound downright familiar nowadays. For a while, I carried a copy of Illustrated Man around with me because it fit in my pocket and I could pull it out when I found myself waiting somewhere with a few minutes to kill (no iPhone available at the time). It includes "The Veldt," a creepy story of virtual reality run amok written before the term "virtual reality" even existed.
Maybe Ray learned about predicting the future at Los Angeles High School, where they seemed to have a pretty good handle on prognostication. The write-up on his yearbook picture reads:
Likes to write stories
Admired as a Thespian
Headed for literary distinction.
They got that right.
Live forever, Ray.
News from around the web.
Go to Source
—
On a spring day in 1940, census taker Joseph D Donohue walked into a Manhattan neighborhood to begin his official enumeration for the 1940 U.S. Federal Census. Did he know beforehand that he would be knocking on the doors of some of the most famous people of his time to ask them some very personal questions? As he made his way through the townhomes and apartment buildings in this Midtown East neighborhood from April 2nd through the 11th, did he realize the greatness in some of the less familiar faces he encountered?
I spent some time this past week going page by page through this Beekman Place enumeration district. As I "virtually" walked up and down the streets with Joseph Donohue, I was amazed at the dozens of familiar names and occupations I came across in just forty-three images. I wondered if there was another single neighborhood in all of America with so many rich stories to tell.
Here are just a few of the people I encountered:
Gregory Abbott – Voice of the Paramount news reels
Max Abramowitz – Architect responsible for Avery Fisher Hall at Lincoln Center
Frank St Leger – Conductor of the Metropolitan Opera
Theodore Straetter – Band leader for The Ted Straetter Orchestra
John P Caffey – The "Father of Pediatric Radiology"
Carveth Wells – One of the most famous authors and lecturers on the "expedition circuit"
Earl Tappan Stannard – President and CEO of Kennecot Copper
Leland Macphail – Executive for Major League Baseball
Henry Bristol – President of Bristol-Meyer Pharmaceutical Company
William F Carey – Worldwide industrial leader, rebuilt Madison Square Garden
John D Rockefeller III – Philanthropist
John D Rockefeller IV – Became governor of West Virginia, now senior Senator from WV
Ellen Biddle Shipman – National renowned landscape architect
Kathrine McClintic – Actress, dubbed the "First Lady of Theater"
William Paley – CEO of CBS
David Wayne – Actor, won the first ever Tony Award
William Rose – Theatrical producer and nightclub owner
Eleanor Holm – Olympic swimmer and gold medalist
Macdonald Carey – Radio actor, later famous for Days of Our Lives
Finis Farr – Author, Margaret Mitchell biographer
Over the past two months, I have loved getting to know neighborhoods of people across the country as I scroll through one image after another looking for just the right address, hoping the people I am looking for will still be living there. I discovered treasures, not just in New York, but in hometowns where my own family lived – Green Forest, Arkansas; Lehi, Utah; Los Angeles, California; and New Orleans, Louisiana. Cousins and dear friends living on the same block. Influential neighbors and business associates. Even a few people who would one day make an indelible mark on the world.  As fun as neighborhood visits have been, how frustrating it has been when the person I was looking for did not live where I expected them to be living. How many hours have I spent scrolling through enumeration districts only to find that the address I need seems to have been missed entirely?
Early this morning, Ancestry.com released a complete index of more than 13 million names found in the 1940 U.S. Federal Census for the state of New York. I am so excited to be able to search these records to find the exact person, the exact family, I am looking for with just a few keystrokes in a search box.
Of course, not everyone that lives in New York, lives in New York City. And not every person you are looking for is going to be living there in 1940. So, to help you with your important New York family history research, Ancestry.com has also released three other record collections.
Ancestry.com has partnered with the New York State Archives to publish the 1925, 1915 and 1892 New York State censuses. Both the 1925 and 1915 censuses are digitized and available for the first time online, and along with the 1892 state census, provide the next step for discovery beyond the revelations of the 1940 Federal Census. These censuses are unique because they fall in the interim years between federal censuses. For example, between the 1910 and 1920 federal censuses, New York experienced a population surge of 1.3 million residents due to heavy immigration. The 1892 state census provides information that was lost when the 1890 U.S. Federal Census was damaged and destroyed by fire in 1921. These state census records may be the first glimpse many of us get of our ancestors as they arrive in this country.
So, have fun searching these amazing new resources! But, just because we've made it so easy to find your ancestor with a quick search of these indexed records, don't forget to "take a walk" once in a while through their neighborhoods and towns. You never know who else you might discover. What other rich stories are waiting to be told?
Until next time – Have fun climbing your family tree!
News from around the web.
Go to Source
—
13.5 million people lived in New York in 1940. And you can search for any one of them now by name in the just-launched 1940 U.S. Federal Census index for the Empire State on Ancestry.com.
New York was the country's biggest state in 1940 and its census pages are filled with fascinating folks. We've already found a few – see links to a handful of recognizable names on our Sticky Notes blog. Plus New York joins Delaware, the District of Columbia, Maine and Nevada as the states from the 1940 census that are now fully indexed and fully searchable on Ancestry.com.
While we realize New York itself housed more than 10 percent of the country's residents in 1940, there are still likely a few of your relatives who were living somewhere else (mine, too). With that in mind, know that our next indexed states are just around the corner. So stay tuned.