News from around the web.
Go to Source
—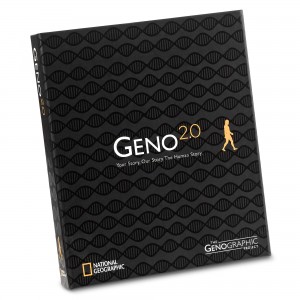 Today, The Genographic Project officially announced the launch of their new Geno 2.0 project, a significant update to the type and quantity of genetic information that will be collected and analyzed by The Genographic Project.  The new project will use an entirely new SNP chip (the GenoChip) designed specifically for Geno 2.0 in order to provide the world's most detailed information about Y-DNA and mtDNA haplogroups (using SNP information) as well as detailed biogeographical estimates and ancient population (Denisovan and Neanderthal) estimates.
As of today you can pre-order a Geno 2.0 kit, which is expected to ship no later than October 30th (although you can probably expect it earlier than that).
Once again Family Tree DNA will perform all the testing, and The Genographic Project has worked very closely with FTDNA to design, troubleshoot, and use the GenoChip.  FTDNA will perform both the Family Finder and the Geno 2.0 test.
Overview of Geno 2.0

The new Geno 2.0 SNP chip contains roughly the following SNPs:
~3,200 mtDNA SNPs
~12,000 Y-DNA SNPs
~130,000 autosomal and X-chromosomal AIMs (including ~30,000 SNPs from candidate regions of interbreeding between extinct hominins (Denisovan and Neanderthal) and modern humans)
The AIMs (Ancestry Informative Markers) were derived from roughly 450 populations around the globe, including many that are unique to the Genographic project and many that have never been previously searched for AIMs.  The SNPs in regions believed to represent Denisovan and Neanderthal interbreeding will be used to detect and study DNA flow between humans and these extinct populations.
Overview of Results
So what do you get when you order a Geno 2.0 test? Via the new user interface (some of which you can see below), you will receive the following:
A deep-clade Y-DNA haplogroup assignment;
A deep-clade mtDNA haplogroup assignment;
Information about the history and migration of mtDNA and Y-DNA haplogroups;
A biogeographical (ethnicity) estimate; and
An ancient population (Denisovan and Neanderthal) estimate.
What Geno 2.0 does NOT do:
Geno 2.0 does not reveal medically-relevant information (but note that medical/health/trait information can sometimes be revealed unintentionally as new health associations are discovered, for example).  NG went to great lengths to prevent medical/health/trait information from being detected by the Geno 2.0 chip.  For example, the team selected only non-coding SNPs with no known functional association, and filtered all selected SNPs against a 1.5 million SNP database (which they constructed from numerous sources) containing all SNPs known or believed to be associated with disease or health. The team also removed all SNPs with a high association with medically-relevant SNPs (which you might be familiar with b/c of Dr. Watson and his APOE status).
Identify genetic cousins with autosomal DNA.  The Geno 2.0 product is not intended to identify close genetic relatives based on autosomal DNA, and thus does not have that functionality.  I'm guessing that it will be possible for third-party sites to glean some information about relatedness from the data, however.  Note that relatedness through the Y-DNA or mtDNA based on haplogroup information is a part of the functionality of Geno 2.0, as can be seen in the screenshots below.
FTDNA (Deep Clade Testing; Integration of Genographic Results)
One interesting aspect of the new Geno 2.0 chip is that it will completely replace the deep-clade analysis performed at FTDNA.  With this one test, all SNPs currently analyzed by FTDNA in all of its different deep-clade analyses are analyzed in their entirety.
Another great benefit of the Geno 2.0 test is that Genographic will allow the test-taker to upload/transfer their results back into FTDNA, and neither Genographic or FTDNA will charge a fee for this transfer.  This means that Project Administrators will be able to work within the FTDNA system to analyze results of their project members rather than having to rely on collecting data from project members outside the system (thereby potentially increasing participation and results).
Validation of the GenoChip
The designed GenoChip has undergone significant validation (including the use of  about 400 known Y-DNA and mtDNA samples, and as many as 650 samples from various populations around the world).  Following this validation process (which will continue for at least the foreseeable future), the validated GenoChip SNPs are as follows:
~12,000 Y-DNA SNPs
~3,200 mtDNA SNPs
~130,000 autosomal and X-chromosomal SNPs which include the following SNPs:

23,692 Neanderthal
1,357 Denisovan
12,027 Aboriginal
10,159 Eskimo Saqqaq
998 Chimpanzee
Downloadable Raw Data: Treasure for Third-Party Analysis and Apps

The test-taker's raw data will be available for download by the test-taker.  This has happily become the norm for most genetic genealogy companies, and NG will follow suit.  It's not clear at this point whether that will be an immediate functionality (although I'm guessing it will be), or whether it will be in the near future.
Interestingly, the ability to download raw data opens the door for third-party analysis.  For example, I data from the Geno 2.o chip will lead to significant new mtDNA and Y-DNA discoveries (using the user-fueled Y-Chromosome Genome Comparison project, for example).
Consent
During a presentation put on by Spencer Wells and FTDNA a few weeks ago describing the new Geno 2.0 project, I and several other DNA bloggers were able to ask questions about the new chip and the project.  I and a few others asked questions about consent, which is of course an important aspect of any research project involving human samples.
Specifically, I asked whether all test-takers are automatically participants in the research aspect of the new Geno 2.0 project.  Dr. Wells responded that test-takers must opt into research; they are not automatically research participants.  Accordingly, people who are interested in the new test but have concerns about participating in research can do so.
The Geno 2.o Terms and Conditions are here.
Miscellaneous
A few miscellaneous points:
As of the recent presentation, Genographic was not yet certain if they will be storing DNA samples after they are tested.  They are considering doing so, but of course there are significant costs associated with long-term storage of tens of thousands of DNA samples.
Testing will take approximately 4-6 weeks once the system is in full swing (but I'm guessing there might be some delays in the beginning with an initial influx of orders).
You will eventually be able to order the Geno 2.0 test directly through the FTDNA website.
Although not completely reflected in the screenshots below, the new project allows for much greater participant involvement and interaction.  For example, test-takers are encouraged to share their stories after receiving their results.
For More Information:
Several other bloggers will be writing about today's launch, and I will update this post to include links to those reviews.  Also, since I will be taking the Geno 2.0 test in the near future, stay tuned for my review and results.
Screenshots
Below are a series of screenshots from the new Geno 2.0 project and test results, provided by National Genographic:
The complete kit (collection is by cheek swab):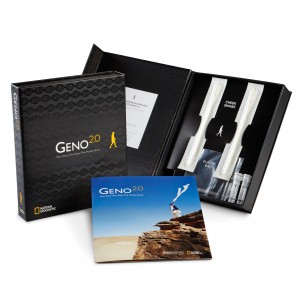 Introduction Page: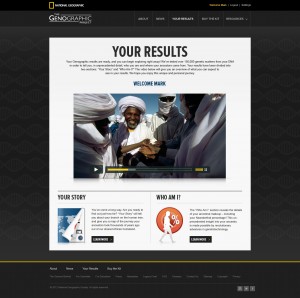 Overview Page: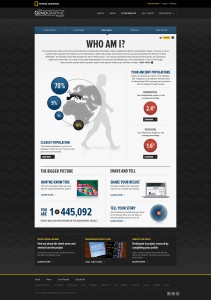 An mtDNA haplogroup and heat map (showing modern-day locations and frequencies of the haplogroup):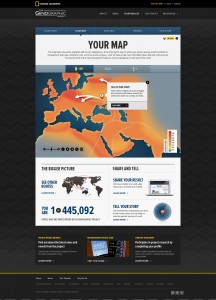 The "Your Story" main page: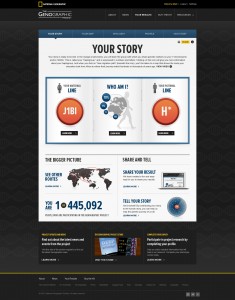 An example of more information at the "Your Story" page: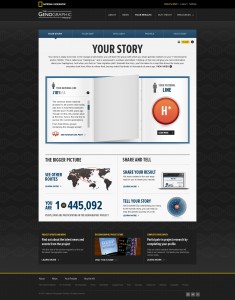 The "Your Map" page (showing an mtDNA map):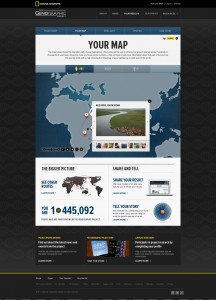 More of the "Your Map" page (showing an mtDNA map):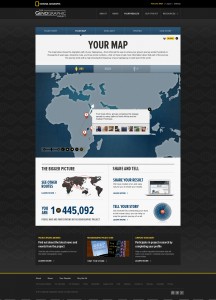 NOTE: much of this information is based on preliminary information about the GenoChip and Geno 2.0 project.  Accordingly, the information is subject to change. Check The National Genographic website for the latest information.
News from around the web.
Go to Source
—
Looking for relatives in Alaska, Arkansas, Idaho, Massachusetts, Minnesota, Missouri, North Dakota, New Mexico, Oklahoma, Rhode Island, South Dakota and Utah? We've just released fully-searchable indexes for all 12 states. And 26 other states are ready to search. And remember, if the state you're waiting for isn't indexed yet, you can still look through 1940 Census images to locate your family—we will even provide you tools that will help.
Also complete: AL, AZ, CA, CO, DC, DE, GA, HI, IN, KS, KY, ME, MI, MT, NE, NH, NV, NY, OH, OR, PA, TN, VA, VT, WA and WI
Start searching the 1940 U.S. Census NOW!
News from around the web.
Go to Source
—
I wanted to point you to the Ancestry
Insider's interesting post about indexing errors on 1940 census websites. The
Ancestry Insider has seen more user complaints about Ancestry.com's index than FamilySearch's,
and I'd have to echo that observation (mostly in blog comments and on Facebook). His
post includes Ancestry.com's answers to questions about its indexing and auditing
processes, and the index augmentation that helps users find records despite indexing
difficulties.
This fall, the National Archives will
open its new New York City location in Lower Manhattan, in the Alexander Hamilton
US Custom House at One Bowling Green (the former facility was on Varick Street in
Greenwich Village). The new location will expand the facilitiy's usefulness for research
and education, with a welcome center, research center, learning center for school
groups, exhibition space and public programs area. Read
more about the new location here.
Military records subscription site Fold3 has released a new collection
of Navy Casualty
Reports, 1776-1941, documenting deaths of US Navy personnel in wartime and in
accidents outside of war.

The casualty reports include records of those who were killed, injured, wounded, diseased
or imprisoned, but most report only deaths.The records include four titles: Deaths
Due to Enemy Action (includes deaths during the Civil War aboard the Cincinnati and
in Andersonville prison, and more), Drowning Casualties (1885-1939), Lost and Wrecked
Ships, Explosions and Steam Casualties (1801-1941), and Ordnance Accidents, Aviation
Accidents, and Miscellaneous Records. This collection is currently free to search.
News from around the web.
Go to Source
—
Ancestry.com has just announced the addition of 12 more states to its
free 1940 US census index, bringing the total of states you can search by name
on Ancestry.com to 37 plus Washington DC.
The newly added states are:
Alaska
Arkansas
Idaho
Massachusetts
Minnesota
Missouri
New Mexico
North Dakota
Oklahoma
Rhode Island
South Dakota
Utah
Click
here to see our post listing the states already indexed in Ancestry.com's 1940 census
database, as well as the states indexed on FamilySearch.org and its 1940 Census Community
Project partners, and on MyHeritage.com.
The 1940 census is free to search on all these sites.
News from around the web.
Go to Source
—
Attending
Antiques Roadshow last weekend has definitely put me in the mindset of figuring
out what family heirlooms we have and where they came from, and how to preserve and
share their stories with family.
My sisters and I, for example, didn't know about our great-grandmother's bride's basket
until I asked my mom if she had something she'd like me to take to the show for appraisal.
So I'm glad to see us doing a webinar called Digitize
Your Family History: How to Preserve Precious Photos, Documents and Heirlooms.
It's on Thursday, Aug. 9, presented by Denise Levenick, known as the
Family Curator and author of
How
to Archive Family Keepsakes (Family Tree Books).
If you register early, you'll be able to submit a scanned photo or document, or a
picture of an heirloom that Denise might use as an example during the webinar.
That means you could get preservation and digitization advice specific to your family
treasure. ("Early" is the key word.)
Here's what else you'll learn in the Digitize
Your Family History webinar:
What items you should digitize
How to deal with fragile and oversized items, as well as heirlooms you can't scan
(like our bridal basket)
Tips for creating digital copies of your photos and documents
How to archive and organize digital copies for your own research and for posterity
Key terms and online resources for digitizing heirlooms
Registrants will also get a free preview chapter of Denise's book How to
Archive Family Keepsakes, and a coupon for the book.
And as in every webinar, they'll receive copies of the presentation slides, as well
as access to view the webinar again as often as they like (that goes even if you register
but for some reason miss the webinar).
Digitize
Your Family History takes place Thursday, Aug. 9 at 7 p.m. Eastern time (that's
6 p.m. Central, 5 p.m. Mountain and 4 p.m. Pacific).
Click
here to learn more and register!
News from around the web.
Go to Source
—
The findmypast.com website, part of British genealogy
company brightsolid, has been online for
awhile now with US census records including 1940, but brightsolid today announced
the official launch of findmypast.com.
In today's press release, brightsolid positioned itself as David to market leader Ancestry.com's
Goliath. From the release (you can read
the whole thing here):
"We're not used to thinking of ourselves as small", says Chris van der
Kuyl, CEO of brightsolid, the world's second largest genealogy company. "Our ambitions
are big and the launch of findmypast.com is a
major market entry. The truth is that it's a growing market, with plenty of room for
both of us."

"We aim to become the go-to family history site, first
for Americans of British and Irish descent, and eventually for all Americans", says
van der Kuyl.
Brightsolid's first product for the US market, the pay-per-view census
site censusrecords.com, launched
in February in conjunction with FamilySearch's RootsTech
conference.
Now brightsolid's US focus is on Findmypast.com,
which will offer family tree building plus
subscription or pay-as-you-go access to US census, vital and military records; plus
records from the UK, Ireland and Australia.
Those overseas records will include UK censuses, English and Welsh vital records,
local parish records, UK passenger departure lists, British military records, Irish
vital records and British newspapers.
Learn more about records coming
to findmypast.com here.
Update: Findmypast.com has an introductory
subscription offer of $4.95 per month for a World Subscription (normally $249.95
per year), which gives you access to all the aforementioned content.
Brightsolid, which has
18 million registered users across all its websites and more than a billion genealogical
records, boasted a growth rate last year of 75 percent. Last year, the British-focused findmypast.co.uk saw
4.5 million visits from outside Britain, with US residents supplying the largest portion
of those visits.
Following up on last
month's reports that Ancestry.com is seeking buyers, brightsolid also used today's
press release to squash any rumors that it wants to acquire Ancestry.com.
News from around the web.
Go to Source
—
The PBS series "Antiques Roadshow" was
filming in Family Tree Magazine's
hometown of Cincinnati on Saturday, and I and our intern Jen were lucky enough to
see what goes on behind the scenes.
Something like 37,000 people entered the lottery for 3,000 pairs of free tickets for
the Cincinnati
event—a show record, from what I understand.
I'll write about the experience and my interview with "Antiques Roadshow" producer
Marsha Bemko in an upcoming Family Tree Magazine, but we won't have room for
all the photos I took. So I'm sharing some of them here (you
can see several on Facebook, too).
First, an overview: Here's the line of folks waiting for the "triage" area, where
each person got a ticket to see the pottery or prints or folk art or other appraiser.
The triage folks would spot unique items and decide whether an item's appraisal would
be filmed. The person who brought it was sent directly to the Green Room (off limits
to press) until the appraisal took place.
Here's where those lines for various types of items converged. Appraisals and filming
happened in the screened area.
A big part of the day for guests was waiting in line.
These crew members are setting up to film an appraisal.
Here Wes Cowan, who's been
with the show for years and also stars on PBS' "History
Detectives," examines a framed photograph. Cowan is from Cincinnati, but appraisers
came from everywhere for the event.
We were invited to bring items for appraisal, too (and even lucky enough to bypass
the line in my first photo above), so I wrapped up this glass bowl in plenty of bubble
wrap. It was a wedding gift to my great-grandparents in 1908, and I don't want to
be the one to break it.
The glassware appraiser told me it's called a bride's basket, and this one's style
actually dates it to earlier than 1908, from the Victorian era. So it may have already
been an heirloom when my great-grandmother received it. It's not worth much money,
which is fine with my mom and me—we want it to stay in our family forever. The appraisal
was over in a few minutes. I got the feeling the appraiser has seen a lot of these.
Do want to make sure your family heirlooms are preserved for posterity? Here are some
resources for you:
News from around the web.
Go to Source
—
We are pleased to announce that the Internet connection issues people have been experiencing with Family Tree Maker for Mac have been resolved. To get the update, close out of Family Tree Maker; then reopen the application. You'll be notified that an update is available. Click Install Update. When the installation is complete, you may need to log in to your Ancestry account again. You can do this in the Web Dashboard on the Plan workspace. If your connection still doesn't seem to be working, make sure the software is set to go online. You can do this by selecting Go Online from the File menu.
If you aren't prompted to install an update, please go to the Family Tree Maker menu and select Check for Updates.
We thank you for your patience during this situation.
The Family Tree Maker Team
News from around the web.
Go to Source
—
July 20, 1969 six hundred million people worldwide sat glued to their televisions watching as Neil Armstrong emerged from Apollo 11. Making his way down the ladder, Armstrong's feet finally made contact with the moon's surface. What followed were his famous words, "That's one small step for man, one giant leap for mankind". Joined by Buzz Aldrin, the two men walked, hopped, and loped across the desolate landscape in ghostly black and white images.
In the short 2 ½ hours they spent on the moon's surface, they worked fast to collect soil and rock samples, took photos, and raised the American flag. They also received a phone call from then president, Richard Nixon, who described it as "the most historic telephone call ever made". The success of this historic event, which fulfilled the late John F. Kennedy's mission to put a man on the moon before the end of the 1960s played out on live television for all the world to see.
Driving through New South Wales, seven miles north of a small town called Parkes, I noticed a dish towering over a cluster of trees just off in the distance. Miles of flat open land stretched out around it, covered in a grass that gave off a golden glow in the late afternoon sun. Something about it just seemed so out of place-it really was in the middle of nowhere. Parking in the visitors' lot, I couldn't get over how enormous the Parkes Observatory was, and the more I got to know about it, it just continued to become even more beautiful.
The Parkes Observatory telescope was completed in 1961 with a 210ft movable dish. It is the second largest in the Southern Hemisphere and is still considered one of the best in the world. Although it has been involved in tracking many space missions over the years, its biggest claim to fame came in 1969 when NASA reached out to Australia asking for help with the Apollo 11 mission. NASA needed stations that could track Apollo 11 while the moon was over Australia.
A total of three stations were used to track Apollo 11 while also relaying communication to NASA for the live broadcast of the landing.  Originally NASA chose the Goldstone station in California and Honeysuckle Creek near Canberra, Australia as the main receiving stations. The Parkes Observatory was only supposed to be a backup station incase the other stations were unable to pick up signals from Apollo 11. However, that all changed when NASA realized the moon would be directly over Parkes Observatory when Apollo 11 was scheduled to land. Parkes then went from a backup to a main receiving station for the mission.
When the cameras on the Lunar Module were triggered all three stations picked up the signal. It was then up to NASA to bounce between each station to see who had the best coverage of the landing. The first eight minutes of the broadcast were carried by Honeysuckle Creek until NASA saw the quality of the images coming from Parkes. For the rest of the 2 ½ hour live broadcast, NASA stayed with Parkes' signal. This made Australia the first to see the images seconds before the rest of the world. Due to the success of the Parkes' telescope, NASA went on to build three telescopes for their Deep Space Network matching Parkes' design.
Walking around the grounds of Parkes Observatory, I couldn't help but imagine the excitement that went through the small town. Not only were they a huge component in the broadcasting of the Apollo 11 landing, their design went on to directly influence NASA's program. It was definitely a huge accomplishment not only locally but for Australia as a whole.
The Parkes Observatory is just one of the many beautiful stops I would have never known existed if it weren't for a little detour in my travels due to curiosity. With the success of Apollo 11, the stars were no longer out of reach of human contact. This one mission opened the imaginations from the young to old from 1969 to today. In that short 2 ½ hour live broadcast, all of those watching worldwide became one-we had done it.
By Kris Williams
Twitter: KrisWilliams81
News from around the web.
Go to Source
—
First Lady Michelle Obama always suspected that she had white ancestors. But she had no idea who they were. With DNA testing and research, I was able to solve that mystery and finally identify the white forbears who had remained hidden in her family tree for more than a century.
All across the country, growing numbers of people are turning to DNA testing as a tool to help unlock the secrets of their roots, using companies such as ancestry.com, among others. When I started researching my new book, "American Tapestry: The Story of the Black, White and Multiracial Ancestors of Michelle Obama,'' I pored over historical documents that I found in local archives, courthouses and libraries as well as records that I found online on ancestry.com and other state and local databases. But I knew that DNA testing would be the only way to unearth the truth.
I suspected that Mrs. Obama's white ancestors belonged to the white Shields family that had owned her great-great-great grandmother, Melvinia Shields. So I persuaded several descendants of the black and white Shields to do DNA testing.
The results showed that the two families were related. The DNA testing indicated that Melvinia's owner's son was the likely father of Melvinia's biracial child, Dolphus Shields. (Dolphus Shields is the first lady's great-great grandfather.)
This was painful news for many of the Shields descendants. They knew that that Melvinia might have been raped and that their kinship originated during slavery, one of the darkest chapters of our history.
But last month, members of both sides of the family – black and white — put aside the pain of the past. They got together for the very first time in Rex, Georgia at a ceremony to commemorate Melvinia's life. They swapped family stories, posed for photographs, exchanged phone numbers and had a meal together.
It was something to see.
David Applin, who is Melvinia's great-grandson, said the reunion was "wonderful." And Jarrod Shields, who is the great-great-great grandson of Melvinia's owner, described it as a day "my family will never forget."
This story was contributed by guest blog author Rachel L. Swarns
Rachel L. Swarns has been a reporter for the New York Times since 1995. She has written about domestic policy and national politics, reporting on immigration, the presidential campaigns of 2004 and 2008, and First Lady Michelle Obama and her role in the Obama White House. She has also worked overseas for the New York Times, reporting from Russia, Cuba, and southern Africa, where she served as the Johannesburg bureau chief. She lives in Washington, D.C., with her husband and two children.