Archive for September, 2012
News from around the web.
Go to Source
—
In this three-minute video, several Fall
2012 Virtual Genealogy Conference expert instructors give snippets from their
video classes. Watch to hear about

Google Earth and using maps in your research, with Lisa Louise Cooke
photo restoration, with Denise Levenick
using a genealogy research log, with Thomas MacEntee
immigrant ancestors and their foods, with Gena Philibert-Ortega
German place-names, with James M. Beidler
To see the Fall
2012 Virtual Genealogy Conference course catalog of 15 video classes, the live
chat schedule, presenter bios and other details, visit
FamilyTreeUniversity.com. (You can save $50 on your conference registration with
discount code FTUVCFACEBOOK.)
And don't forget about our free
upcoming "Meet the Presenter"social media chats—click here for information.
News from around the web.
Go to Source
—


Maybe it's Great-great-grandma's maiden name or a 10-year gap in an ancestral family's
whereabouts. Or your immigrant ancestor's passenger record is nowhere to be found.
Whatever genealogy brick wall or elusive ancestor you're struggling with, we've put
together a research kit that will help you conquer it. The limited-edition Ultimate
Genealogy Problem Solver Collection gathers top tools and tricks for solving tough
genealogy problems.
The collection includes:
Quicksheet: Historical Biographer's Guide to Cluster Research with advice from
renowned genealogist Elizabeth Shown Mills
101 Brick Wall Busters with Family Tree Magazine experts' answers to readers
genealogy questions
Research Remedies CD with guides to research obstacles from maiden name mysteries
to incognito immigrants
Using Cluster and Collateral Searches to Beat Brick Walls recorded webinar
with techniques for getting clues from records of your ancestors' friends, neighbors
and relatives
Step-by-Step Guide: How to Fix Common Genealogy Errors, a digital download
article with strategies for spotting errors in your family tree (and keeping them
from coming back)
They're Alive! Finding Living Relatives recorded webinar has tips from genealogy
sleuth Thomas MacEntee on finding cousins who might have family information
Family Tree Problem Solver by Marcia Hoffman Rising, the newly revised classic
book with strategies and case studies for breaking through brick walls
Only 35 or so more Ultimate
Genealogy Problem Solver Collections are still available (depending when you read
this), and they'll be gone after September.
The price for all this is $69.99—a $100-plus savings over buying each item individually.
Get
your Ultimate Genealogy Problem Solver Collection now in ShopFamilyTree.com!
News from around the web.
Go to Source
—
We're holding live, free Facebook and Twitter chats with our Family
Tree University Virtual Genealogy Conference expert presenters to give you sneak
peeks at the genealogy tips you'll get from this online family history conference.
We've got three chats to go:

Today, Wednesday, Sept. 5, at 4:30 p.m. ET, join
our Tweet-up on Twitter with Gena Philibert-Ortega, who'll be talking about social
history and tracing immigrants (we'll be using hashtag #FTUVC).
Stop by our Facebook page Thursday,
Sept. 13, at 1 p.m. ET to get Rick Crume's advice on tracking down ancestors in UK
civil registration records and Ireland's Griffith's Valuation.
Remember to translate the chat times into your time zone. You don't have to be a Facebook
or Twitter member to see the chats, but you must be a member to post a question.
The chats we've already had are chock-full of research help! Here's where to find
them:

The Family
Tree University Fall 2012 Virtual Genealogy Conference, taking place online Sept.
14-16, gives you access to 15 video classes, live chats, our exclusive conference
message board, and our virtual exhibit hall (where you can win prizes by being part
of our exhibitor scavenger hunt).
To
learn more, visit FamilyTreeUniversity.com. (Pssst!: You can save $50 on conference
registration with coupon code FTUVCFACEBOOK.)
News from around the web.
Go to Source
—
Genealogy guru Rick Crume is a long-time contributing writer for Family Tree Magazine.
At next week's Fall Virtual Conference, he breaks free from his written word wheel
house and brings you two interactive video presentations: "Using UK Civil Registrations"
and "Tracing Irish Ancestors in Griffith's Valuation." No matter where over the pond
your family hails from, the resources exist to dig out their stories. In this guest
post, Rick gives a brief synopsis of his search-stimulating sessions:
If you have ancestors who emigrated from the British Isles in the nineteenth century,
free online indexes are the perfect way to start tracing them. English and Welsh governments
began recording births, marriages and deaths in 1837, but until recently, researchers
had to physically visit Great Britain or spend hours scrolling through microfilm to
thoroughly search the indexes. Now they're available for free on several websites.
By finding your ancestor's name in an index before requesting a copy of a birth, marriage
or death certificate, you'll get faster service, as well as ensure that the record
you are requesting is for the right person.
Before beginning research on family history anywhere in Europe, it's often important
to first identify the specific place where your ancestors lived. While many Irish
records have been lost over the years, a tax survey conducted across Ireland between
1848 and 1864 survives. This can now be used to help locate your ancestors' exact
parish of residence. Armed with that information, you can then pursue other Irish
records for information on your family.
Join me next week for two courses: "Using UK Civil Registrations" and "Tracing
Irish Ancestors in Griffith's Valuation." You'll learn where to find the best free
online indexes to these resources, tips for searching them effectively and how to
use them as springboards to assist with future record finding.
Time is running out! Register now for the Fall
Virtual Conference and save $20 with coupon code FRIENDSOFRICK.


News from around the web.
Go to Source
—
After setting up Family Tree Magazine's booth for last week's Federation
of Genealogical Societies conference in Birmingham, Ala., I headed down the street
a few blocks to the Birmingham Public Library to
check out the Linn-Henley Research Library. It's in a lovely 1927 building (renovated
in 1984) and holds the library's collections on Southern and local history and genealogy,
maps and the city archives.
Local records here include municipal and county records; church, civic organization
and business records; personal papers of local business and community leaders; and
more. You'll also find plenty of microfilm here, including censuses and military records.
I've blogged
a bit about the library and its
digital collections, but here are some visuals to whet your genealogy research
appetite:
The main Linn-Henley library entrance.

The main reading room, decorated with murals by Ezra
Winter. Someone commented on Family
Tree Magazine's Facebook page that the room "smells just like a library should,"
and that's exactly right. I love the smell of old books!
The print city and suburban directories start in 1883 and go into the 1990s.

Here's a small part of the family histories collection.

Many libraries have surname files like this one, full of assorted records and papers
organized by family name. (There was nothing for Haddad or my other surnames—I wasn't
expecting anything but you can bet I checked.) That envelope peeking out at the top
of the photo was attached to 1990s letters relatives sent each other about their family
history.

Visit the Birmingham Public
Library's genealogy resources web pages here.

Surname Forum Activity
———————-
Ad: Crna School Admissions: The Cold Hard Facts – Crna School Admissions: The Cold Hard Facts Was Developed Using A Timeline Approach For The Applicant To Use Throughout The Application Process. It Is Full Of Tips And Strategies That Current Crna Students Used To Get Into Different Crna Programs.
News from around the web.
Go to Source
—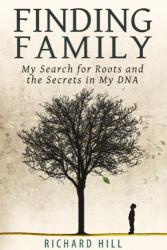 This weekend I had the privilege to review an advance copy of "Finding Family: My Search for Roots and the Secrets in My DNA," a new book by author and genetic genealogist Richard Hill.  The book is currently available at Amazon only in paperback (link here: Finding Family: My Search for Roots and the Secrets in My DNA
), although eBook versions will be available soon.
Many genetic genealogists are already familiar with Richard Hill and his website DNA-Testing-Adviser.com, where he shares information about using genetic genealogy to learn about your family, especially for adoptees and birth parents.  You may also be familiar with Mr. Hill through the front-page 2009 Wall Street Journal article detailing his search for his family, or from the 2009 article in the Grand Rapids Press ("Rockford man uses DNA testing, Internet searches to find his birth father").
Finding Family
Mr. Hill's fascinating new page-turner describes his 30-year search for his birth patents.  Although he was quickly able to identify his birth mother, the search for his birth father took much, much longer.  As the author writes:
Finding Family: My Search for Roots and the Secrets in My DNA is Richard Hill's true and intensely personal story of how he pieced together the long-kept secret of his own origins. This highly suspenseful book is a page-turning saga of personal detective work that will appeal to anyone who loves a good mystery.
I found this 260-page book waiting for me in my mailbox on Friday evening after work, and before 24 hours had passed I finished the last page.  I was completely unable to put it down, anxious to discover the conclusion of Mr. Hill's decades-long search (even though I knew how it ended!).
Highly Recommended!
I highly recommend this book to anyone interested in genealogy, family secrets, genetic genealogy, or mystery in general.  The book is a complete and entertaining saga from A to Z.  Although it was occasionally challenging to follow the considerable cast of characters, I think this serves to emphasize how meticulous Mr. Hill must have been in his research and record-taking.  Without good notes and research ability, it might have taken Mr. Hill much longer to complete his search.
Mr. Hill's story also shows the power of genetic genealogy, especially for adoptees and birth parents.  However, the story also shows that DNA alone is not a magic tool; as I've argued for many years now, DNA is a tool that supplements traditional research.  Genetic genealogy is at its best when combined with a well-researched paper trail.  In the case of adoptees with no hope of a paper trail, DNA might provide clues that will help point you toward the paper trail.
You can get more information about using genetic genealogy to supplement your search by reading Finding Family: My Search for Roots and the Secrets in My DNA
, or my visiting Mr. Hill's great website at DNA-Testing-Adviser.com.
I met Dick in the fall of 2011 at the Family Tree DNA administrator's meeting, although we had corresponded several times prior to meeting in person.  Dick was warm and inviting, and it clearly shows in his book.  He has connected with innumerable people in his search for family, and by reading his book I now count myself among them.
Disclosure: I received a free copy of Mr. Hill's book to review for The Genetic Genealogist. However, this review reflects my honest thoughts about the book.
News from around the web.
Go to Source
—
Summer is winding down, but things are still pretty hot around here. With the completion of the 1940 census index we now have more than 713 million U.S. Federal Census records online and fully searchable from 1790 through 1940. To celebrate this unprecedented access to all publicly available censuses, Ancestry.com has cooked up some pretty great things for the end of summer.
Search all U.S. Censuses free
From August 29th through September 3rd, Ancestry.com is opening all of its U.S. census records – FREE. Share this info with all your family, friends and followers; you can point them to www.ancestry.com/census to learn more and start searching.
Take a trip back in time
Go beyond searching your family's true story in the census records and see what your own life could have been like as an adult in 1940 with the Ancestry.com Time Machine. Our interactive, time-travel experience requires just a handful of information provided by you. And in return, you get a custom video featuring YOU in 1940. While it's not genealogy, it is high-tech fun. Create your own video and share it with your followers. And encourage them to create their own at www.ancestry.com/TimeMachine.
News from around the web.
Go to Source
—
We are currently working through the search errors on Ancestry.com. We are deeply sorry for any inconvenience, please stay with us while we work through this issue. Any details we are able to share, we'll continually update this blog post. Please stay tuned.
Thanks,
Ancestry.com
*Update*  The search errors have been resolved as of 3:40 pm ET. Thank you for your patience!
News from around the web.
Go to Source
—
We're really excited about the new version of our iPhone and iPad app. We hope you like it as much as we do!
Let's take a closer look…
First you'll probably notice that we have a new look to the entire app. Hopefully you think it's as warm and inviting as we do
The new family tree viewer
Below you can see a new family tree viewer. The idea is to make interacting with your family tree more like interacting with a map or a photo. Pinching zooms in and out. Swiping moves the entire tree. We also wanted to show more relatives. The old viewer only showed direct lines, but this new viewer includes an option to show grandchildren, siblings, aunts, uncles, nieces, nephews, and cousins.
Some users miss the old version of the tree viewer and have expressed concern about it being no longer available. We're listening to this feedback and are working on improvements they are requesting (for example, we plan to remove grandchildren from the Pedigree View in the next update to make it easier to see your whole tree). But we hope that your experience is the same as ours has been – the new viewer requires some time to get used to, but once you've spent some real time with it, we think you'll fall in love with the additional functionality and intuitive navigation. Play with it for a while and let us know what you think.
Working with the new family tree viewer
The top arrow in the image below is pointing to a "new person node" that can be tapped to add a new person to your tree. The green node at the bottom is the person who is currently selected – the relationships shown in the tree are built around this "focus person." If you tap on someone else in the tree, their node will turn green and the tree will redraw with them as the new focus person. If you tap on the focus person again, a panel slides out with their personal information. This panel includes hints, life events, family members, photos, and evidence (records).
The viewer shows 2 generations below the focus person (grandchildren) and 3 generations above the focus person (great grandparents). To see more generations above or below the current focus person, simply tap on a person near the top or bottom of the tree.
See the green shaky leaves below? These are hints that may lead to valuable records for that person. If you tap on the leaf itself, you'll be taken directly to a list of record hints for that person.
Toggling between the Family View and the Pedigree View
The icons in the green rectangle below allow you to toggle between two modes in the tree viewer.
The icon on the left is the Family View that shows siblings, aunts, uncles, nieces, nephews, and cousins.
The icon on the right is the Pedigree View that shows direct ancestors only.
Using filters to sort through people in your family tree
The "3 bar" icon in the top left of the screen opens a list of all the people in your family tree. If you begin typing in the search bar, the list below automatically updates based on what you're typing. This is very helpful if you are looking for someone specific in a large tree.
In addition, by tapping "All People," you have access to a variety of useful filters. For example, Direct Ancestors will update the list of people to show only people directly related to the tree's home person, and the End of Line filter helps you find areas of your tree that need more research.
The bottom two options will show a list of people in your tree that have hints or only those that have received new hints in the last 7 days.
Where was I? Getting back to where you started.
Imagine that you've been randomly tapping on people in a very large tree and have gotten lost. We have a couple options for you… One is to hit the back icon. This will take you back in time (by changing the focus person) until you recognize where you are. Additionally, because you've read this far into this long blog post, here's a little secret: tap on the back button and hold your finger down for a couple of seconds. A history menu will pop up that shows you a list of people you've looked at, starting with the most recent.
In addition to the back icon, tapping the home icon will take you back to the home person.
Trees, settings, and support
By tapping on the tree name at the top of the screen, you'll get a menu with 3 options: Family Trees, Account Settings, and Support.
Family Trees shows you a complete list of trees that you have access to based on the username you signed in with. The tree currently displayed in the app is noted with a checkmark. Trees that have been downloaded to the app have an arrow in a green circle next to them. Tapping this circle allows you to change settings for that specific tree, including privacy, notifications, home person, and the ability to designate who you are in the tree so that the app can show you how you're related to anyone in the tree. If you want to see a tree that hasn't been downloaded, just tap it. We've worked hard to speed up the tree download, so unless you have a super giant tree, it shouldn't take too long.
Account Settings allows you to see your membership information, displays your user name, and allows you to log out. If you do not have a membership, you can access membership options via the app by tapping here.
Support allows you to send us a suggestion, email our support personnel, or call our amazing folks in Member Services.
Well that about covers it. We really hope you enjoy the new app. We've worked hard to provide a great family history experience for the ever-growing number of customers with mobile devices.
Spend some time getting familiar with the new version and then let us know what you think…  What do you like about the new app? What new features would you like to see next?
Thanks for your support!
-The Ancestry Mobile Team
Don't have an Apple iOS device?  Don't worry, we have an Android app as well.
For more information, or to download either the iOS or Android app, visit http://www.ancestry.com/mobile