News from around the web.
Go to Source
—
Professional genealogist Gail Blankenau recently solved an ongoing mystery: Who was the first woman to secure a homestead in her own right through the Homestead Act of 1862?
The answer can now be revealed thanks to family history records available at both Ancestry.com and Fold3: Mary Myers, a widow, of Gage County, Nebraska. Myers applied for a homestead at the Brownville Land Office on 20 January 1863, just 19 days after Daniel Freeman, the first homesteader via the Homestead Act. Freeman's certificate of payment is Certificate No. 1 and Myer's is Certificate No. 3. Once she submitted proof of completion of the process five years later, the witnesses to her affidavit were none other than Daniel Freeman himself, and her son-in-law, Joseph Graff, the fourth homesteader to apply at Brownville.
The Homestead Act of 1862 provided women with a unique opportunity to own land in their own right. A woman who was age 21 and the head of a family was eligible to apply under the Act. Thousands of women—widows, divorcees, single women, and deserted women—applied for a chance at independence.
Under the provisions of the Act, a settler had to build a dwelling, cultivate the land, and be in continuous residence for a five-year period. Settlers faced many hardships, including lack of water, bad weather, insects, and loneliness. Only 40% of those who applied for land under the Act were able to complete the process and secure a land patent.
Blankenau came across the records for Mary Myers while preparing for a presentation on women homesteaders at the upcoming National Homestead Monument's Land Records and Genealogy Symposium on July 12 and 13, 2013, in Beatrice Nebraska. The land entry case file on the popular genealogy website Fold3, contains Mary Myer's required affidavit stating that she had met all of the Act's provisions.
"It is so important for us to celebrate the contributions of pioneer women like Mary Myers," says Blankenau. "When delving into the land entry files, there are all sorts of details of their lives, details that aren't easily found in many other records. Women were often the silent partner in land deals, but as female homesteaders, they could take center stage."
According to Myers' descendant Robert Graff, the family lived in a dugout on the land at first, then cabins were built. They then added on and improved to what they had built, a little at a time.
By 1868, Myers had a one-story dwelling that measured 16 by 24 feet. According to her final affidavit, it had a shingle roof, board floors, three doors, five windows and "is a comfortable house to live in." She also had 35 acres ploughed, a well, a corral, corn crib, chicken coop, fruit trees and grapevines.
Another interesting tidbit from her homestead files: When she first applied for her right to homestead, she signed by mark, meaning that she was probably illiterate. When she proved up five years later, she signed her name. It appears that Myers took time out of everything else she had to do, and learned to write her name. While it may have been her son-in-law who taught her to write, she seemed well-prepared by the time she became a landowner. "I would think that it was with some pride that she signed that day – her own land, in her own name, and signed in her own hand," says Blankenau.
Mary Myers signature in German script
Blankenau is also a specialist in German genealogy and notes that Mary Myers' signature was in German script. Not only was Mary the first female homesteader, she was an immigrant as well.
The Nebraska Territorial Census of 1860, Gage County, shows Mary Myers, age 45, with her husband "Philip Myers" age 57, born in Baden. The census lists a child "Stephen, age 7, also born in Baden (who was more likely a daughter, Sophronia), and a boy "Hammond," actually named Hermann, age 2, born in Wisconsin. Next door is Joseph "Goff" or Graff, who married their older daughter, Theresa Myer.
Myers' husband Phillip died in 1861, thus it was up to Mary to provide for herself and the children still at home. When she applied to homestead, she testified that she was the head of a family of three children. She "proved" up five years later to the day, and finalized her ownership on 20 January 1870, receiving final Certificate No. 3.
"Studying these records makes you realize what an act of faith homesteading must have been. Sure, the land was relatively inexpensive, but the hazards of homesteading were considerable, including failed crops, storms, drought, grasshoppers, and loneliness."
Mary Myers' homestead land, sold away from the family in 1877, is once again back in the family, having been purchased by her great-great grandson, Robert Graff.
* * *
Gail Blankenau is a professional genealogist, speaker and author, specializing in German genealogy, land records, and lineage research. Gail has written for the New England Historical and Genealogical Register, The Genealogist, Everton's Genealogical Helper, Family Chronicle and Internet Genealogy. If it deals with genealogy, she probably does it. Learn more at Gail's site Discover Family History.
Photo: Robert L. Graff, The Joseph Graff Family History 1726-2006 with Meier Family Line, copyright 1 May 2007, self-published. Photograph of Mary Meyer, page 51. Used by permission.
News from around the web.
Go to Source
—
Ancestry.com is pleased to join the Federation of Genealogical Societies (FGS) at its annual conference in Fort Wayne, Indiana, August 21-24, 2013. Take advantage of the early bird pricing, register before July 1st and save $50. Register today!
The FGS conference has something for every genealogist – beginner, intermediate, advanced, and professional. Session topics include records, methodologies, military research, transportation, online resources, DNA, federal records, technology, migration, ethnic research, and of course the Midwest. Ancestry.com experts Lou Szucs, Crista Cowan, Duff Wilson, and Kenny Freestone, are just a few of the great speakers coming to the conference. Check the program for details about specific talks and presenters.
The exhibit hall will feature the latest software, books, maps, databases and gadgets for genealogists. Make sure to stop by the Ancestry.com booth to find out what's new. Fort Wayne is home to the world-famous Allen County Public Library Genealogy Center, which will have extended research hours during the conference.
For program details, hours, and more information about the conference visit, https://www.fgsconference.org/. Check out the conference blog and Facebook page for the latest conferences news.
News from around the web.
Go to Source
—
In related news, on Sunday, June 30, FamilySearch will shut off the ability for vendors
(such as software companies) to "write" to trees on new.familysearch.org,
which is actually the old version of FamilySearch Family Trees. That means that if
you're using a third-party product that works with the new.familysearch.org system,
you won't be able to use it to update your new.familysearch.org tree. Read
more about this on Renee Zamora's blog.
News from around the web.
Go to Source
—
Findmypast.ie is offering free
access to Irish vital records from June 27-30. You'll be able to search for free:
Ireland Births 1864-1958
Ireland Marriages 1845-1958
Ireland Deaths 1864-1958
It's part of the site's Ashes to Archives initiative, which marks the anniversary
of the Four Courts Fire in
Dublin. This June 30, 1922, fire during the Irish Civil War severely damaged the Public
Records Office, resulting in a major loss of historical records. It's one of the most
infamous events in Irish genealogy.
Findmypast.ie's
helpful site tells you what records were lost and what survived (including sources
available with a findmypast.ie subscription or pay-per-view credits).
You'll need a free membership on the site to view the Irish vital records.
Got Irish ancestors? Take a look at these resources from ShopFamilyTree.com:
News from around the web.
Go to Source
—
Happy Juneteenth—the holiday that commemorates the announcement of
the abolition of slavery in Texas on June 19, 1865. On that
day, Union Gen. Gordon Granger stood on a balcony in Galveston and
read General
Order No. 3, informing the people of Texas that slaves there were freed.
From the beginning, Texas freedmen marked Emancipation Day—now known as Juneteenth—with
festivals and remembrances of enslaved ancestors. Observances declined during the
early 20th century, but have seen a resurgence since the Civil Rights movement. Juneteenth
became an official state holiday in Texas in 1980; 41 other states and Washington
DC have designated it a holiday or a day of observance.
Learning about African-American roots during slavery is difficult but it isn't always
impossible. These free online articles will get you started:

Also check out these resources in ShopFamilyTree.com:
News from around the web.
Go to Source
—
Want to put together a family history book this summer? Trace your
Civil War ancestor? Finally get organized and be on top of your
genealogy research?
Enroll yourself in our specially
priced Family Tree University Summer School sessions, and do all these things
and more.
We're offering a discounted tuition of $59.99 on 11
summer school courses—five starting now, and six starting July 1:
Starting June 17 (available for registration through this Friday):
Cemetery Research 101: Dig Up Your Family History
Digital Photography Essentials: Techniques to Capture and Preserve Your Family History
Time Management for Genealogists: Make Time for Your Tree, Yourself and Your Sanity
Exploring City Directories: How to Trace Your Family in Yesterdays Yellow Pages
US Military Records: Trace Your Ancestors' Service
Starting July 1:
Newspaper Research 101: Find Your Ancestors in American News Sources
Computer Boot Camp for Genealogists: Become a Power User in 4 Weeks
Creating a Family History Book: Start-to-Finish Guidance for Assembling and Printing
a Family Keepsake
Reverse Genealogy: Working Forward to Break Down Brick Walls
Civil War Research: Find Your Ancestors in the War Between the States
Google for Genealogy: Find Ancestors Online
Visit the Family
Tree University Summer School Sale page to learn more about each course and register.
Surname Forum Activity
———————-
Registration for the Manley Munley Munnelly Reunion dinner on June 22, 2013 in Scranton, PA closes this Sunday.
We have to give the hotel a firm count on Monday. Please help me get the word out to anyone you might know who is still just thinking about coming. If they want to attend the dinner at the Hilton that night, they must register at
http://manleymunleyreunion.eventbrite.com/# by Sunday, June 16th.
We have a couple great presentations about the history of the Manley Munley Munnelly surname and the origins of our ancestors, and the y-DNA evidence that shows we are ALL related. There will also be time to compare individual ancestries with others and see what connections we can make.
Hope to see you in Scranton!
Marianne Manley Granoff
Albuquerque, NM
granoff@zianet.com
Go to Source
News from around the web.
Go to Source
—
DNATraits, a division of Houston-based genomics and genetics testing company Gene By Gene, Ltd., (parent company of Family Tree DNA) just announced a press release regarding today's decision in Association for Molecular Pathology, et al. v. Myriad Genetics, Inc. patent case regarding the human BRCA1 and BRCA2 genes
From the press release:
Supreme Court Ruling Today Allows DNATraits to Offer Low Cost BRCA Breast and Ovarian Cancer Gene Testing in U.S.

In effort to increase access to potentially lifesaving BRCA1 and BRCA2 tests, DNATraits can now offer tests for $995, a fraction of the cost of similar tests prior to the court decision

HOUSTON — Jun. 13, 2013 – Thanks to today's U.S. Supreme Court decision opening the door to greater access to genetic medicine by American patients and their health care providers, testing for genes specifically linked to breast, ovarian and other cancers will now be more widely available and at a lower cost than ever before.
DNATraits, a division of Houston-based genomics and genetics testing company Gene By Gene, Ltd., announced today that it will offer testing for the BRCA1 and BRCA2 genes in the United States for $995.  Prior to today's unanimous Supreme Court ruling, when exorbitant licensing fees kept DNATraits and others from offering BRCA gene tests in the United States, the cost for such tests was around $4,000.
"We're pleased to make this important testing more widely available and accessible in the United States," said Gene By Gene President Bennett Greenspan.  "Our highly automated CLIA-registered lab and efficient processes enable us to make genetic and genomic testing more affordable and accessible to more individuals, in the U.S. and worldwide.  And that's our company's mission, in a nutshell."
The company's announcement about the tests, which gained national attention when actress Angelina Jolie courageously revealed in May that being a BRCA1 carrier was among the factors in her decision to have a preventive double mastectomy, comes after today's Supreme Court ruling in "Association For Molecular Pathology v. Myriad Genetics."
"We commend the Supreme Court for opening the door to greater technological innovation and access to genetic tools that promise to save and improve the quality of human lives in the United States," Greenspan added.  "It's critical that as an industry we are able to continue to engage in healthy competition to drive down the costs of these tests – because as more individuals have access to and undergo them, the more information we'll have about many serious diseases that eventually may lead to cures."
DNATraits has processed testing for the BRCA1 and BRCA2 genes for individuals living outside the U.S. since 2012.  Those genes are processed using traditional Sanger DNA sequencing, which is considered the gold standard for DNA analysis, at the company's Genomic Research Center in Houston, a CLIA-registered lab which has processed more than 5 million discrete DNA tests from more than 700,000 individuals and organizations globally.
In addition to the BRCA gene tests, DNATraits offers a pre-natal array that covers 111 population specific diseases, as well as other not population-specific diseases, like Duchene Muscular Dystrophy.
Customer Inquiries
Individuals interested in learning more about either the BRCA1 or BRCA2 tests should ask their doctors for more information.  They and their health care providers can also visit the company's website, www.dnatraits.com, or call (713) 868-1438 for more information.
About Gene By Gene, Ltd.
Founded in 2000, Gene By Gene, Ltd. provides reliable DNA testing to a wide range of consumer and institutional customers through its four divisions focusing on ancestry, health, research and paternity.  Gene By Gene provides DNA tests through its Family Tree DNA division, which pioneered the concept of direct-to-consumer testing in the field of genetic genealogy more than a decade ago.  Gene by Gene is CLIA registered and through its clinical-health division DNA Traits offers regulated diagnostic tests.  DNA DTC is the Research Use Only (RUO) division serving both direct-to-consumer and institutional clients worldwide.  Gene By Gene offers AABB certified relationship tests through its paternity testing division, DNA Findings.  The privately held company is headquartered in Houston, which is also home to its state-of-the-art Genomics Research Center.
 ###
Media Contact:
Kate Croft for Gene By Gene, Ltd.
Casteel Schoenborn
888-609-8351
News from around the web.
Go to Source
—
On the heels of a special $49 Autosomal DNA Transfer sale, Family Tree DNA has announced a new FATHER'S DAY SALE! For a very limited time only, Y-DNA upgrades are available at a very reduced price.  From the announcement:
Since last summer's upgrade sale was such huge success, we thought we'd repeat history! We are offering discounts to our Y-DNA upgrade products just in time for father's day. So, please spread the word and we'll make this year's upgrade sale even bigger!
ALL ORDERS MUST BE PLACED AND PAID FOR BY 11:59pm, JUNE 19, 2013, TO RECEIVE THE SALE PRICE.
Reduced Prices
From June 12, 2013 through June 19, 2013,  the following sale prices are available:
Y-DNA 12 to 25  was $49                Now $35
Y-DNA 12 to 37  was $99                Now $69
Y-DNA 12 to 67  was $189              Now $148
Y-DNA 25 to 37  was $49                Now $35
Y-DNA 25 to 67  was $148              Now $114
Y-DNA 25 to 111 was $249              Now $224
Y-DNA 37 to 67  was $99                Now $79
Y-DNA 37 to 111 was $220              Now $188
Y-DNA 67 to 111 was $129              Now $109
To order an upgrade at these special prices you may log into your personal page with your kit number and password. Click on the "Order Upgrade" button located on the right side of the menu bar.  Then click on the "Special Offers" button.
Have you been waiting to upgrade your Y-DNA results?  I've been sitting at 67 markers for a while now, it's probably about time I upgrade to 111 markers.  Will you be upgrading?
News from around the web.
Go to Source
—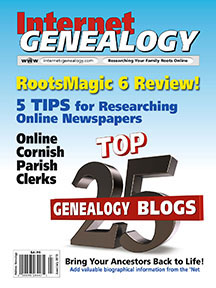 Thanks to Miriam at AnceStories, I learned today that The Genetic Genealogist was named one of the 25 Top Genealogy Blogs by Internet Genealogy!  Congrats to Miriam as well, who was also named one of the 25 Top Genealogy Blogs.  Miriam has a list of the other 23 sites on her blog.
I haven't been able to read the article yet, but according to the website here is the description:
Blogged: 25 Top Genealogy Blogs to Help Speed Your Research!  Tony Bandy highlights twenty-five blogs you can dig your teeth into.

I'm honored by this, and I think it reflects the increasing interest in DNA and Genetic Genealogy that genealogists continue to express.  We're approaching a critical mass at which point DNA must be part of every genealogists' toolbox, and at least a consideration in any serious genealogical search.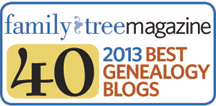 This honor follows not long after yet another incredible honor, being named one of the Top 40 Genealogy Blogs for 2013 by Family Tree Magazine!  I was included in the "Tech support" category along with some other great blogs.  Actually ALL of the blogs listed are great blogs, and I'm proud to be listed among them.
I recommend that you check out each of these blogs and determine which ones you should add to your daily reading!