Archive for September, 2013
Surname Forum Activity
———————-
Does anyone have a good email address for Bruce Manley who published the above site?
Go to Source
News from around the web.
Go to Source
—
Imagine the following scenario:
You've just received an email that your DNA test results are ready, and you log into your account. The welcome screen guides you through a tutorial and presents you with several tabs to choose from.
You click the first tab which reads "Your Ancestors."  The page shares information about 35 of your ancestors from the past 300 years, identified because you have inherited some of their DNA, although you have not yet provided any genealogical information to the testing company. Each of these ancestors has their own profile page complete with dates, family members, and other information such as computer-generated images and a health report which are based on a genome reconstructed entirely from modern-day descendants.
You then click on the tab that reads "Your Reverse Family Tree," which contains a partial family tree that has been constructed by the testing company.  Based on extensive and well-documented genealogies, there is likely only one way in which the 35 identified ancestors can fit together in a tree (although other possible combinations are provided along with statistical probabilities).  There are a considerable gaps, especially on your recent immigrant grandmother's line, but the tree appears to be entirely consistent with your many years of traditional genealogical research.  Well, except for the family of John G. Rogers from the 1850's; you'd copied that off the Internet years ago and never confirmed for yourself anyway.
Next you click on "Your Cousins," which contains numerous close and distant relatives in the database.  Some of these cousins are Genetic Cousins (with whom you share DNA), and some of whom are Genealogical Cousins (with whom you share a genealogical relationship based on your generated family tree).  There are numerous 2nd and 3rd cousins matches.  There are also pending offers to join several citizen science and family research groups, including the "Descendants of Calvin Lane of Old Lyme, Connecticut" group, the "Family of German Immigrant Johann Kehl" group and the "Relatives of the American Franklin Family" group, each of which has a slightly different research goal.
Lastly, you click on "Your Memberships," which offers – among other things – a discount membership to the Daughters of the American Revolution based on your predicted descendancy from Revolutionary War veteran Jedidiah Johnson (although you don't happen to share any of Jedidiah Johnson's DNA, he's in your generated family tree with an extremely high probability (95%)).
While the scenario I described above may sound like science fiction, it's the inevitable future of genetic genealogy and is much, much closer than you might think (okay, maybe not the DAR offer!).
Next month at the American Society of Human Genetics 2013 meeting, researchers from AncestryDNA will present their work detailing the reconstruction of portions of the genomes of an 18th-century couple using detailed genealogical information and Identity-by-Descent ("IBD") DNA segments from several hundred descendants of the couple in the AncestryDNA database. In other words, researchers identified several hundred descendants of a certain couple living in the 1700s and then used the DNA shared by those descendants to recreate as much of the couples' genomes as possible.
The abstract is entitled "Reconstruction of Ancestral Human Genomes from Genome-Wide DNA Matches," and is freely available to the public.  Unfortunately the abstract does not identify the 18th century couple in question.  Hat-tip to Kathy Johnston for sharing this abstract on Facebook!
How Does it Work?
Imagine John and Jane Smith, living in New England in the mid-1700's.  They have twelve children, ten of whom lived to adulthood.  They now have many, many thousands of descendants living today, a handful of whom possess random segments of DNA handed down from John and Jane Smith.  As the researchers note in the abstract, "[i]f such an individual had many children, leading to a large number of descendants today, much of the ancestral genome will be present in modern populations."
These segments of DNA are identified using well-researched family trees, and are then woven together to create as much of the couple's genome as possible.  Some segments will be lost forever, although sometimes these missing segments can be derived or estimated.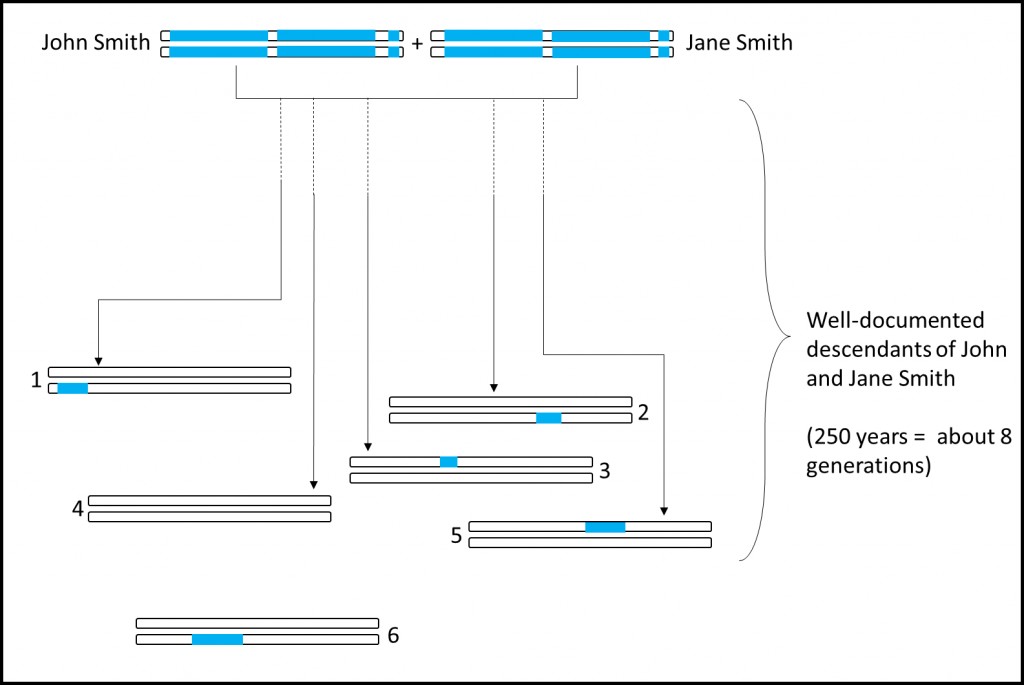 Segments of DNA from a couple in the mid-1700s are found in living descendants. Some descendants (#4) will have none of their DNA. Other relatives (#6) may have no documentation that they are related to the couple.
Slowly, the genomes of hundreds and possibly even thousands of early ancestors will be generated as millions of DNA samples and family trees are entered into a massive database.  While there will certainly be numerous errors resulting from both faulty trees (either poor quality trees or trees that are wrong because of non-paternal events), and from improperly assigning shared segments to one ancestor versus another (since so many of us share many different ancestors), most of these errors will be resolved over time as more samples and trees are entered into the system and processed, and as genealogists and citizen scientists pour over the trees.
Interestingly, sometimes these recreated genomes will belong to unknown or unidentified ancestors.  For example, there may be shared segments of DNA that appear to be from a couple that probably lived in the area of Boston and had children in the early 1700's, but there is no known couple in existing records.
To be successful, this future will of course require numerous, wide-ranging, and extremely well-researched family trees as well as DNA samples from millions of individuals.
But How Can That Be Used To Generate Family Trees?
Once the genomes of hundreds or thousands of 17th, 18th, and 19th century ancestors are created and collated into a massive family tree, they can be used to recreate the genealogy of a test-taker.
For example, based on your descent from the 35 ancestors identified only by your DNA, there may be only a single way to collate those ancestors into a single family tree; only one line of descent from all of these 35 different ancestors.  Alternatively, there may be multiple different possible trees that are presented to the user with a probability.  The service may even suggest having a certain relative tested (we suggest having a descendant of your great-grandfather – your second cousin – tested to further refine this family tree), or it may ask you a series of questions to more accurately resolve the conflicts in the tree (What was your maternal grandmother's name? What was your great-grandmother's name and date of birth?, etc.).
Here is a very rough schematic of the Reverse Family Tree process: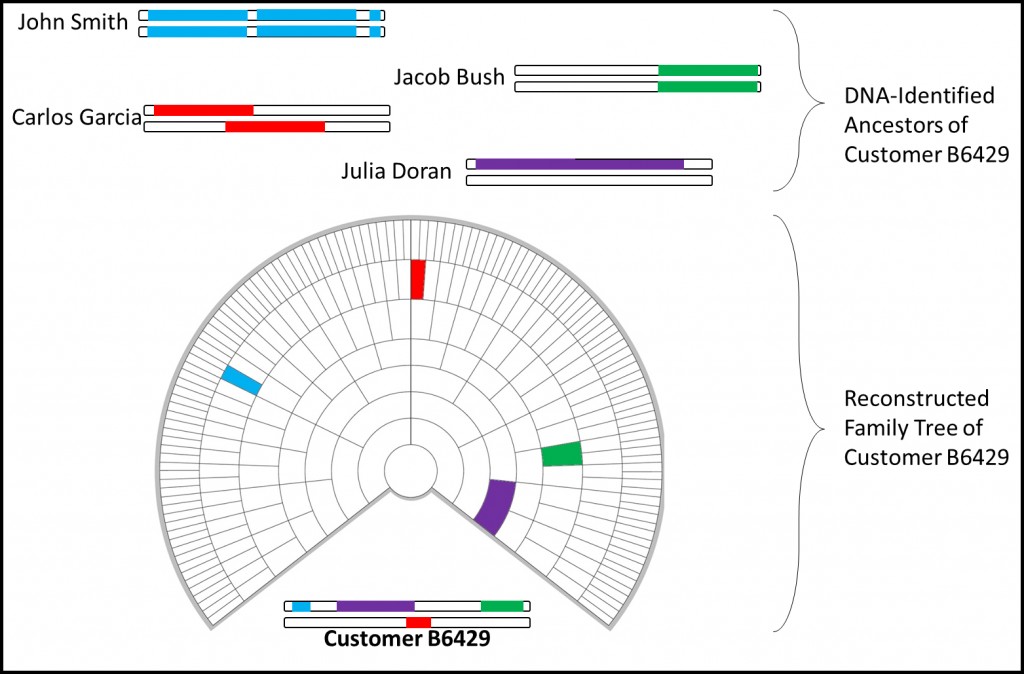 Customer B6429 possesses segments of DNA from four different reconstructed genomes. This information is used to create a Reverse Family Tree with the identified ancestors mapped to it in the most likely configuration based on the size of the segments, established genealogies, and several other factors.
This Reverse Family Tree process (i.e., working forward in time instead of back in time) could also be used with traditional genealogical research, although it would be unlikely to happen.  For example, if I were to tell a genealogist only that a client is known to descend from these 35 people, that genealogist could, with enough time and research, recreate the probable family tree of that individual.  Rather than recreating a family tree entirely from scratch, the method described above can piece together portions of existing family trees in the database to generate possibilities for the customer.
While the most recent 3 to 5 generations might have to be filled in by the customer (because these generations are the least likely to be included in the company's database), much of the tree could be completed based only on the DNA results.
While there are many caveats with this method, and any computer-generated family tree should be confirmed by traditional research, it will provide valuable data to customers, especially adoptees.
Lastly, note that these outcomes have been a goal of genealogists for well over a decade, especially the Sorenson family (see "Unlocking DNA: Founder's goal is to build brotherhood by extending kinship among humanity") of the Sorenson Molecular Genealogy Foundation.
What About Poor Quality Trees?
As all genealogists know, the world is full of poor quality family trees, both online and offline.  While these poor quality trees will impact the method described above, they will not be able to derail it entirely.  As more people are tested and more information is collated into the database, the DNA information will overpower these poor trees.
For example, it will become clear with testing that John and Jane Smith of Boston, MA could not have been the parents of Joseph Smith, since none of Joseph's many descendants possess the unique John and Jane Smith autosomal haplotypes, and instead possess the Samuel and Rachel Smith haplotypes.
In addition to poor quality trees, there are extremely well-researched and well-documented family trees that are incorrect due to an otherwise undetectable NPE (non-paternal event) such as adoption, name change, or infidelity.  These trees can also be detected and (delicately!) corrected using the methods described above.
This might also be another motivation for a universal family tree complete with documentation such as the one currently being worked on by thousands of users of FamilySearch.
Other Information
As mentioned above, every ancestor in your family tree with a recreated genome could have his or her own profile filled with information about their life, family, and DNA.
Having the recreated genome of this individual may also provide his descendants insight into other information about him.  For example, within that genome may be health propensities (cancer? heart disease?), traits (brown hair? blue eyes?), and other DNA-related information.
It may also be possible to create images of the ancestor based on recent and ongoing research linking facial structure to SNPs within the genome.  The DNA information can then be supplemented with cultural and socioeconomic information to predict hair styles and other features.
Caveats
There are many caveats to this process, which is why it cannot completely eclipse traditional genealogical research.  Since the blog's launch in 2007, I've stated many times that genetic genealogy only works when paired with traditional genealogy, and that remains true.
For example, it may be that you descend from the relatively unknown brother of John Smith who has very few living descendants, instead of being a descendant of John Smith himself. You could still possess any of the characterized John Smith haplotypes.  While the methods described above will likely ultimately focus on characterizing the genomes of "branch points" (such as immigrants, founders of unique haplotypes, etc.) to avoid this problem, the existence of unknown or lesser known relatives of the branch point will temporarily throw a monkey wrench in the process.  Many of these issues will be resolved by traditional research.
What are some of the other caveats or issues you see with my envisioned future of genetic genealogy?
News from around the web.
Go to Source
—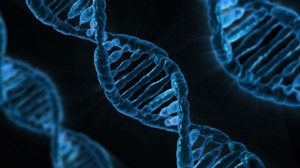 In addition to the information you received from 23andMe, Family Tree DNA, or AncestryDNA about your ancestry, there is a wealth of additional information still within in your DNA.  Below (in alphabetical order) are some of the most popular and well-known tools for wringing every last bit of information out of your raw data, and maximizing the cost of your DNA test.  Please note that I have not used or verified all of these apps; always use caution when providing information to an unknown recipient.
Apps, Extensions, Programs, and Websites:
23++ (http://23pp.david-web.co.uk/about/) (FREE) – An extension for the Google Chrome web browser that adds additional functionality to the 23andMe website. The extension especially adds a number of features to Relative Finder.
529andYou (http://goo.gl/FQSiwW) (FREE) – An extension for the Google Chrome web browser that works with 23andMe's Family Inheritance: Advanced tool (found under Ancestry Labs or, in the new beta website design, under My Results, Ancestry Tools) to collect information about DNA matches.  The information, which includes shared segment data, is stored in a local database on your computer.
David Pike's Utilities (http://www.math.mun.ca/~dapike/FF23utils) (FREE) – A comprehesive suite of tools for analyzing raw data, including searching for Runs of Homozygosity (ROHs), searching for shared DNA in two files, and several advanced phasing tools.
DNAGedcom (http://www.dnagedcom.com) (FREE) – A suite of tools for 23andMe and Family Tree DNA customers.  Users can download their matches, shared segments, and other data into a handy spreadsheet for further analysis.
DNAMatch4iPad (http://www.dnamatch4ipad.com) ($) – A app for the iPad that is an "alternative to the use of conventional spreadsheets for the processing of autosomal DNA data." Users download their match data from one of the testing companies in the form of a .CSV file and upload it to DNAMatch4iPad.
GEDmatch (http://gedmatch.com/) (FREE) – A powerful suite of tools for 23andMe, AncestryDNA, and Family Tree DNA raw data.  Users can compare their DNA to everyone else in the database or to a specific individual in the database, or perform numerous admixture analyses, phase their DNA, and much more.
Genes & Us (http://www.genesand.us)  (FREE) – A website for 23andMe users to "combine their genomes in order to better understand what disease risks most affect their family."  For example, a mother and father can link their 23andMe accounts to the site and determine the possible combinations for their children's DNA.  Appears to work with 23andMe's new API offering.
Genetic Genealogy Tools (http://www.y-str.org) (FREE) – An impressive and ever-growing list of advanced tools for analyzing raw data, including an X-DNA Relationship Path Finder, Ancestral Cousin Marriages, Autosomal Segment Analyzer, a DNA Cleaner, a SNP Extractor, My-Health, and many more!  A terrific resource from Felix Jeyareuben Chandrakumar, an Australian software professional.
Genetic Genie (http://geneticgenie.org/) (FREE) – A tool that analyzes your 23andMe results to perform a methylation gene analysis ("Methylation Analysis").  The site also provides a tool for a "Detox Profile" which looks for defects in the Cytochrome P450 detox enzymes.  The site uses the 23andme API, so users can link their 23andMe account to the service.
Genetrainer (https://www.genetrainer.com/) ($) – Users of 23andMe and Family Tree DNA can link their results to the Genetrainer service, which will then provide you with training plans and exercises personalized to the user.
HIR Search (http://hiropractic.snpology.com) (FREE) – Once your raw data is entered in the database, you can find HIRs (half-identical regions) that you share with others in the database.
Imputation Tools (http://mathgen.stats.ox.ac.uk/impute/impute_v2.html) and (http://faculty.washington.edu/browning/beagle/b4.html) (FREE) – Sometimes you find a SNP in the literature that isn't tested by any of the big testing companies.  Imputation allows you to determine the most probable genotype for that SNP based on the surrounding SNPs and a database of known sequencing results (such as the 1000 Genomes data).  IMPUTE2, for example, is a computer program for phasing observed genotypes and imputing missing genotypes.  See more about IMPUTE2 here, including a link to a script to convert your 23andMe raw data to a useable form.  BEAGLE4 is similarly performs genotype calling, genotype phasing, imputation of ungenotyped markers, and identity-by-descent segment detection.  Learn how to use BEAGLE4 here.
Interpretome (http://esquilax.stanford.edu/) (FREE) – A collection of tools for analyzing 23andMe raw data using only a web browser (i.e., raw data is not uploaded).  The tools include an admixture analysis, health information, and a Neanderthal calculator.
Minor Allele Program (http://www.ianlogan.co.uk/23andme/23andMe_index2.htm) (FREE) – A tool to identify rare SNPs in your 23andMe or Family Tree DNA raw data.  My own results are available here.
mtDNA Haplogroup Analysis (http://dna.jameslick.com/mthap/) (FREE) – A terrific tool for predicting your maternal haplogroup using a variety of formats, including 23andMe raw data.
NAT2PRED (http://nat2pred.rit.albany.edu) (FREE) – a tool for inferring human N-acetyltransferase-2 (NAT2) enzymatic phenotype from NAT2 genotype.  In other words, a tool for predicting the function of your NAT2 enzyme (either slow, rapid, or intermediate) based on your DNA.  The NAT2 enzyme is involved in activating and deactivating arylamine and hydrazine drugs and carcinogens, among other things.
Promethease (https://promethease.com/ondemand) ($5) – Analyze your 23andMe, Family Tree DNA, or AncestryDNA raw data and build a report based on SNPedia. Reports contain information about health and ancestry as well as several other new options.  A sample report is here.
Segment Mapper (http://kittymunson.com/dna/SegmentMapper.php) (FREE) – A tool to show specific DNA segments in a graphic chromosome-style chart.  This is a clever and powerful "mapping" tool.  Learn more about the tool here.
SNPTips (http://snptips.5amsolutions.com/) (FREE) – A Firefox browser extension that allows 23andMe customers to access their SNP genotype information without logging into their 23andMe account or leave the webpage they are browsing.  Users can simply hover their mouse cursor over a SNP RSID on a webpage and, if that was tested by 23andMe, the SNPTips extension will provide a popup with the user's genotype and some relevant links.
SPA (http://genetics.cs.ucla.edu/spa/index.html) (FREE) – Spatial Ancestry analysis (SPA) is a method for predicting ancestry or where an individual is from using the individual's DNA. 23andMe users can download the software and analyze their results with this admixture tool.
The 23andMe Gene App at Livewello (https://livewello.com/23andme) ($19.95) – a Variance Report Software analyzes 23andMe Raw Data are reports on 300 SNPs for things like "Methylation Detox, Immune Factors, IgE, IgG disorders and much more."  Livewello is a Social Health Management Platform with customized App.
Did I miss anything?  Do you have any suggestions or comments regarding the programs listed above? Feel free to let me know in the comments below!
News from around the web.
Go to Source
—
It is great when you can find a shared passion with one of your ancestors – like when the 1940 census shows your grandfather owned a bakery and it makes sense as you love to eat cookies, or your 3x great-grandmother working as a seamstress and you happen to be handy sewing a rogue button back on your shirt.
Connections like this are wonderful to find, and can help answer the question of how you, actually became you.
Ok, maybe those aren't the strongest of ties, but here is one.
A shared love of hockey, and more specifically, the LA Kings, brought two biological cousins together for the first time. 
Steve Burnell was adopted as an infant, never knowing anything about his biological family. His wife Heather signed up for Ancestry.com and quickly discovered a baptism certificate listing Steve's original last name ('Duganne'), which then led her to two half-sisters, a half-brother, and several cousins – many of them Season Ticket Members of the Los Angeles Kings Hockey Team – just like Steve. And interestingly enough, the Burnell's and the Duganne's all had tickets within a few sections of each other.
"My biological family has given me a feeling of belonging because I fit in with them so well, and it is a great feeling to know that I am always welcome with my blood relatives and that I have so much in common with many of them." – Steve Burnell
For the past two years the newly connected family members have been meeting at L.A. Kings hockey games and building a new set of memories with their extended families.
We are thrilled to have a small part in this story and would love to hear yours! Has Ancestry.com helped you connect with a family member? Share your story here.
News from around the web.
Go to Source
—
We have released a lot of Birmingham, England records recently – the birthplace of industrial innovations ranging from the steam engine to heavy metal music – and we added six new databases full of your Brummie ancestors, whether they were in church or…prison.
Birmingham, England, Baptisms, Marriages and Burials, 1538-1812
Birmingham, England, Burials, 1813-1964
Birmingham, England, Marriages and Banns, 1754-1937
Harborne, Birmingham, England, Confirmations, 1915-1931
Birmingham, England, Baptisms, 1813-1912
Birmingham, England, Calendar of Prisoners, 1880-1891 and 1906-1913
If some of your Birmingham headed south looking for sunny weather, you might want to check out the Perth, Western Australia, Australia, Rate Books, 1880-1946, or even U.S. Virgin Islands, Applications for Travel Identification Cards, 1918.
News from around the web.
Go to Source
—
Question: My great-great-grandfather's name was Curtis Null, born about 1856 in Missouri according to the 1880 census. He died in 1887 in Jefferson County, Missouri. I have been unable to find him in any other census. His parents' names aren't listed on his death record. I had my brother take a DNA test for me and have spent countless hours searching every spelling variation in every state with no luck. Where do I go from here?
Thank you,
Regina Null, Missouri
Answer: Some ancestors just fall out of the records nicely, and then there are those infamous brick wall ancestors.  Challenging? Yes.  Fun? Sometimes. Frustrating? Absolutely!
Let's start by taking a look at Curtis in the 1880 census.
In this census, he is listed as Curt Null, born about 1856 in Missouri, his parents' birthplace as well.  He has a wife, Emmaline, born about 1857 and a daughter, Rosalie, born about 1878.  Also living in the house is a Julia Tillotson, age 14, who is a servant.  Notice that Curt is listed as not being able to read and write.
His death record is in the Missouri, Deaths and Burials Index, 1873–1976, database and tells us that he was born in Jefferson County, Missouri, and died in House Springs, Jefferson County, Missouri.
We can also find Curt in Missouri, Death Records, 1834–1910. This record confirms that he likely lived in Jefferson County all his life.  Also, that he was 30 years and 2 months old when he died on June 25, 1887, which means he was born sometime in April 1857.
We also know from the death register that he was buried in Kidd Cemetery, and there is a Curtis Null with no defining information in that cemetery on Find a Grave.
I checked the Ancestry.com wiki  and found that Jefferson County did not start keeping birth records until 1883.
Next, I looked for Curt in the 1860 and 1870 census records. Just as you said, there are no Curtis or Curt Nulls to be found, even with a variety of spellings.
Maybe he was left off both the 1860 and the 1870 censuses, though I seriously doubt it. Maybe the information in the death register is wrong. And maybe he went by a different name in his youth, possibly a nickname or a middle name.
So what to do next?
Sort out the Nulls buried in the Kidd Family Cemetery.  It's a small cemetery and there may be a relation or two buried there.
Contact the historical society in Jefferson County and see if they have a list of churches in the area that might have records.
Study the Null families that lived in Jefferson County in 1870.  Start with the ones that lived in Meremac, which is where Curtis lived in 1880, and it's likely he lived there in 1870. Look for males born between 1855 and 1859 and try and find the ones that you know cannot be Curtis. Then you are left with the maybes to examine.
Check the message boards.  It appears you aren't the only one working on this project. (See the message board post:  "Kirk NULL (1854–1928) and Curtis NULL (1856–1887)."   Contact the others and see what they know.
Search for online trees with Curtis Null in them or his children and try to contact the people who created them.  Maybe if you combine information, you will be able to piece together the answer.

If your brother took a Y-DNA test, consider taking a new autosomal test like AncestryDNA, which will look at all lines of your family. You can take the test yourself and then see if any of your DNA cousin matches can help.

Research Emmaline's family thoroughly as well.  You have a death certificate for one of her children that lists her maiden name as Tillotson, and a Julia Tillotson is living with the family in 1880.  Research both of them.
If you have access to wills or land records from that area, or can hire someone who does, start looking for Curtis or Emmaline or the children and see if you can find any related Nulls.
You ancestors have presented you with a tough one; there is no doubt about it.  But keep looking and keep connecting with people who are also researching this problem.  Someone is going to turn up the critical piece of information sooner or later.
Happy Searching!
Ancestry Anne
News from around the web.
Go to Source
—
We added some critical Mass to our records last week with new indexes to Massachusetts births, marriages, and deaths:
Massachusetts, Birth Index, 1901–1960 and 1967–1970
Massachusetts, Marriage Index, 1901–1955 and 1966–1970
Massachusetts, Death Index, 1901–1980
While you're in the neighborhood, you'll also find an additional 300,000 records added to the Boston, Passenger and Crew Lists, 1820–1954, database for the years 1944–1954.
To get you ready for Oktoberfest – we've got births, marriages, deaths, and street addresses for Grevesmühlen, Germany:
Grevesmühlen, Mecklenburg-Western Pomerania, Germany, Births, 1876–1901
Grevesmühlen, Mecklenburg-Western Pomerania, Germany, Marriages, 1876–1920
Grevesmühlen, Mecklenburg-Western Pomerania, Germany, Deaths, 1876–1950
Grevesmühlen, Mecklenburg-Western Pomerania, Germany, Street List, c. 1910
We updated Border Crossings: From Mexico to U.S., 1895–1964, with 207,173 arrivals at Hidlago, Texas, October 1907–May 1955, and identified 41,508 crossers from Canada into Vermont in the Border Crossings: From Canada to U.S., 1895–1956, database.
Finally, the tax man gets creative in Cuyahoga County, Ohio, Tax Lists, 1819–1869, putting the touch on folks for everything from real estate to fish surveys.
Read 'em and weep.
Your ancestors probably did.
News from around the web.
Go to Source
—
Here are some great blog posts and videos that you might have missed this past week. Enjoy!
Blog Posts
Ancestry.com
Archives.com
Archives Expert Series
Newspapers.com
Fold3 Spotlights
Videos
 Ancestry.com
Archives.com
News from around the web.
Go to Source
—
Origins.net and the Devon
Wills Project have compiled a free index of pre-1858 Devon wills, administrations
and inventories. Most of the records indexed here were destroyed during World War
II in 1942, according to the site, so "the overall aim of this index is to create
a finding-aid to enable the researcher to determine what probate materials were originally
recorded." You'll get source information for any surviving documents that match your
search. The
Devon Wills Project, 1312-1891 is searchable free at Origins.net.
The free FamilySearch.org records collection
has grown by 192 million indexed records and record images from Brazil, Colombia,
Peru, Spain, Switzerland, the United States and Wales. Notable US additions include
Veterans Administration Pension Payment Cards, 1907-1933. See the full list of new
and updated collections and click through to search or browse them from
the FamilySearch News and Press Blog.
Subscription genealogy site findmypast.com has
launched an Irish Newspaper
Collection of nearly 2 million searchable Irish newspaper articles dating as far
back as the early-to-mid 1800s . The papers come from the
British Library and include The Belfast Morning News, The Belfast Newsletter, The
Cork Examiner, The Dublin Evening Mail, The Freeman's Journal and The
Sligo Champion. The collection is available on findmypast.com and with a World
subscription on findmypast.com international sites.
News from around the web.
Go to Source
—


It's a question that burns inside my brain this time every year: Why is Oktoberfest
celebrated in September?
Here in "Zinzinnati,"
where German roots run deep, we've already had our Oktoberfest. Our neighbors across
the river in Kentucky have one this weekend. In Munich, Germany, home of the first
and largest Oktoberfest, the two-week party wraps up the first weekend in October.
The first Oktoberfest celebrated the wedding
of Crown Prince Ludwig (later King Ludwig I) and Princess Therese of Saxe-Hildburghausen
on Oct. 12, 1810.
So why September? I finally decided to look it up. In turns out the informal roots
of Oktoberfest started back in the 15th century, with beer, according
to the German Beer Institute.
The brewing season in Bavaria ran from October to March. Beer brewed during the hot
season tasted bad, so in late winter, brewers would work extra hard to make enough
beer to last all summer. The high alcohol content and storage in casks in cool cellars
and caves would preserve it. (You
can get all the technical details on the German Beer Institute's site.)
After the summer's grain was harvested, brewers needed to empty those casks to make
room for the October start of the brewing season. People were happy to help.
In 1810, by the date the royal wedding made Oktoberfest official, there wasn't much
beer left. Horse racing was the main event there, and Prince Ludwig repeated the races
every year on his anniversary. Over the years, the festival was extended and combined
with finishing off the March beers, evolving into today's party attended by millions
around the world.
Proud of your German heritage? Learn more about those roots with our Boost
Your German Genealogy Value Pack, on sale for more than 20 percent off in
ShopFamilyTree.com.