News from around the web.
Go to Source
—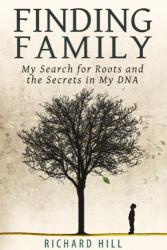 This weekend I had the privilege to review an advance copy of "Finding Family: My Search for Roots and the Secrets in My DNA," a new book by author and genetic genealogist Richard Hill.  The book is currently available at Amazon only in paperback (link here: Finding Family: My Search for Roots and the Secrets in My DNA
), although eBook versions will be available soon.
Many genetic genealogists are already familiar with Richard Hill and his website DNA-Testing-Adviser.com, where he shares information about using genetic genealogy to learn about your family, especially for adoptees and birth parents.  You may also be familiar with Mr. Hill through the front-page 2009 Wall Street Journal article detailing his search for his family, or from the 2009 article in the Grand Rapids Press ("Rockford man uses DNA testing, Internet searches to find his birth father").
Finding Family
Mr. Hill's fascinating new page-turner describes his 30-year search for his birth patents.  Although he was quickly able to identify his birth mother, the search for his birth father took much, much longer.  As the author writes:
Finding Family: My Search for Roots and the Secrets in My DNA is Richard Hill's true and intensely personal story of how he pieced together the long-kept secret of his own origins. This highly suspenseful book is a page-turning saga of personal detective work that will appeal to anyone who loves a good mystery.
I found this 260-page book waiting for me in my mailbox on Friday evening after work, and before 24 hours had passed I finished the last page.  I was completely unable to put it down, anxious to discover the conclusion of Mr. Hill's decades-long search (even though I knew how it ended!).
Highly Recommended!
I highly recommend this book to anyone interested in genealogy, family secrets, genetic genealogy, or mystery in general.  The book is a complete and entertaining saga from A to Z.  Although it was occasionally challenging to follow the considerable cast of characters, I think this serves to emphasize how meticulous Mr. Hill must have been in his research and record-taking.  Without good notes and research ability, it might have taken Mr. Hill much longer to complete his search.
Mr. Hill's story also shows the power of genetic genealogy, especially for adoptees and birth parents.  However, the story also shows that DNA alone is not a magic tool; as I've argued for many years now, DNA is a tool that supplements traditional research.  Genetic genealogy is at its best when combined with a well-researched paper trail.  In the case of adoptees with no hope of a paper trail, DNA might provide clues that will help point you toward the paper trail.
You can get more information about using genetic genealogy to supplement your search by reading Finding Family: My Search for Roots and the Secrets in My DNA
, or my visiting Mr. Hill's great website at DNA-Testing-Adviser.com.
I met Dick in the fall of 2011 at the Family Tree DNA administrator's meeting, although we had corresponded several times prior to meeting in person.  Dick was warm and inviting, and it clearly shows in his book.  He has connected with innumerable people in his search for family, and by reading his book I now count myself among them.
Disclosure: I received a free copy of Mr. Hill's book to review for The Genetic Genealogist. However, this review reflects my honest thoughts about the book.